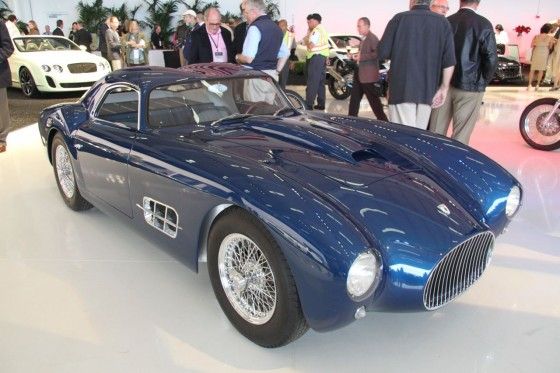 Everyone loves shiny new sports cars, be it men, women, even kids.  However, when it comes to classic cars, no matter how shiny they are, girls don't seem to care too much.  I've had personal experience with this phenomenon, while driving the Unfinished Man's 1974 Datsun 260Z.  Every time I drive into a parking lot, it turns into a sausage fest.
So if you're looking to attract the female kind with a car, stop reading this article now.  This article is on a classic (looking) car, and I know for a fact that this will be a dick magnet.  The car in question is the Gatto, built by Moal Coachbuilders out of Oakland, California.  The Gatto is a one off model built for a rich California investment manager (are there any poor investment managers? I think not).
The car looks incredibly sexy and is very humpable!  Looking at it from different angles, one can see that the inspiration for this car was a voluptuous lady.  The car has beautifully crafted curves everywhere: in the front, back, and even has a curvaceous roof.  The rear end on this car puts Jennifer Lopez's ass to shame, and those curves on the roof remind me of post-plastic surgery Pamela Anderson (if you know what I mean).
The Gatto is built out of modern materials, has air conditioning, and supposedly drives like a modern day sports car, so you don't have to worry about smelling like gasoline after a 20 minute drive (unlike the Datsun).  The Gatto is powered by a V12 Ferrari engine out of the 250 GTO, producing 300 horsepower.  The car has a very simple interior with basic gauges and has a very industrial look to it- good for dudes, bad for chicks.
If I had the money and this car was not a one-off, I would definitely consider buying it, even though it'll attract a lot of dudes.
Moal Coachbuilder Gatto Image Gallery:
[Source: Automotto]