Last year I reviewed the 2nd generation 2020 Lincoln Aviator Reserve, one of two trims offered on the new Aviator. Last week I had the opportunity to review the 2021 Aviator Grand Touring plug-in hybrid. In this review, I'll mostly focus on the PHEV aspect of the Aviator, if you want a more detailed look at the Aviator, head on over to my review from last year.
The 2021 Lincoln Aviator Grand Touring has a starting price of $80,500, before Freight & PDI, and taxes. There are two optional packages, package 301A and 302A (302A includes all of 301A equipment in addition to extra equipment). Below is a list of equipment on each of the packages:
301A – $6,200
Lincoln Co-Pilot360 Plus
Convenience Package
Illumination Package
302A – $12,200
All Standard Features from 301A
Dynamic Handling Package
Luxury Package
Class IV Trailer Tow Package
The packages included in each of the optional packages include the following items:
Lincoln Co-Pilot360 Plus
Active Park Assist Plus
Adaptive Cruise Control
Evasive Steering Assist
Reverse Brake Assist
Traffic Jam Assist which includes: Lane Centering, Stop-and-Go and Speed Sign Recognition
Convenience Package
Head-Up Display
Remote Start System with Phone as a Key (PaaK)
Wireless Charging Pad
Illumination Package
Adaptive Pixel LED Headlamps
Lincoln Dynamic Signature Lighting
LED Daytime Running Lamps
Lincoln Lit Star in Grille
Dynamic Handling Package
Adaptive Suspension with Road Preview
Air Glide Suspension with Dynamic Lower Entry
Luxury Package
30-Way Perfect Position Seating with Active Motion, Power Thigh Extender and Head Restraints
Rear Door Sunshades
Revel Ultima 3D Audio System with 28 Speakers
Our review Aviator Grand Touring had all the options, with a sticker price of $97,100 with options and $2,150 Destination & Delivery charges, before local taxes.
The big story with the 2nd generation Lincoln Aviator Grand Touring is the addition of batteries and an electric motor. The combined output from both powertrains is 494 horsepower at 5,500 rpm and a mind-blowing 630 pound-feet of torque at 2,250 rpm. Power is sent to all-four wheels via a 10-speed automatic transmission, the electric motor is mounted in the transmission.
The gasoline engine is a 3.0-liter twin-turbo V6 and the electric motor is a "Permanent Synchronous" 75 kW unit. The battery pack is a 13.6 kWh and has a range of 21 miles (about 34 km), I couldn't find this number on Lincoln's website, but this is the number I've seen being thrown around. The electric range does depend on your driving style, outside temperature, and whether the heater/AC are being used.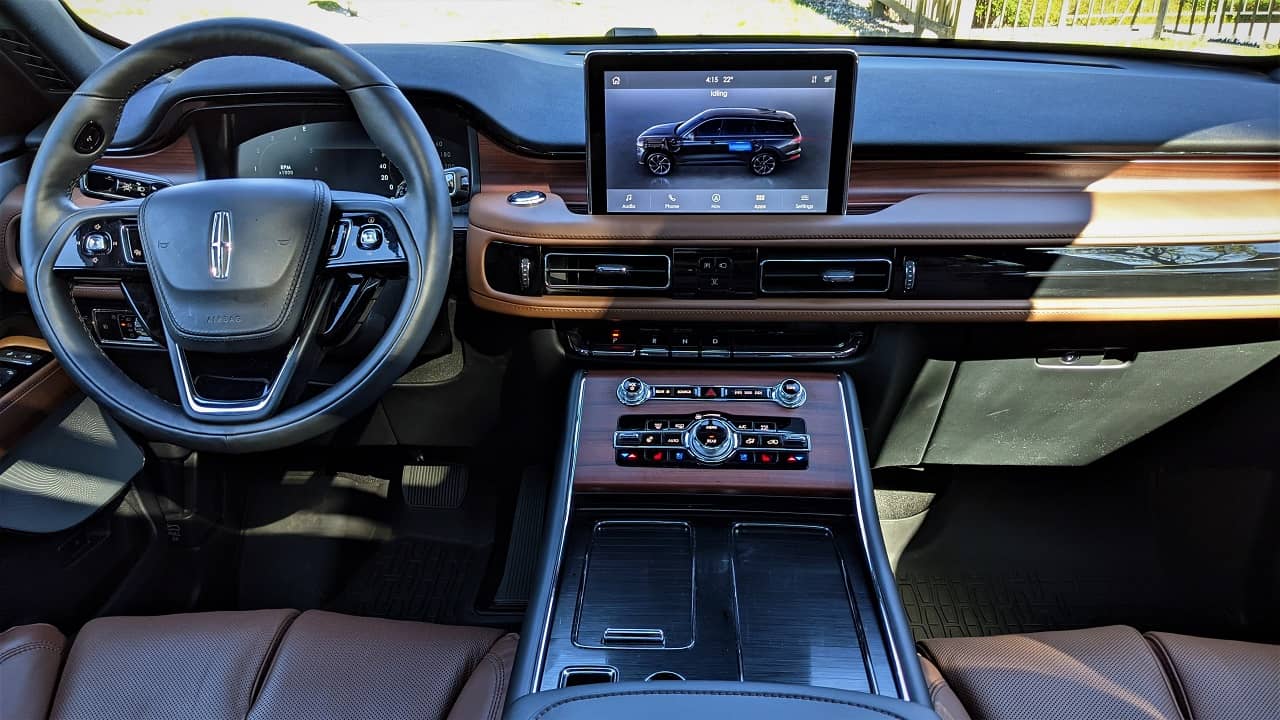 Driving the Lincoln Aviator Grand Touring PHEV
Getting behind the wheel of the Aviator Grand Touring and pressing the start button brings this mid-size SUV to life but without any sound. The Aviator PHEV starts in electric mode, if the battery is charged, and is set to default in the "Normal" mode. This mode is like the standard hybrid mode, it makes use of both the electric motor and gasoline engine. However, since the battery pack is much bigger than a standard hybrid vehicle, the electric motor is the default mode of motivating this SUV. The Aviator PHEV also comes with additional modes, not found on the gasoline-only models. There's the all-electric mode and a mode that saves the battery for later use.
Personally, I used the electric mode only, my drives are usually pretty short and I don't normally drive more than 40 kilometers in a day. When fully charged, the on-board computer showed electric driving range between 25 and 40 km, depending on how I was driving. With regenerative braking and driving lightly, I was averaging around 38 kilometers on a full charge. I found that to be pretty impressive for such a large vehicle. It takes 12 hours to fully charge the battery pack using a standard outlet or 3.5 hours on a 240-volt outlet, which is not bad, the Aviator can be fully charged overnight using a standard outlet and you don't have to worry about installing level-2 charging ports.
I had the Aviator PHEV for almost two weeks and I was able to drive using electricity only for pretty much the entire time. However, for some odd reason, when the gasoline engine is cold, even in the full electric mode, it would turn on with the display saying "Engine on: Due to engine cold". I've had PHEV vehicles before, I don't recall ever having the gasoline engine turn on because it was cold, even though I was not using it. Maybe the Aviator's engine needs to turn on to heat something? I'm not sure, since batteries produce heat and that heat could warm up whatever the engine was trying to warm?
Driving in the electric-only mode, the Aviator seems to have adequate power for normal city driving. However, it doesn't accelerate quickly due to its large size. If you are in this mode and need to make a quick pass by pressing the accelerator hard, the gasoline engine does come online to assist you. Once you are up to speed, the electric motor keeps the Aviator moving briskly without needing the gasoline engine.
Not everyone is lucky enough to have short commutes like me, and there are times when you need to go farther than 30-40 kilometers. In those instances, the Aviator Grand Touring performs like a regular hybrid vehicle, using a combination of the gasoline engine and the electric motors, once it has recouped some kinetic energy. The switch between gasoline and electric driving modes is very seamless and you wouldn't know which mode you're in if the onboard displays didn't tell you.
The Aviator competes with quite a few other luxury SUVs, so it needs to perform well. Putting it in the "Excite" mode (Lincoln for Sport mode), makes things very interesting. The big heavy vehicle (5,763 pounds) has a 0 – 60 mph (0 – 96 km/h) time of under 5 seconds, which is impressive on paper and even more impressive when you put your foot to the floor. I was quite shocked at how fast the Aviator PHEV was able to accelerate in this mode. Thanks to all the power produced by the gasoline engine and the low-end torque from the electric motor, getting up to highway speeds and passing on the highway is extremely easy.
The 2021 Lincoln Aviator is rated at 4.2 Le/100 km; after about 2 weeks of driving, the onboard computer showed 2.2 L/100 km, which would've been even lower had it not been for the gasoline engine warming itself for whatever reason. Thanks to Covid-19, I wasn't able to go anywhere far, I would've love to take the Aviator PHEV on a long trip to see what the overall consumption was with using both the gasoline and electric motor.
Overall Thoughts on the Aviator PHEV
I've been a fan of the Lincoln Aviator since it was introduced, adding the plug-in hybrid version makes it an even more enticing package, although at quite a steep price. However, if you're looking for a larger mid-size SUV with the option for plugging it in, the Aviator is an enticing vehicle.