A few weeks ago, my husband and I started searching for a new vehicle. We knew we wanted an SUV that could handle jaunts off-road, but we also wanted something that would be adept at maneuvering the urban jungle. We finally narrowed our choices down to a model of the new 2017 Ford Escape.
Price
The 2017 Ford Escape starts at $25,099 CAD for its 1.5-litre engine-powered base model S. There are lots of bells and whistles you can add, from spiffy 17" sparkle-painted aluminum wheels to more utility upgrades like an engine block heater. With no additional options, the Ford Escape S is yours for $26,989 (with delivery included). For those who want a whole host of upgrades, the Ford Escape Titanium starts at $35,999 MSRP. With delivery and the total options price included, this brings you to $37,889.
Our choice? The Titanium.
Engine
We knew when we chose the Ford Escape Titanium that we had to choose the optional, more powerful engine. We were pleased at how much get-up-and-go the 2.0-litre EcoBoost engine has when accelerating from a stop or merging with lanes of traffic. This does affect the gas mileage a bit, but the performance payoff is worth it. The Auto Start/Stop helps conserve fuel when sitting at traffic lights, so that helps somewhat.
Performance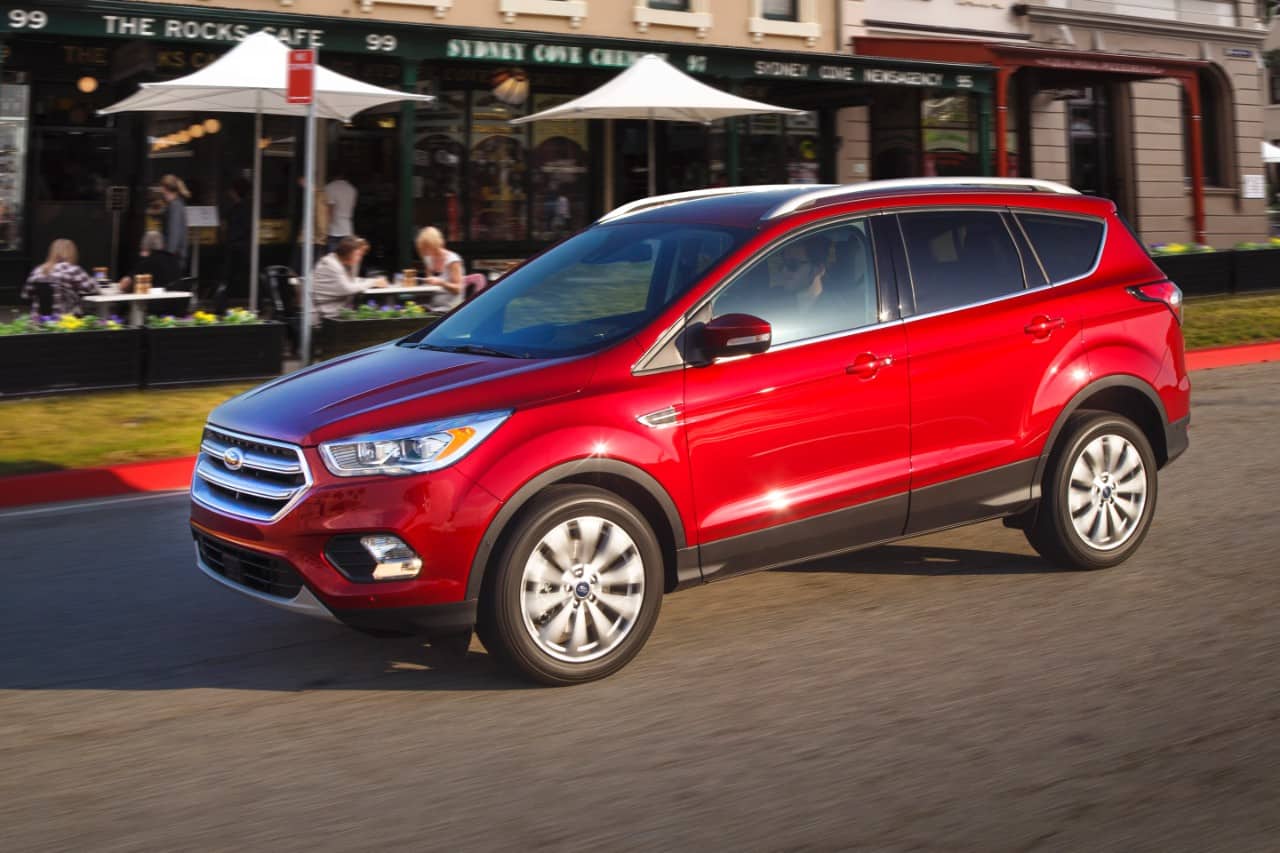 One of the reasons we chose the Titanium is because we wanted a vehicle that would provide a good mix of urban utility and adventurousness. After all, most of our lives are spent driving to work, picking up groceries, and running errands. For the glorious portion of our time that's not spent in the daily grind, however, we wanted something that could keep up with our desire to explore.
The Ford Escape Titanium does not disappoint. Its front-wheel drive handles perfectly in all weather situations, meaning there's never a time when it's too nasty out for us to get up and go. Since our weekend "get up and go" trips often involve a bit of off-roading on wild, lush forestry roads, we're happy to have found a vehicle in which we can really get out there and explore.
The steering on the Titanium feels like the somewhat artificial steering that we experienced on all of the compact SUVs we test-drove. It definitely provides the proper feedback to feel as though you've got the vehicle under control, but isn't as tight as my husband would like. I keep reminding him that it's an SUV and not a sports car.
Interior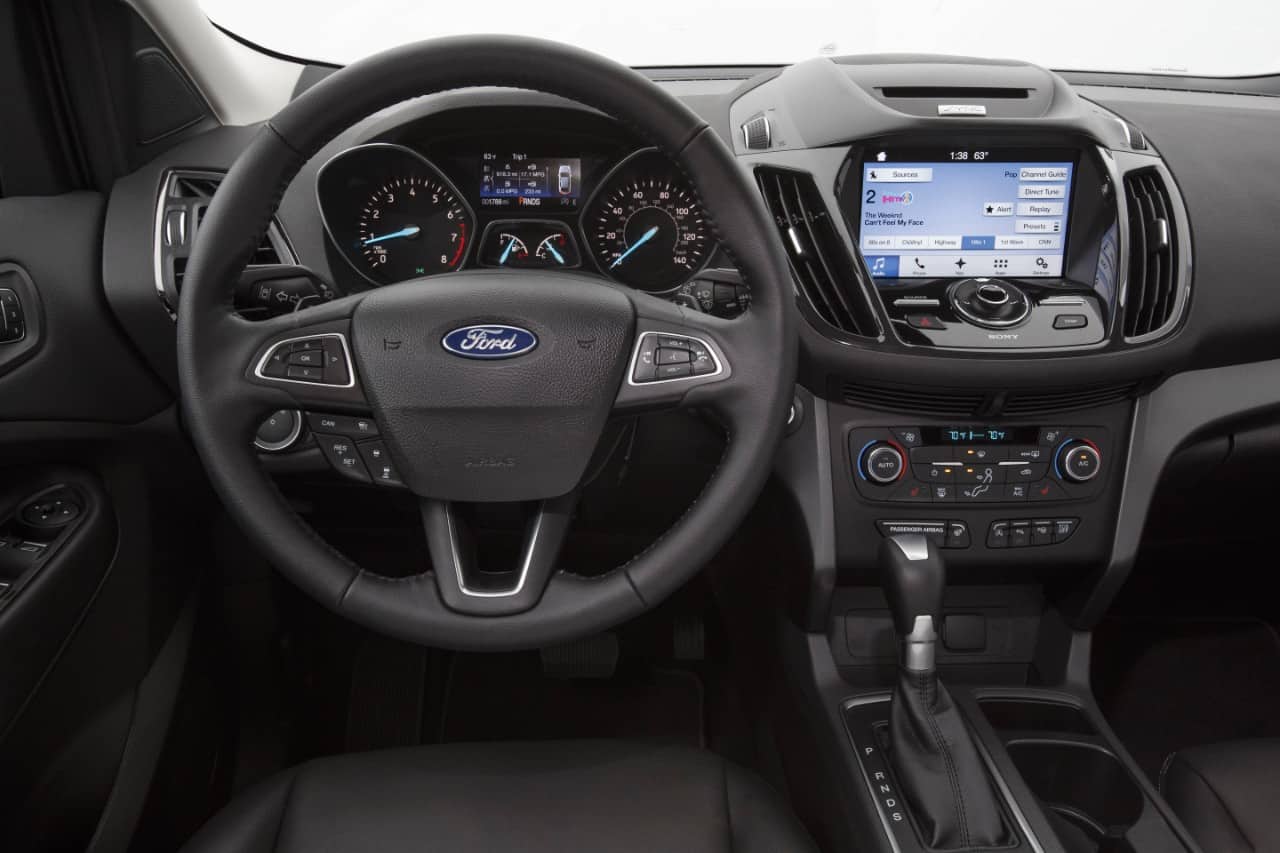 One of the things I love about the way Ford is currently designing its vehicles is how intuitive it makes the layout of the controls. The Titanium is no exception to this rule. We had no problem getting in, getting the comfortable leather-trimmed bucket seats and mirrors adjusted, and getting everything set up to our specifications. The interior is attractive and durable with a sleek and sporty feel.
The designers of the Titanium are obviously aware that the little touches make all the difference. From the gorgeous Ice Blue instrument panel cluster lighting to the leather-wrapped gearshift knob, there are a lot of small details that wouldn't sell the car by themselves, but add up to make a really cool driving experience. My last car was stingy on the cup holders, sending people in the backseat scrambling to get organized when we pulled through a drive through on long road trips. Not so with the Titanium! In this vehicle, the occupants get eight cup holders. (Hey; it only sounds like a minor detail until you're sipping a vanilla shake and juggling a cup of ice water between your knees as the car you're in zooms through traffic.)
Another plus? There's a ton of cargo space in the back. With the rear seats folded down, we can tote practically anything we need to in the Titanium.
Technology
Years ago, my husband drove a Ford that featured the MyFordTouch system that controlled the entertainment and vehicle information. The brand-new Sync 3 system in the Ford Escape Titanium is a definite improvement over Ford's previous system. The Sync 3 system is touchscreen-based, easy to navigate, and the software runs quickly and smoothly.
The 10-speaker Sony audio system is the perfect accompaniment when we set out on a trip. We also make the most out of the voice-activated navigation system, a cool option that we had added for the sake of convenience. Of course, Bluetooth comes standard. We were also pleased to discover that a rearview camera comes standard on the Titanium, as well – a helpful safety feature, especially given that one of the many reasons we opted for a larger vehicle is that we're talking about starting a family.
Final Thoughts
All in all, we're really happy with our 2017 Ford Escape Titanium. For the price, it's incredibly well-designed and thoughtfully laid out. We love the features and the technology. While the handling falls somewhere in between sports car wannabe and rugged SUV, that's fine with us – it's exactly what we were searching for!
For more information on the 2017 Ford Escape, please visit ford.ca.