You're living in the United States and you see this cool looking C-Class wagon, you think this would be a good fit for you and your family. You go down to the Mercedes dealership check it out and maybe buy one, but you find out you can't. The C-Class Wagon you saw was a Canadian visiting someone in your town (more than likely shopping). What's the next best thing? A Mercedes-Benz GLC, an SUV based on the C-Class, although not as cool as the C-Class Wagon, it has all the practicality of that vehicle with a higher seating position and more ground clearance.
There are two different body styles of the GLC, there's the regular GLC and there's a GLC "Coupe". The Coupe is the sportier looking version of the GLC, with a more raked rear glass.
After you've decided on which body style you want, in our review case, we'll stick with the regular GLC, you are then presented with the option to choose a GLC SUV or an AMG GLC SUV. We'll assume you chose the GLC 300. With all these choices made (by me, for you), you get a 2021 Mercedes-Benz GLC 300 4MATIC that I'll kindly review for you, and below are my thoughts on your brand new GLC.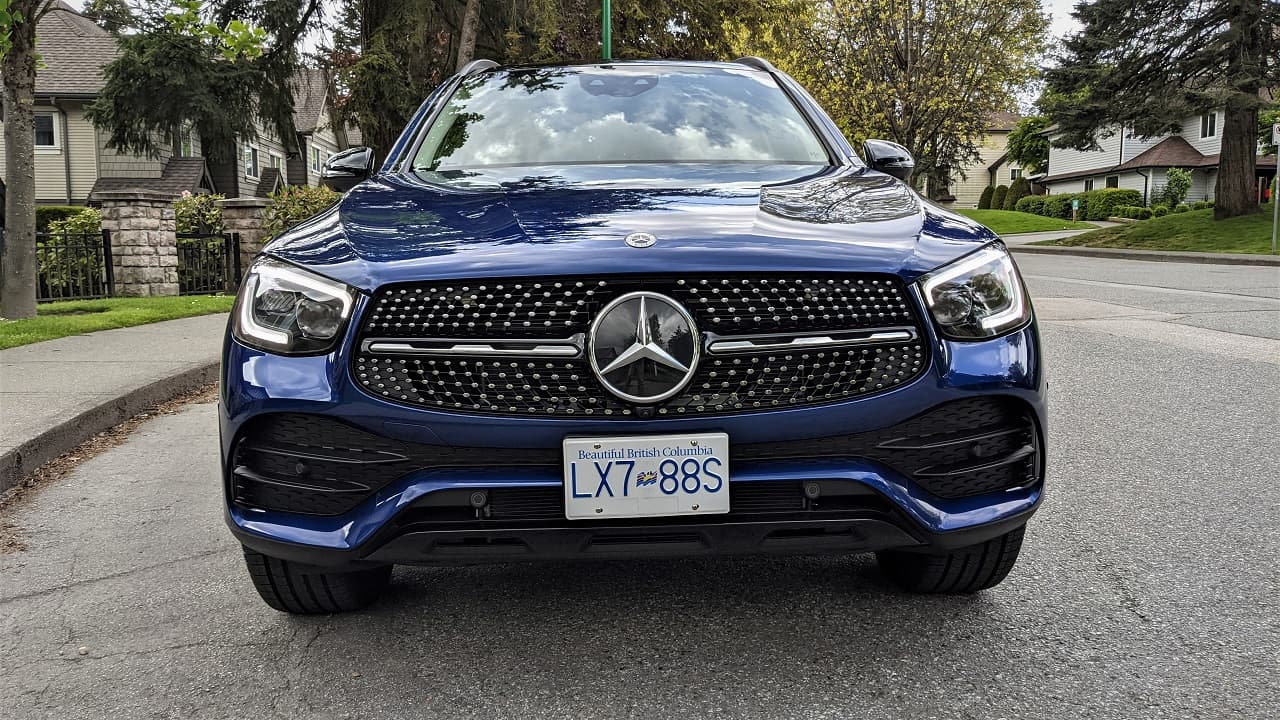 2021 Mercedes-Benz GLC 300 4MATIC Canadian Prices
The 2020 GLC 300 4MATIC has a starting price of $49,900 before any optional packages and taxes. Prices can reach into the mid-$70,000 with all the optional packages.
Our review GLC 300 had a sticker price of $63,190 before taxes. Below are the optional packages included on our review vehicle:
Brilliant Blue Metallic paint ($890)
Night Package ($2,100)
Premium Package ($4,500)
Premium Plus Package ($2,100)
Technology Package ($1,900)
20" AMG 5-TwinSpoke wheels ($750)
Brown Ash Wood Trim ($250)
Heated Rear Seats ($550)
Heated Steering Wheel ($250)
2021 Mercedes-Benz GLC 300 Engine/Driving
The GLC 300 4MATIC is powered by a 2.0-liter turbocharged inline-4 engine, producing 255 horsepower between 5,500 – 6,100 rpm and 273 pound-feet of torque between 1,800 – 4,000 rpm. Power is sent to all-four wheels via a 9-speed 9G-TRONIC automatic transmission.
The 2.0-liter engine produces just about enough power to make the GLC 300 a pretty fun ride in city and highway driving, without going into the sporty category. The GLC 300 4MATIC does the 0 – 100 km sprint in 6.2 seconds, which is not bad for a family SUV. The 9-speed transmission is smooth and is always in the right gear. Hitting the accelerator hard, it quickly downshifts a gear or two to get you moving even faster.
The ride quality is quite smooth, the suspension is definitely softer than the GLC 43's, but it's not floaty. I actually liked the way the GLC 300 handles, it's more comfortable for long commutes but still sporty enough if you're feeling adventurous on some twisty roads.
Styling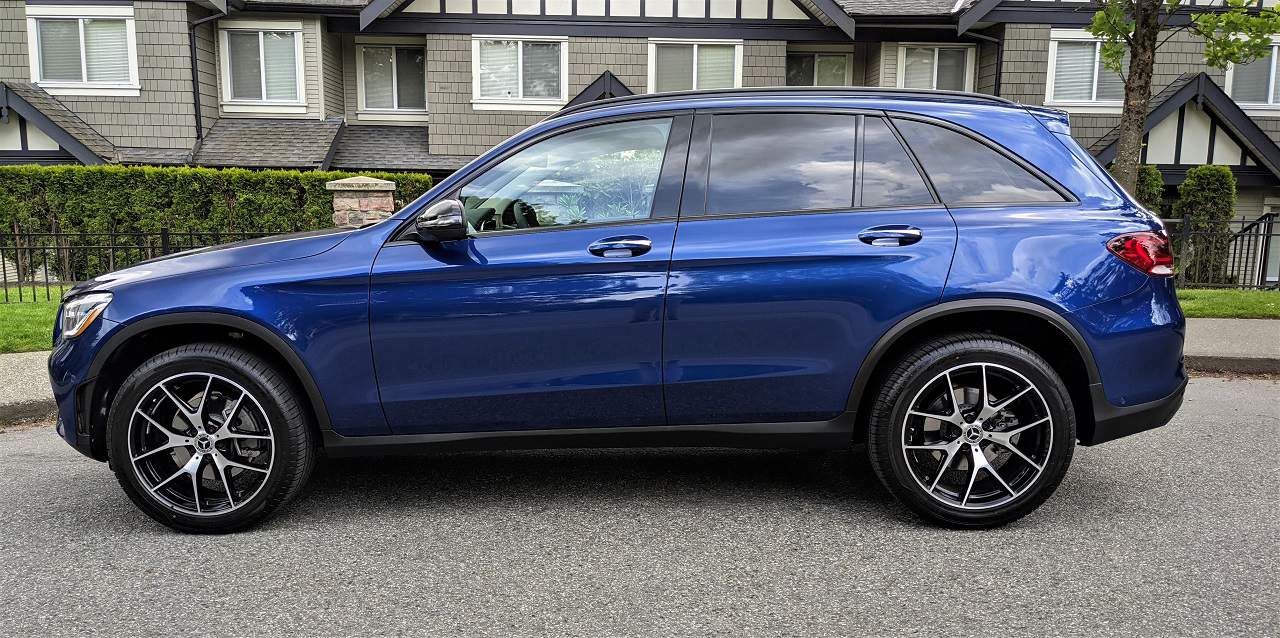 SUV/CUVs are not generally known for their revolutionary styling … and that's the case with the GLC 300, it's an average looking crossover, nothing really to get excited about. These types of vehicles are purchased for their utility, not their good looks. I think it's a fine-looking crossover. The design is not offensive and subtle, which a lot of buyers of this class of vehicles prefer.
GLC 300 4MATIC Interior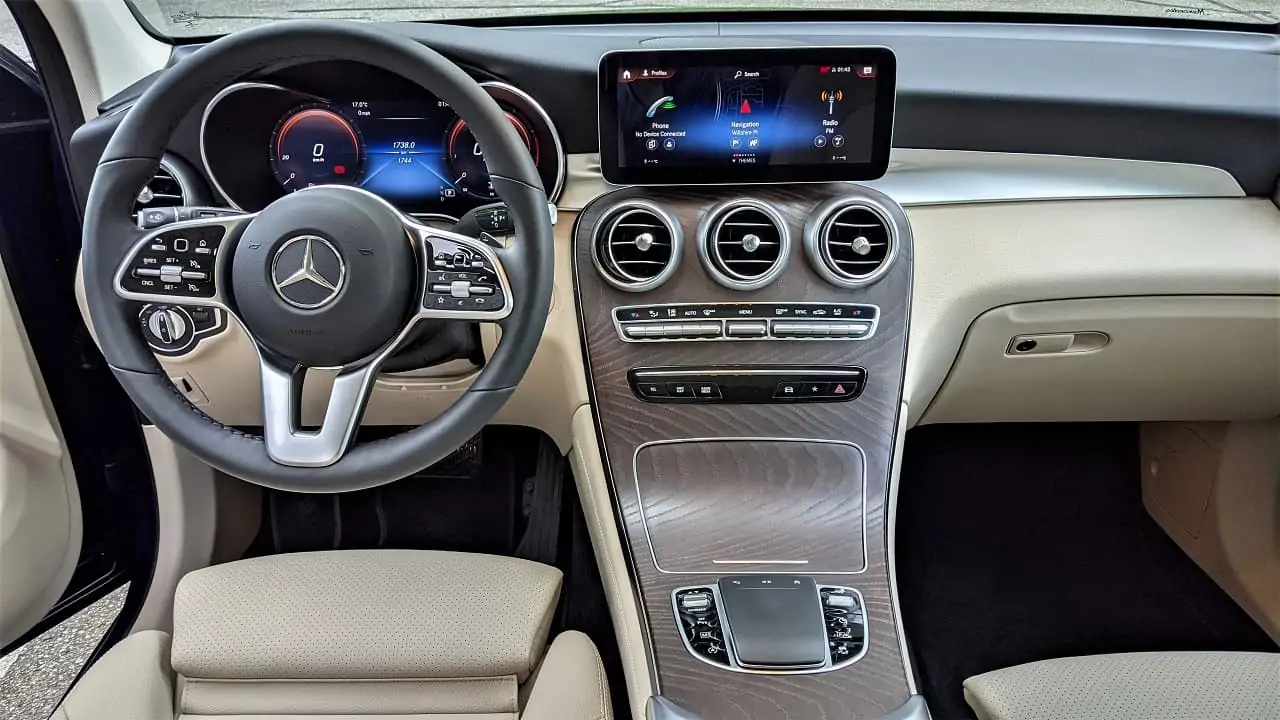 I don't think I've seen a single new Mercedes-Benz's interior that I don't love. Mercedes-Benz has really been knocking it out of the park with their interior designs, the materials used, and fit and finish. The GLC 300 doesn't disappoint. The interior looks very similar to the rest of the vehicles in Mercedes-Benz lineup and is an exact copy of the interior from the C43 Wagon we reviewed last year (minus the analogue clock in the center stack).
The interior is a beautiful place to be in. Everything is laid out in a simple and easy to understand layout. The MBUX system is very intuitive to use and comes with a lot of redundancy.
To control the touchscreen, you can either using your fingers to go through various menus, like a smartphone. You can also use the small trackpad on the center console, use voice command (which works great), or use the two small touchpads on the steering wheel. My personal favorite way of interacting with the system was using the small touchpads on the steering wheel. It eliminated the need for taking my eyes off the road and hands off the steering wheel.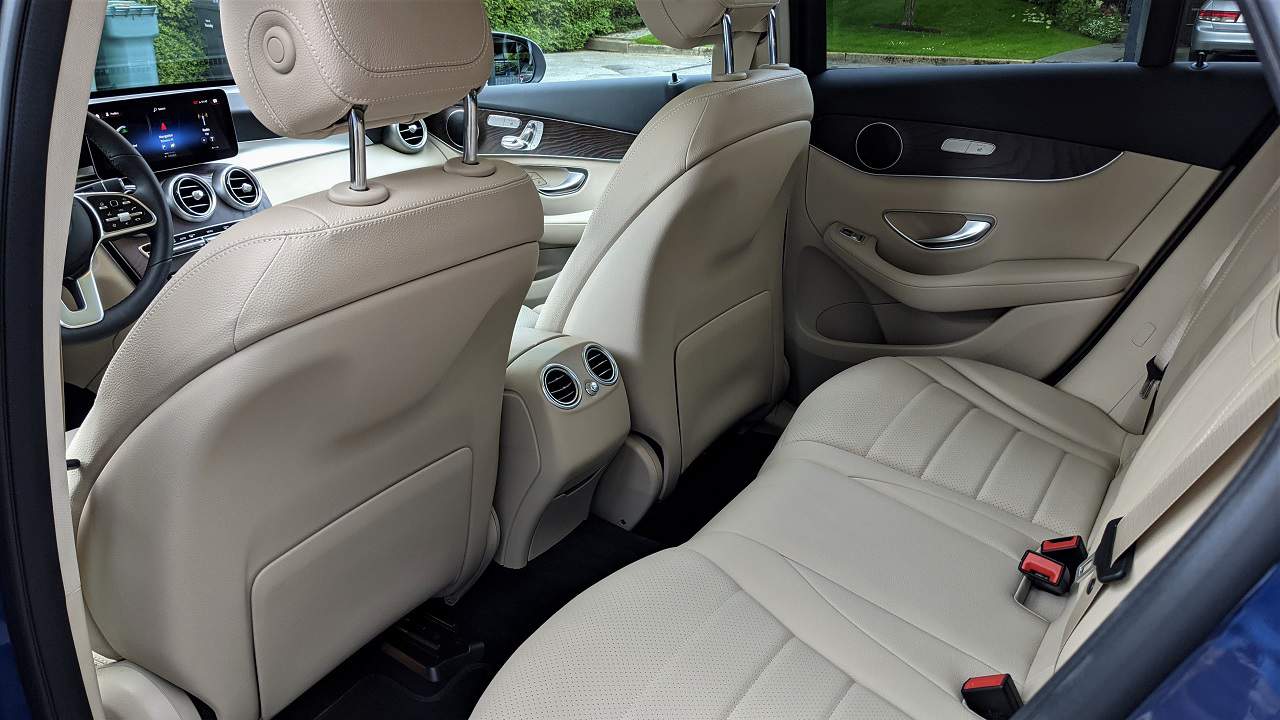 The interior is a comfortable place to be in, it's quiet, luxurious, and very pleasing on the eyes. I found there to be more than enough leg and head room in the front and rear seats. The front passengers have 40.79" of legroom, 41.89" of headroom, and 57.28" of shoulder room. The rear passengers have 37.28" of legroom, 39.57" of headroom, and 56.54" of shoulder room. The trunk has a 550-liter capacity with the rear seats up and 1,600-liters with the rear seats down.
The seats are comfortable, making long drives bearable. The ride is extremely smooth, with a softer suspension setup compared to the more powerful GLC 43 AMG.
Tech/Convenience/Safety Features
The Mercedes-Benz GLC 300 can be equipped with a lot of modern tech, safety, and convenience features. The base trim comes with a decent list of standard features, but to get to some of the good stuff, you'll need to add on additional packages, which I have listed below.
Technology Package
Active MULTIBEAM LED Lighting System
Adaptive High beam Assist
12.3-inch digital instrument cluster display
Sport Package
AMG body styling
19-inch AMG 5-twin-spoke aero wheels
Chrome diamond-block grille
Night Package
AMG body styling
Gloss Black exterior accents
Matte black roof rails
Bicolor 19-inch AMG 5-twin-spoke aero wheels
Chrome diamond-block grill
Premium Package
10.25″ touchscreen centre media display
MB Navigation
MBUX Augmented Video for Navigation
No-charge online navigation map updates for 3 years
3 years of Live Traffic service
Inductive wireless charging with NFC pairing
Apple CarPlay & Android Auto
Traffic Sign Assist
Panoramic sunroof
KEYLESS-GO
EASY-PACK power tailgate
Premium Plus Package
Integrated garage door opener
Active Parking Assist
360-camera
Foot-activated tailgate release
64-colour LED ambient lighting
Illuminated front door sills
Intelligent Drive Package
Active Distance Assist DISTRONIC
Active Steering Assist
Evasive Steering Assist
Active Blind Spot Assist
Active Lane Keeping Assist
Active Lane Change Assist
Active Speed Limit Assist
Active Brake Assist with Cross-Traffic Function
PRE-SAFE PLUS
Route-based Speed Adaptation
Congestion Emergency Braking
Active Emergency Stop Assist
Enhanced Stop-and-Go
Overall Impressions
The Mercedes-Benz GLC 300 4MATIC is a great small/midsize SUV that gets you into the Mercedes brand at relatively reasonable base price. The interior is comfortable, quiet, and luxurious; it's a great place to spend time in, especially when you're stuck in a traffic jam, there's no better place to be than in a Mercedes. The small engine makes more than enough power for city and highway driving, and there's still enough power if you want to open up the throttle on the highway or take it on some back country twisty roads.