Believe it or not, I've been waiting a few weeks to tell you about this new line of "stealth wear" by NYC designer Adam Harvey. You see, the launch exhibition was announced a few weeks ago, but I decided I would wait to see the full line before writing about it. No sense blowing my load early… it just wasn't stealthy enough a few weeks ago.
So, judging by the stunning photograph above, you're probably wondering why a person would ever design a burqa that helps obscure a person from thermal imaging. For starters, fair point… and secondly, it's not actually a burqa you see above, but a sort of "moon shawl" if you will. No, what you see below is a Burqa, and it's selling to the tune of £1,500.00. So again, why has Adam Harvey created a line of clothes that help shield the wearer from surveillance?
The Stealth Wear Revolution Begins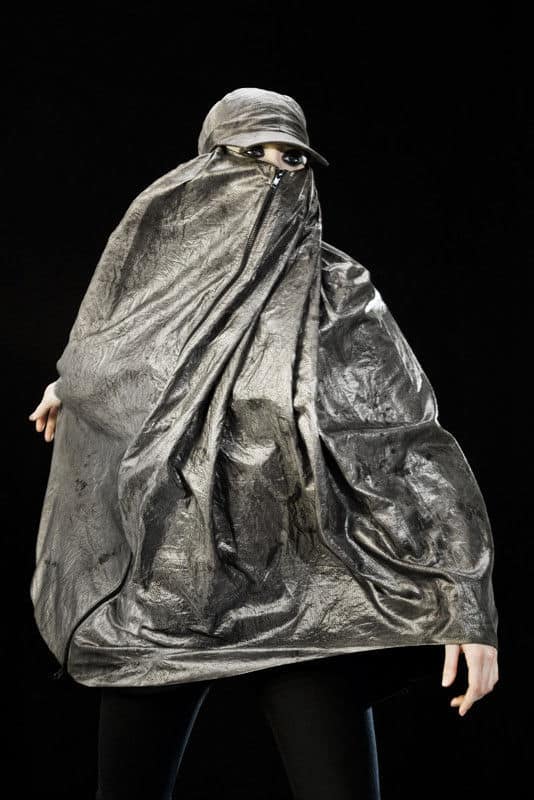 When I think of burqas (which is seldom, I admit), the first thing that springs to mind is the women of the middle east. I spent a few weeks in Egypt and Jordan last year, and many women did indeed wear them. But what if they were modernized… given newer features like, oh… anti-thermal imaging capabilities? If you've been following the news at all, then I'm sure you can appreciate how this could be useful. Even here in North America, it seems that we're quickly reaching a point where personal privacy is at a premium, and where stealth wear like this may not only be a good idea, but instead required attire for those of us that believe in personal privacy.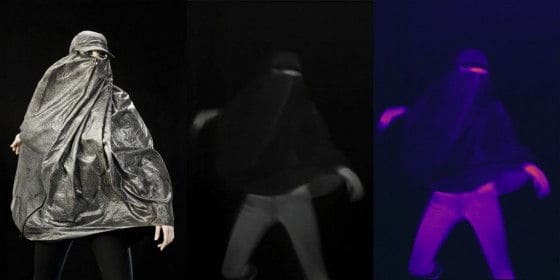 As you can see, it's not perfect, but it's pretty damn close. Though I know the material itself helps conceal a person's thermal signature, the anti-fit nature of the garment also helps break up the wearer's profile, making identification even more difficult. I'm not all that into wearing burqas, though, so thankfully we've got this… thing, as well.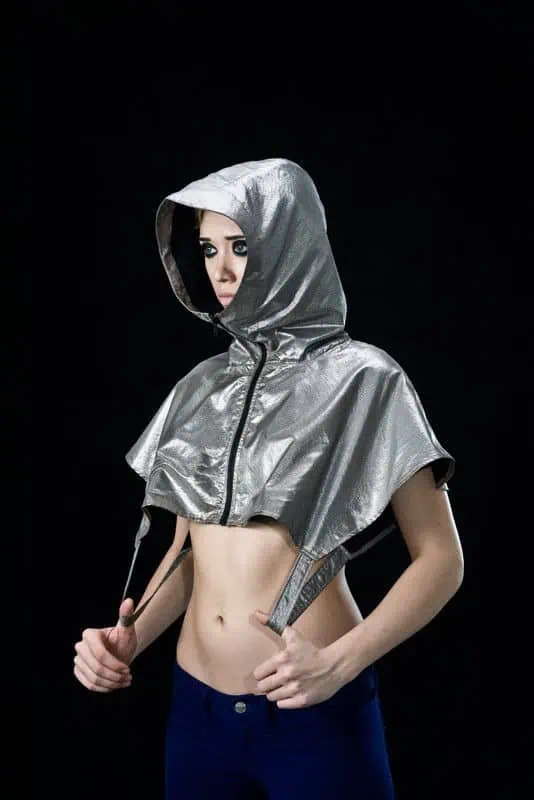 You're supposed to wear this moon hood along with your moon bra, or if you're feeling a bit more adventurous  you can wear this sans bra, just like the lovely lady in the photo above. The thermal protection might not be as good, but you know… can't have it all.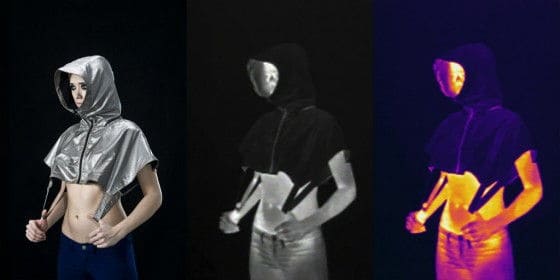 I'm sure you can see where the problem with this particular stealth garment is… you know, the whole exposed midriff area. Maybe the UAV drone pilot will just think it's a floating torso! Also worth noting, is that I find it surprisingly how much heat her groin area gives off. I'm not simply saying that to be disgusting (though it's a factor), but seriously… that's a lot of heat!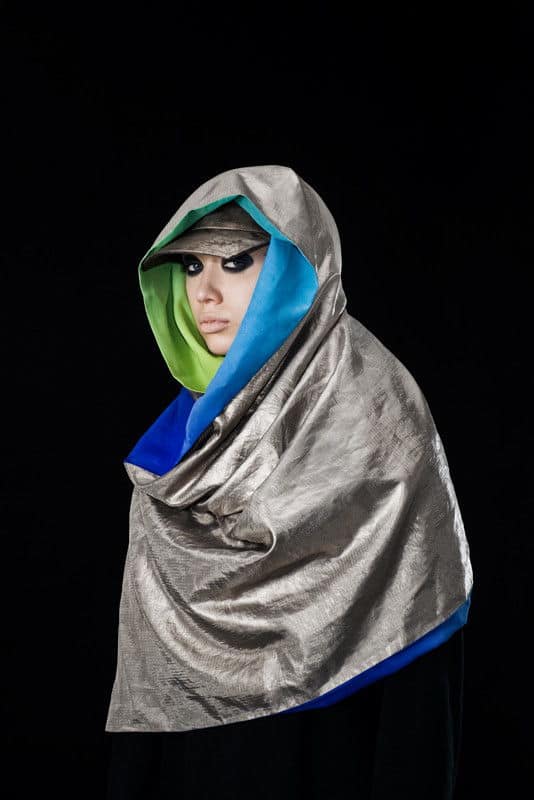 Out of this entire collection, I think that this one is my favorite piece. As in… I actually quite like it. I appreciate the idea behind the entire collection, and I believe that we're going to be seeing a lot more stealth wear in the coming years, but this is the only one that I actually think looks good. Aesthetics are important to me, especially on the clothes that I'm wearing to shield myself from prying eyes. If I wanted to dress like one of the members of Space, then I would do so.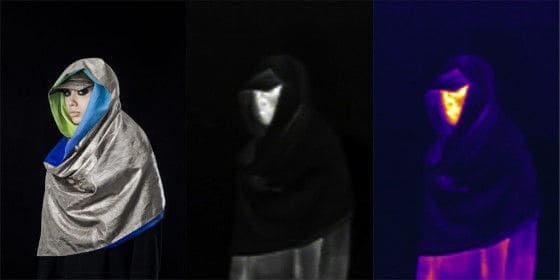 Buying into Stealth Wear
Adam Harvey has given us a glimpse into the future, and in my opinion, it's not pretty. The level of surveillance the world round has risen dramatically since the horrible events that kicked off the 2000s, and I have a feeling that garments like these are going to become commonplace. William Gibson was right, the ugly t-shirt may truly become reality. It's for that reason that I plead to designers everywhere… please DO start incorporating more anti-surveillance materials and technologies into your clothing, but let's try and make the clothes a little more practical, okay? Please? Most of us here can't afford a £1,500.00 space suit, even if it is the ultimate in modern stealth wear.
If you really have your heart set on jumping into the tech immediately, then head over to Primitive London and break out your credit card. Just be aware that all of their stealth garments are made to order, so you may be waiting a while after you pull the trigger.