Over the last 8 years I've reviewed hundreds of cars/trucks, some of them have been first generation, some second generation, and even eighth generation. Last week I reviewed a car (truck to be precise) that sees it's 14 iteration, a vehicle that's been around since 1948 in some form or another. The vehicle in question is the Ford F-Series truck, more precisely the 2021 F150, which is the 14th generation truck and is all new for this year.
At first glance, the 2021 Ford F-150 doesn't look that much different from the 13th generation F-150, but according to Ford, over 90% of the body panels are new.
2021 Ford F-150 Canadian Prices
The Ford F-150 is the best-selling vehicle in the United States, and for good reason. Not only is it a versatile vehicle, it can be had in so many different trims, it'll make your head spin.
The most basic version of the 2021 Ford F-150 has a starting price of $33,429 and the most expensive version starts at $80,775. You can choose between Regular cab, SuperCab, and SuperCrew and 5.5', 6.5', and 8' beds.
Our review 2021 Ford F-150 Powerboost had a sticker price of an eye-watering $83,615, before taxes. However, our review truck was loaded with all the bells and whistles you can think of. The final price included $20,370 in options and $1,950 for Destination & Delivery. Below is a list of all the options and their prices:
Equipment Group 502A ($4,245)
Rapid Red Metallic paint ($450)
3.5-liter PowerBoost Full-Hybrid ($4,850)
275/60R-20 All-Terrain tires ($1,000)
Power Deployable Running Boards ($1,300)
Co-Pilot360 with Active Park Assist ($1,350)
Twin Panel Moonroof ($1,750)
Pro Power Onboard 7.2 kW ($1,000)
Interior Work Surface ($200)
FX4 Off Road Package ($950)
B&O Sound System ($800)
Partitioned Fold-Flat Storage ($225)
Power Tailgate ($800)
Single Fuel Tank ($100)
360 Degree Camera ($850)
Spray-In Bedliner ($600)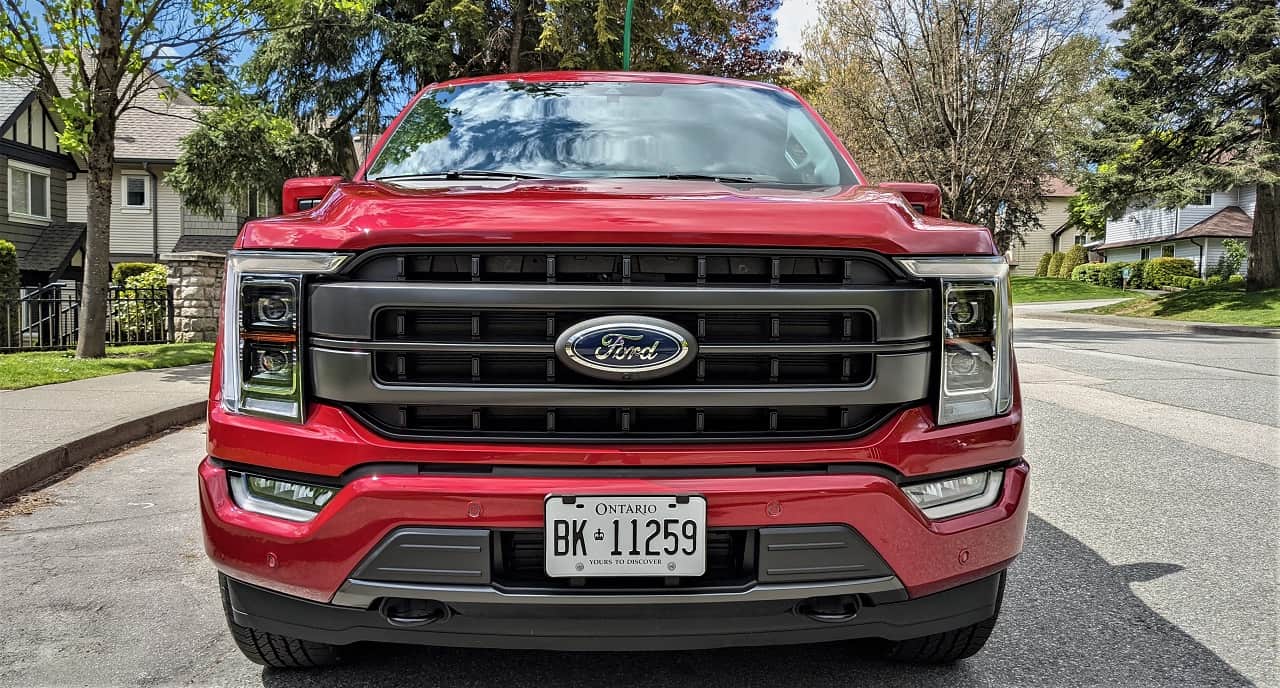 2021 Ford F-150 Engines
Like the previous generation F150, the 14th gen also comes with a variety of engine choices. The F-150 is now even offered with a 3.5-liter PowerBoost hybrid engine, equipped on our review car. Additionally, you can choose a 2.7-liter EcoBoost V6, a 3.5-liter EcoBoost V6, a 5.0-liter V8, a 3.3-liter TI-VCT V6, and a 3.0-liter Power Stroke Turbo Diesel. And this does not even include the upcoming electric F-150 Lightning.
The F150 Hybrid's 3.5-liter PowerBoost V6 engine produces 430 horsepower at 6,000 rpm and 570 pound-feet of torque at 3,000 rpm, making it the most powerful F150 you can currently buy. Of course there will be a more powerful version in the form an F150 Raptor, but that's not available yet. Power is sent to the rear wheels via a 10-speed automatic transmission.
According to Ford, the 2021 F150 PowerBoost should consume 9.8/9.7/9.8 liters/100 kilometers in city/highway/combined driving. In real world driving, however, we got nothing close to these claimed numbers. Most of my driving was in the city and the trip computer showed 14.0 L/100 km, and I was driving very conservatively for the most part. Once again, I find Ford's numbers never match up with real world driving. I find Ford's numbers to be always off by quite a large percentage compared to other manufacturers. However, 14.0 L/100 km is a respectable number for a big truck like this and in city driving.
Driving the F150 PowerBoost
Driving the F150 PowerBoost feels just like you'd expect it to feel like, like a floaty truck. However, the hybrid-ness makes it a bit of a different driving experience. The first thing you'll notice when you start is that nothing happens, the F150 starts in electric mode and as you slowly pull away from your parking spot, it's all-electric. Putting the slightest hint of pressure on the accelerator pedal and the gasoline engine comes to life, this is a big heavy truck, so it needs the power from the gasoline engine to get it going.
However, once up to cruising speed, the gasoline engine does shut down and you get to enjoy electric driving. A taste of what's to come with the F150 Lightning. During normal cruising speeds, the F150 PowerBoost switches between all-electric and combination modes, depending on battery charge and driving conditions. The transition between the gasoline and electric motor is pretty seamless.
The 10-speed transmission, which we've reviewed in previous F150's, is smooth shifting for the most part. I did notice a big thump/clunk type of a thing when the F150 initially starts moving and switches gears from 1st to 3rd (it skips 2nd, and a few other gears on the way up, depending on driving conditions), I'm not sure if it's related to the hybrid system or if it's a "feature" of the new F150 or if this was unique to our unit. But other than that, the transmission does an excellent job at being in the right gear at the right time. Most of the times the transmission is trying to get to the highest gear as fast as possible to save fuel.
The F150 Hybrid comes with a variety of modes like Normal, Eco, Sport, Towing, Slippery, Trail, Deep Snow/Sand, Mud/Ruts, and Rock Crawl. I left it mostly in the Normal mode, which is the default mode. I did try the Sport mode for testing purposes and it makes the F150 a very fast truck. In this mode, the F150 goes from RWD to 4WD and there's a lot of power available. This mode makes the F150 surprisingly fast, but it's not a mode I'd normally drive in.
2021 Ford F150 Styling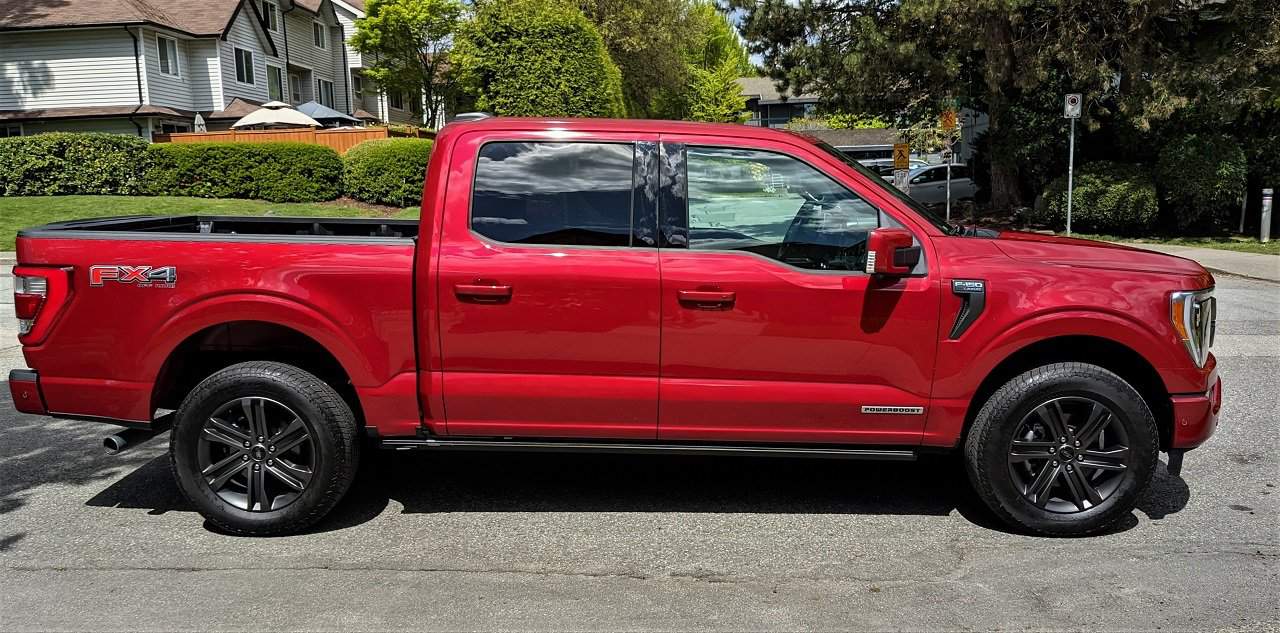 As I mentioned in the beginning, you'd be hard pressed to know this is a different truck from the 13th generation. However, there are slight differences, mainly the headlights and grill area. The headlights now utilize a more rectangular styling with large daytime running lights. The front fenders feature a boomerang type of vent with plastic cover with the F150 lettering. The taillights are also reworked and are a bit more refined.
One thing you won't find on the F150 hybrid is the word "Hybrid". Instead, you'll see F150 PowerBoost. I guess truck people don't want to show off they are saving the environment.
2021 Ford F150 FX4 Interior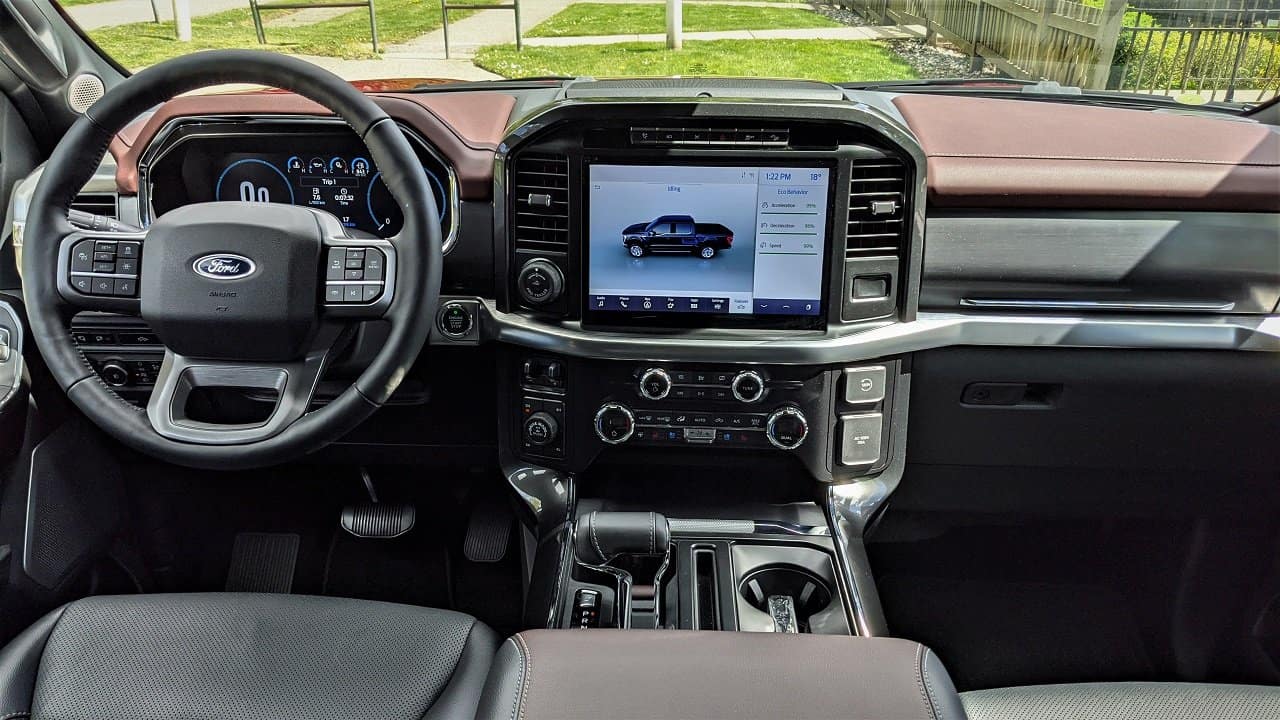 The exterior on the new F150 may not look too different from the 13th generation F150, but the interior is quite different and the changes are very noticeable. The overall design is similar, but there are big changes. The biggest change is the 14" touchscreen right in the middle of the dashboard, lower trims feature smaller screens but our review truck was higher trim with all the cool stuff. The new large touchscreen looks even bigger than the 14" might suggest, because it's a 4:3 ratio, making it look even bigger than say a 16:9 14" screen. This screen has crisp graphics and is responsive to the touch. It displays the standard stuff like maps, radio, output from the various cameras, vehicle information etc.
Another big screen featured on our review F150 is the 12" Digital Productivity Screen, which replaces the analogue gauges. This screen features large digital speedometer and tachometer, along with other information like fuel level, oil pressure, transmission temperature and engine coolant temperature. The area between the digital gauges can me be changed to pre-set information outputs. The whole display also changes colors and display based on which driving mode you're in and every time you go between modes, there's a cool graphic of the F150 doing a short animation.
 Some other cool features on the 14th generation Ford F150 include a folding center console lid that folds over the gear lever, the gear lever lays flat with the push of a button, giving you a large flat area for working (see image below). I do think the folding gear lever looks cool, but I personally would've liked something simpler like a rotating knob gear selector (like the one on the Explorer) or a column mounted shifter, as I feel like the folding gear lever could potentially be something that might break somewhere down the line.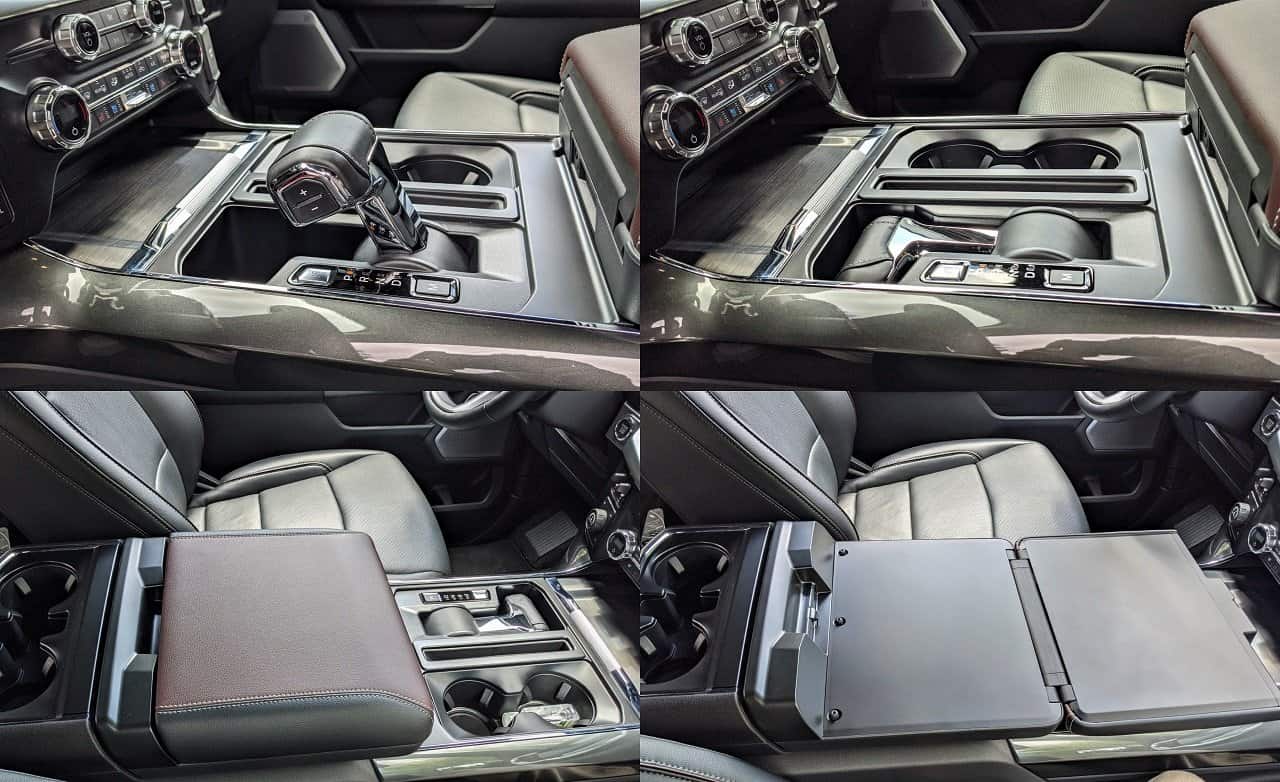 The 2021 Ford F150 has lots of places to plug in USBs, 12V items, and even features standard household outlets. If that's not enough, you can even run a clothes dryer in the bed, as it features a 240-volt outlet that can provide 7.2 kW of power, in addition to two other 120-volt outlets in the bed. The tailgate features a flat area for working, with pencil holders, phone/tablet slot, and even a large ruler. The new F150 is taking things to the next level.
Tech/Convenience/Safety Features
The 2021 Ford F150 is packed with the latest features you'd find in modern vehicles. This is America's best-selling vehicle, so Ford is going to give you everything you desire in terms of safety, convenience and technology features. Not all features are available on every trim, but there are so many combinations of trims, I'm sure you'll be able to configure an F150 that's just right for you.
12″ Digital Productivity Screen
Fully Flat Load Floor
Keyless Entry Including Auto-Lock
Lane-Keeping
Pro Trailer Backup Assist
Heated and Ventilated Front Seats
Trailer Reverse Guidance
Reverse Sensing System
Universal Garage Door Opener
Intelligent Access with Push-Button Start
Power-Adjustable Pedals with Memory
Dual-Zone Electronic Automatic Temperature Control
Pre-Collision Assist with Automatic Emergency Braking
Delayed Accessory Power
Intermittent Windshield Wipers
Powerpoint, 12V
Auto-Dimming Mirrors
Intelligent Adaptive Cruise Control
360-Degree Camera
Heated Steering Wheel
Interior Work Surface
Rain-Sensing Wipers
Forward Sensing System
Power Tilt/Telescoping Steering Wheel with Memory
FordPass Connect with WiFi Hotspot
SYNC 4 with Enhanced Voice Recognition
B&O Sound System
SiriusXM with 360L
Navigation System
Front Active Air Dam
LED Headlights, Taillights, Daytime Running Lights
Power Tailgate (up and down)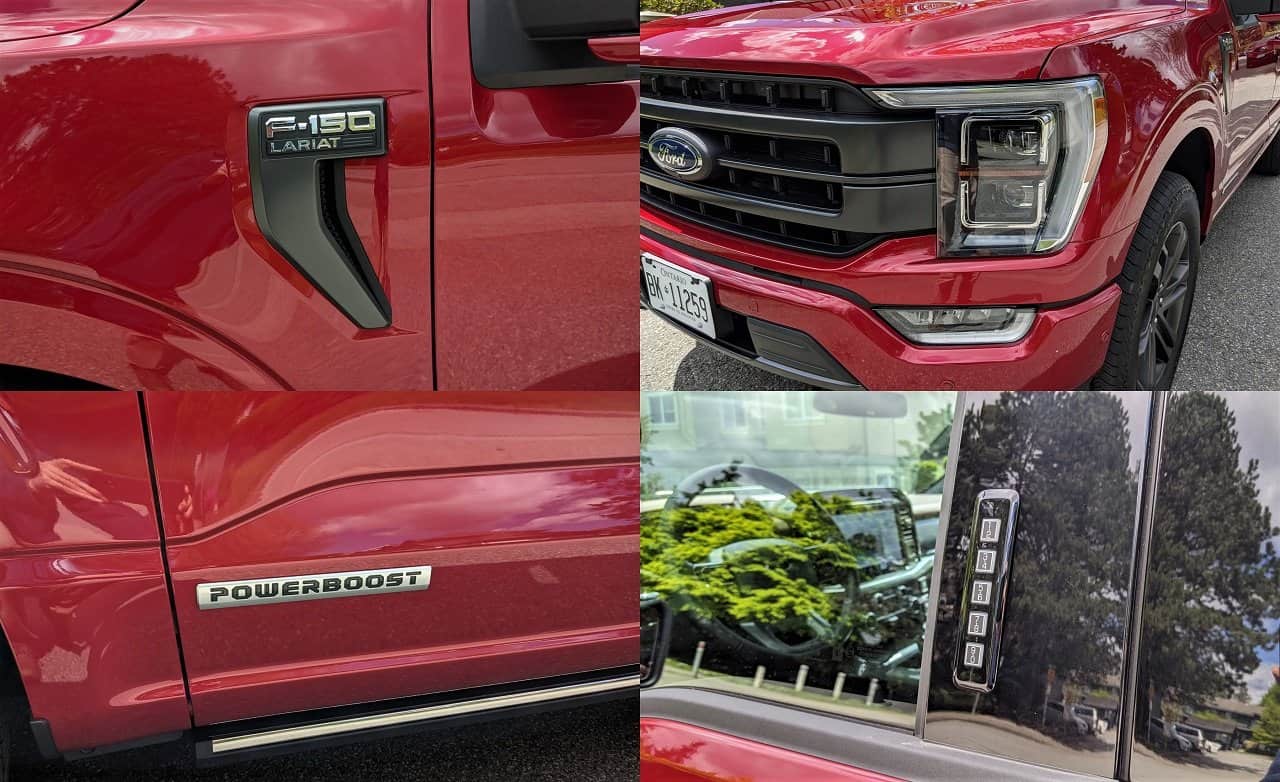 Final Thoughts
There's a reason the Ford F-Series is the bestselling vehicle in America, it's a truck that can be customized to many different needs; from basic transportation to fully decked out work truck, to a luxury truck. With the introduction of the hybrid F150, it gives consumers even more choices and the upcoming Ford F150 Lightning (electric truck) should keep the F150 at the top of the sales charts for many more years to come.
For more information on the new 14th generation Ford F-150 and other Ford vehicles, check out Ford's official website.