If there's one thing that all of us guys agree on, it's that anything with a manly scent is awesome. Unfortunately for those of us who like to smell like lumberjacks 24/7, most regular soaps and body washes just don't have that certain 'je ne sais quoi'— and they can be pretty harsh on our skin too! From usual chemicals to fragrances that come from artificial sources, the market is flooded with products that promise to leave your skin moisturized, your feet fresh as spring daisies, and your face as soft as bunny ears…but not every product lives up to its claims. The majority of them are full of harmful ingredients that only serve marketing purposes. But hope is not lost! Enter Outlaw soap subscription box.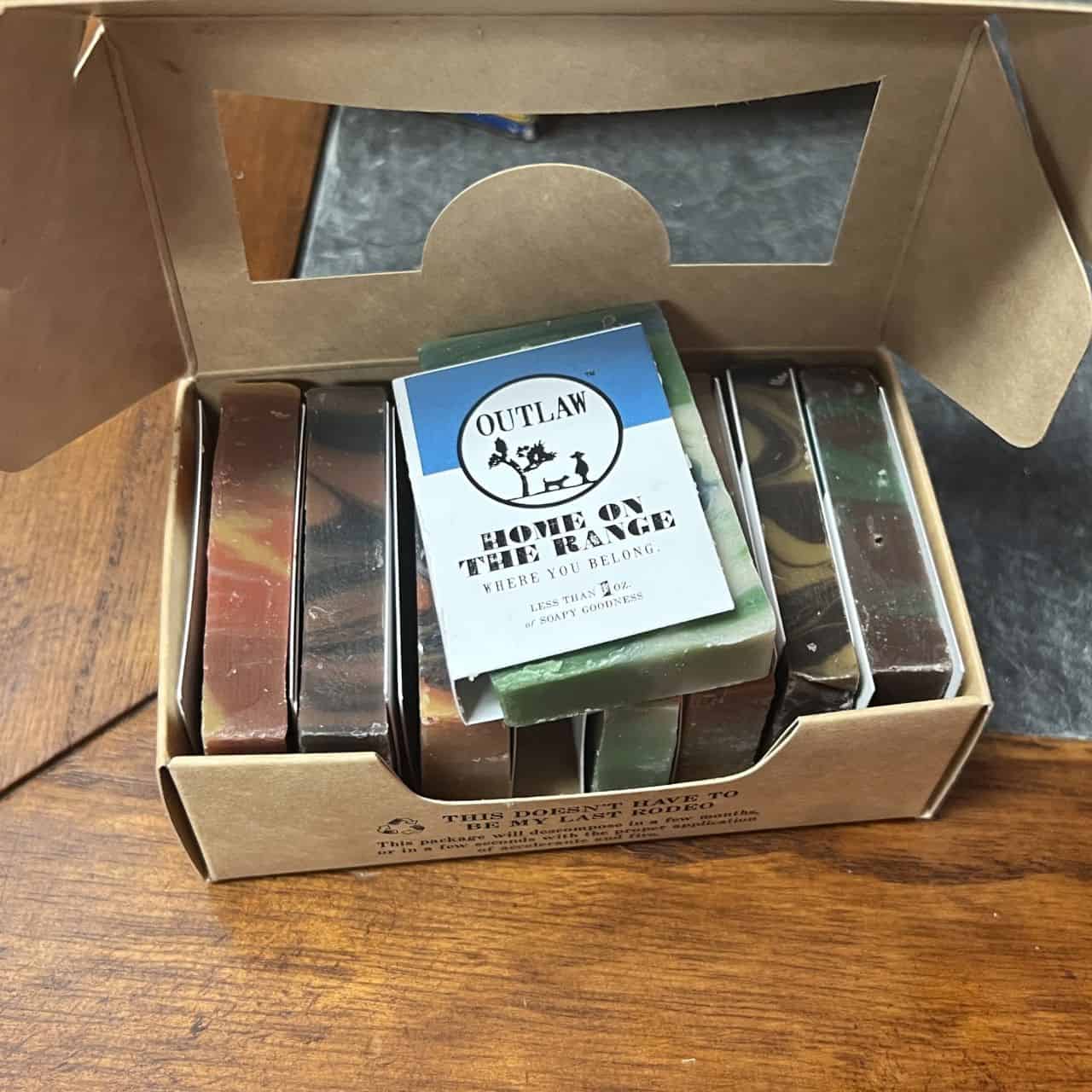 Outlaw Soaps has been serving up some of America's best smelling body products for over a decade now, and if you're tired of your partner complaining about how you smell like a wet dog even after spending half an hour in the shower, then perhaps it's time to consider giving these guys a shot. Is their claim really true? Can Outlaw Soaps really deliver? Does their soap really make ladies go weak in knees (or maybe get butterflies in the stomach)? Well…let me tell you about my personal experience with these fellas.
Personal Experience with Outlaw Soap Subscription Box
My journey with Outlaws began with my monthly subscription to their "The Soap of the Month" package that promises to turn your usual shower routine into a manly and memorable experience with two completely unique and handmade Outlaw's soaps.
My first men's soap subscription arrived after a couple of days (which is pretty normal given how busy they probably were). Upon opening it, I found a superbly packaged, all-natural bar soap wrapped in an old school paper with near-perfect lettering defining the true essence of Outlaw products. The smell was unbelievably enticing; woody notes mixed with mild floral scents – something like you'd expect from a majestic forest grove.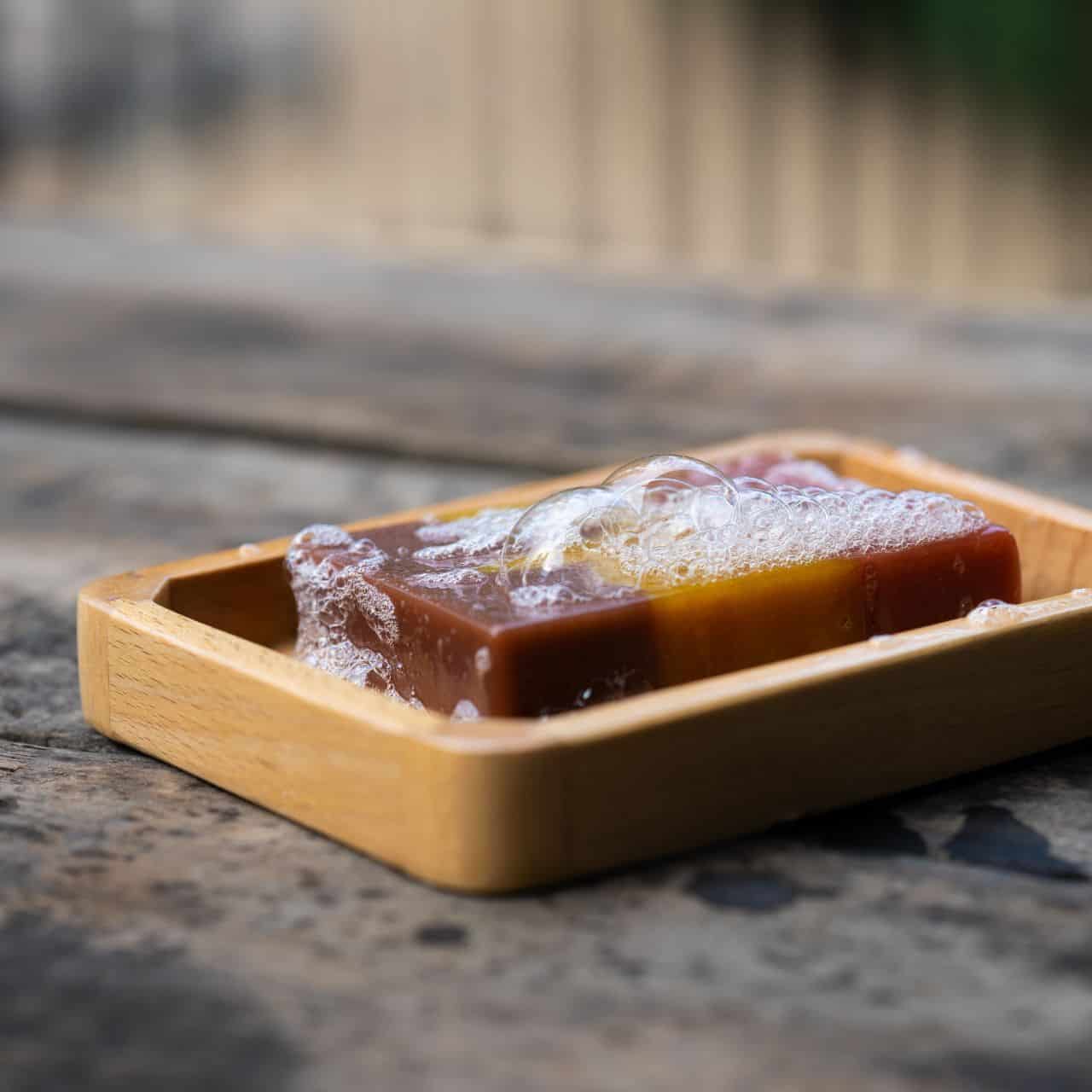 The soap itself looked like nothing you'd expect from something typically used for cleaning…but there was no mistake—this bar was made specifically for purposes other than what it was designed for. On top of being finely crafted, the unique color and texture immediately set these bars apart from anything I had ever seen before. Huge respect to guys at Outlaw Soaps who go through lots of trouble just to bring us awesome smelling men's soaps!
But enough about looks…let's get down to business!
For those who don't know, Outlaw has been providing men and women around the world with high-quality, personalized, and handmade soaps along with equally distinctive body care products since 2013, using only natural ingredients. The company's commitment towards a sustainable yet innovative approach when creating each product is evidenced by its use of traditional methods when crafting premium skincare recipes and hand-pouring them in small batches right here on US soil. This way, Outlaw ensures that their customers receive premium products while supporting the local economy at the same time. Over 10000+ loyal customers can't be wrong, right? Well… they aren't, at least not if you ask me!
Now with basics and my personal experience out of the way, let's take a look at what else makes these guys so awesome.
8 Reasons Why You Can't Say No to The Soap of The Month Subscription Boxes for Men
1) Only Natural ingredients
Honestly, who doesn't love all-natural products that keep their bodies safe from potentially dangerous chemicals? Well, if you're anything like me – then chances are high that you do. That's why I'm glad to tell you that each and every soap produced by these guys is completely free of sulfates, parabens, and other typical chemicals. Composed of naturally sourced ingredients like avocado oil, Cocos Nucifera oil, castor oil, natural color, and more, they help provide your skin with everything it needs while being gentle enough for even sensitive skin types.
2) Quick delivery
Nobody wants to wait for ages before receiving their order, and Outlaw's, being a customer-oriented company, understands that. That's why they do everything in their power to ship your soap as quickly as possible—usually around 2-4 days maximum!
3) Cruelty-Free
Unlike all these multinational brands who spend hundreds of millions on new animal testing, Outlaws are perfectly aware that no living being should be exploited or harmed just to achieve profits. That's why they have dedicated themselves to crafting handmade products using 100% natural ingredients. Moreover, each and every product shipped by these guys is "Leaping Bunny," certified for being cruelty-free which means there will not be any testing carried out on animals during development! Let's face it..even the smallest amount of money spent for purposes like those is a huge mistake, and thankfully Outlaws understands that, which is why it refuses to sacrifice its conscience for profit! I personally respect companies like those so much more! They're exactly what made America great in the first place—companies with a strong sense of purpose yet driven by only the desire to do what is right for the environment as well as the people around them.
4) Sustainable Ingredients and Packaging
In other words, each soap you order will be packed in completely eco-friendly material while not harming our ecosystem either. In addition to that, all soaps produced by these guys are 100% biodegradable which means they'll decompose as soon as they enter nature. Pretty amazing, right? I personally couldn't ask for more! 🙂 As long as their production runs smoothly, I'll definitely remain a loyal customer—that's for sure!
5) Made in the USA
Supporting local brands is always a great idea, and that's exactly what I do whenever possible. That's why I was so glad to find out that each soap produced by these guys comes from actual workshops here in the USA.
6) Good Employment Practices
Not only their products but also employees deserve our respect and admiration. That's why these guys don't cut any corners when it comes to people working in their company—they take care of them every step of the way! Moreover, every single one of their workers is a dedicated professional who really enjoys his/her job. That's something we rarely see in today's world, so I'm glad to support such a company!
7) Unrivaled Customer Service
Let's face it… no matter how good a product is; it will always mean nothing if you can't reach someone in case of any issues. Fortunately, that's not a problem with these guys since their support team is always ready to help you out and answer any question or concern you might have! In addition to that, they're very professional and friendly, which makes me want to stick with them for years to come! If anything happens, I know I'll get in touch within minutes which is a huge comfort, especially for online shoppers like myself. What could be better than knowing that no matter what happens, your query will be dealt with in record time?
8) Satisfaction Guaranteed
The only thing left to mention here is that these guys offer a satisfaction guarantee on all products they ship, which means you'll get your money back if you're not happy with your purchase. They can even replace your soaps with some other scented soap in their shop in case you're not satisfied with one of them! It's your choice!
What Will You Get with Your Monthly Soap Subscription Box?
As soon as you sign up with these guys, you'll get a pretty great deal which includes two amazing full-size bars of soap shipped to your doorstep each month! Plus, they're all handmade using 100% natural ingredients and carefully crafted by dedicated professionals.
Now every time they will send you your box, you will find two completely different soaps with equally unique scents. This is to keep your showering experience fresh and exciting since we tend to run out of good smelling stuff after a few weeks or months at most! Luckily that's not an issue here since every month; these guys will surprise you with fresh new fragrances made in small batches.
However, if you like any specific scent more than anything, you can just contact their support and ask them to deliver your favorite bar over and over again. It's really easy!
Conclusion
After going through everything, I must say that Outlaws have really impressed me with their personalized soap subscription box, and I have nothing but good things to say about them. I've tried a few different men's soap subscription before, and none of them ever blew my mind, but these guys really did! Not only do their soaps smell great and leave your skin feeling soft and smooth, but they're also crafted by dedicated professionals who are willing to go that extra mile for you. In essence, Outlaw soap subscription boxes for men are the perfect companion that will liven up your showering experience every month with amazing new scents while being sure that no harm will come to your sensitive skin since all ingredients used in production are 100% natural! What else could you possibly want? Well… maybe free shipping?