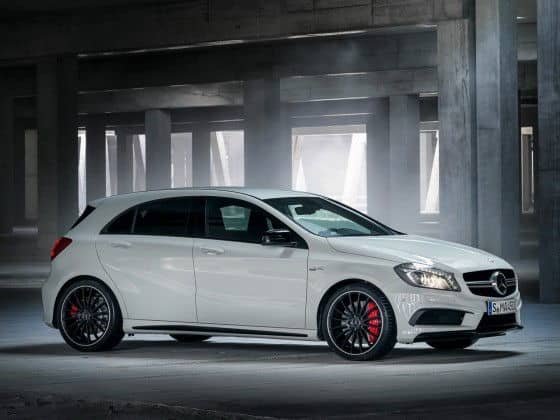 Forget the CLA, the new Mercedes-Benz A45 AMG is what North America needs. This beautiful high-performing hatchback was recently revealed by Mercedes and packs quite a punch for a 2.0-liter twin-scroll turbocharged vehicle. With the 2.0-liter turbo engine producing an impressive 355horsepower making it the most powerful series production four cylinder turbocharged engine in the world.
The power powertrain is mated to an AMG SPEEDSHIFT DCT 7-speed dual-clutch transmission and also features the AMG 4MATIC all-wheel drive system. The system is a front-wheel drive car under normal conditions but when required, the 4MATIC all-wheel drive splits the torque between the front and rear axle at a 50:50 ratio. According to Mercedes, this system is 25 percent lighter than the all-wheel drive being offered by competitors such as Audi S3.
The A45 AMG is capable of accelerating from zero to 100 km/h (62mph) in a quick 4.6 seconds and the top speed is electronically limited to 250 km/h (156mph) although likely capable of higher speeds. The Mercedes A45 AMG is also returning some decent fuel economy at 6.9 lt/100km which is equivalent to 34.1mpg. Not too bad for a car producing 355 horsepower.
The AMG version of the Mercedes A-Class also features a sports-orientated suspension system, speed sensitive sports steering, three-stage ESP which can be turned off, improved braking system, and light AMG alloy wheels. The Mercedes A45 AMG also includes exterior upgrades over the standard A-Class such as an aerodynamics package which includes changes to the front/rear bumpers, side skirts, rear diffuser, and a twin exhaust tips. The interior includes more sporty seats with better support, carbon fiber trim pieces, and a flat bottom steering wheel.
The Mercedes-Benz A45 AMG will make its world premier at the Geneva Motor Show next month while the vehicle will hit the European showroom floors sometime this summer. The A-Class will not be making it onto the North American shores and it comes as no surprise since Europeans get first dibs on the nicer vehicles. This AMG powertrain will be used in the hideous Mercedes-Benz CLA.
Mercedes A45 AMG Gallery