The first-generation Mercedes-Benz CLA (C117) made its debut at car shows in 2012, with sales starting in 2013. It was the second "Four-Door Coupe" from Mercedes, you could call it a baby CLS. Personally, I wasn't a huge fan of the first-generation CLA, something about it just didn't feel right to me design-wise.
However, all has been made right on the second-generation Mercedes-Benz CLA (C118). I recently had the opportunity to review a brand-new 2020 Mercedes-Benz CLA 250 4MATIC Coupe.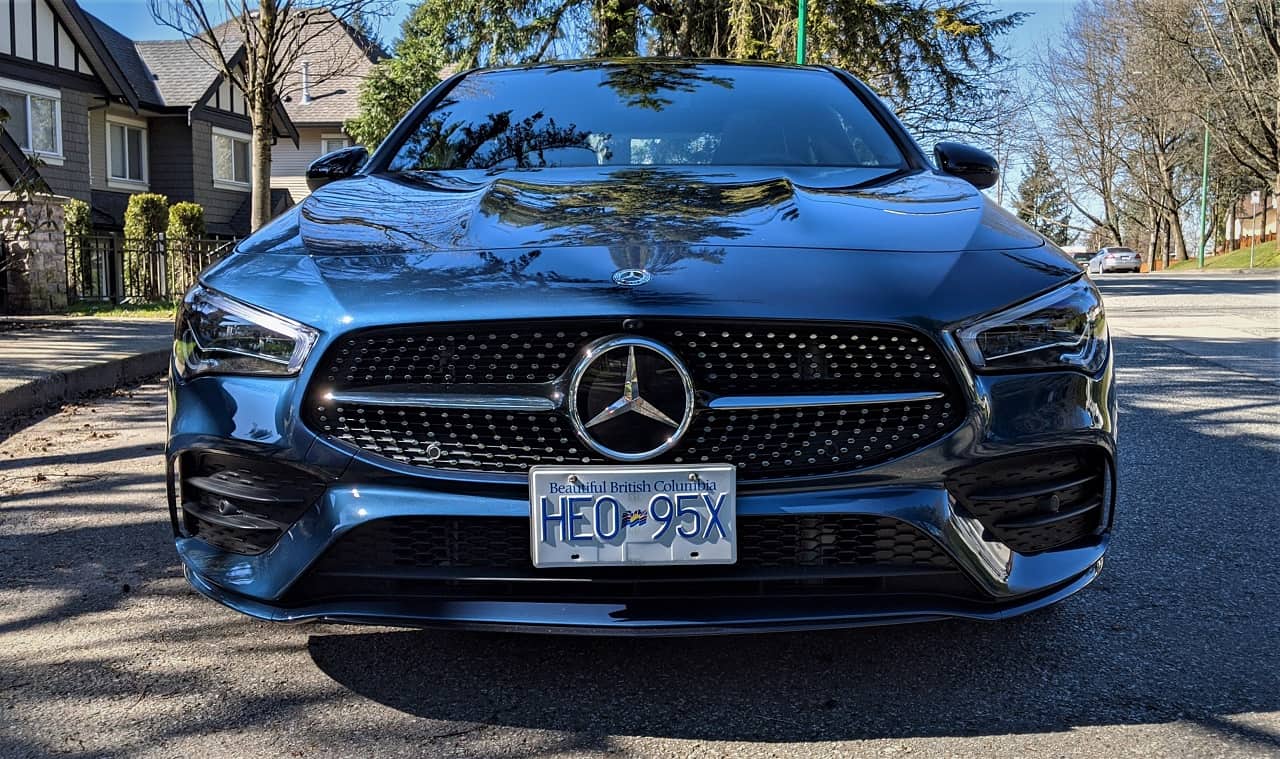 Mercedes-Benz CLA 250 Canadian Prices
In Canada, the CLA "Coupe" is offered in three trims. The base CLA 250 4MATIC Coupe starts at $43,600, the AMG CLA 35 starts at $51,700, and the AMG CLA 45 starts at $59,700.
Our review car was the CLA 250, with an as tested price of $55,340. Like all other Mercedes-Benz vehicles, prices can and will rise pretty fast with all the optional packages. Our review car included packages like Premium Package ($3,000), Technology Package ($1,600), Night Package ($600), Intelligent Drive Package ($1,900), Navigation Package ($1,000), Active Parking Assist ($900), 360 Camera ($650), Multifunction Sports Steering Wheel ($250), and Integrated Garage Door Opener ($300).
Mercedes-Benz CLA Engines
All three trims come with 2.0-liter 4-cylinder engines, but they are all quite different. Our CLA 250's turbocharged 2.0-liter inline-4 engine produced 221 horsepower at 5,500 rpm and 258 pound-feet of torque between 1,800 – 4,000 rpm. 0 – 100 km/h is achieved in 6.3 seconds
The CLA 35 AMG is powered by an "AMG-enhanced" 2.0-liter inline-4 turbo, producing 302 horsepower at 5,800 rpm and 295 pound-feet of torque between 3,000 – 4,000 rpm. 0 – 100 km/h is achieved in 4.9 seconds.
The CLA 45 AMG is powered by a handcrafted AMG turbocharged 2.0-liter inline-4 engine, producing an impressive 382 horsepower at 6,500 rpm and 354 pound-feet of torque between 3,000 – 4,000 rpm, with a 0 – 100 km/h time of 4.1 seconds.
The CLA 250 and CLA 35 come with 7-speed dual clutch transmissions and CLA 45 comes with an 8-speed dual clutch transmission.
Driving the Mercedes-Benz CLA 250 4MATIC Coupe
All three engines have impressive outputs, although our car had the least powerful engine, it was still a blast to drive. Thanks to the availability of peak torque at 1,800 rpm, the CLA 250 rockets off the line, especially in the Sport setting.
The CLA 250 comes with DYNAMIC SELECT that lets you choose between Eco, Comfort, Sport, and Individual driving modes. Driving around in the Comfort mode gets the job done when you're doing the daily commute or in city traffic. The Sport mode makes things quite lively, and is a lot of fun. I left this mode mainly for enjoying twisty roads, while driving mostly in the Comfort mode in the city and on the highway.
Even in the Comfort mode, the engine and transmission work well together. Highway passing is a breeze in this mode. The 4-cylinder engine is an impressive piece of engineering.
The suspension has a good balance of sportiness and comfort. It's much more comfortable than what you'd find in the AMG version, but obviously not as sporty. However, I think it has a good blend of both without leaning too far to either extremes.
I personally really enjoyed driving around in city traffic and a bit on twisty back roads. It's a fun car in the 250 trim, I can only imagine how much fun the AMG CLA 45 would be?
Styling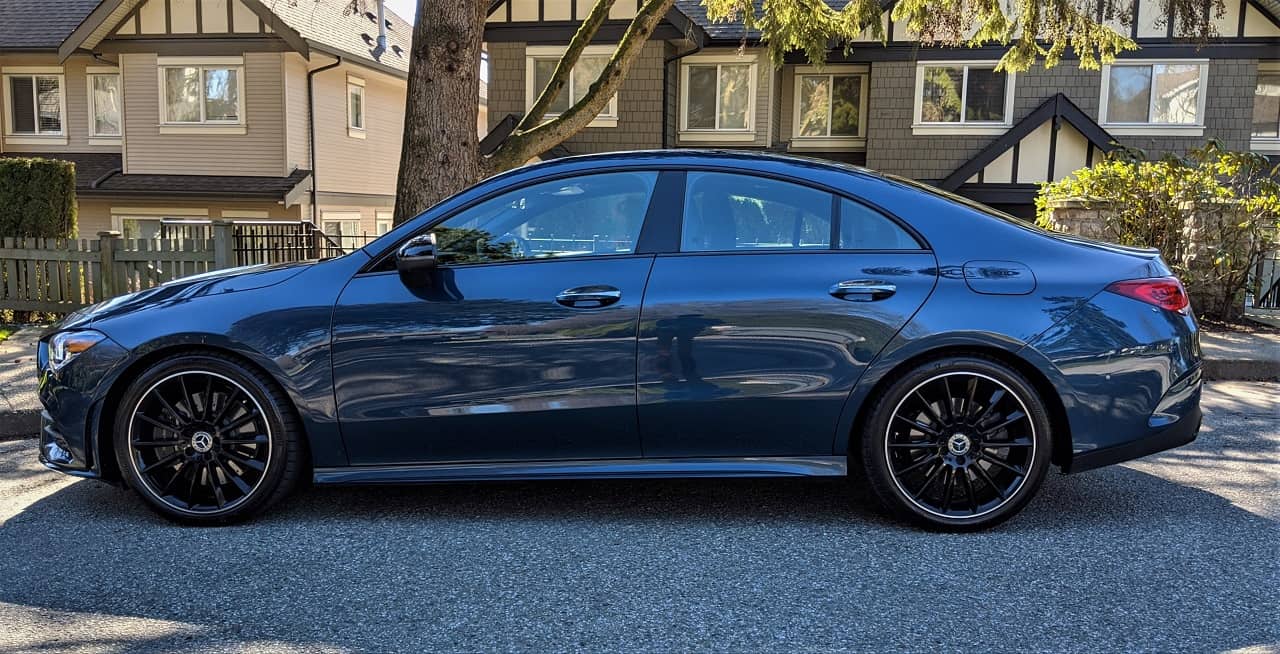 Like I mentioned at the beginning, I wasn't a big fan of the styling on the first generation CLA, it just seemed too forced. The 2nd generation has similar styling, but it seems more finished and has a more cohesive design overall. It does really look like the bigger CLS, in a smaller package.
Interior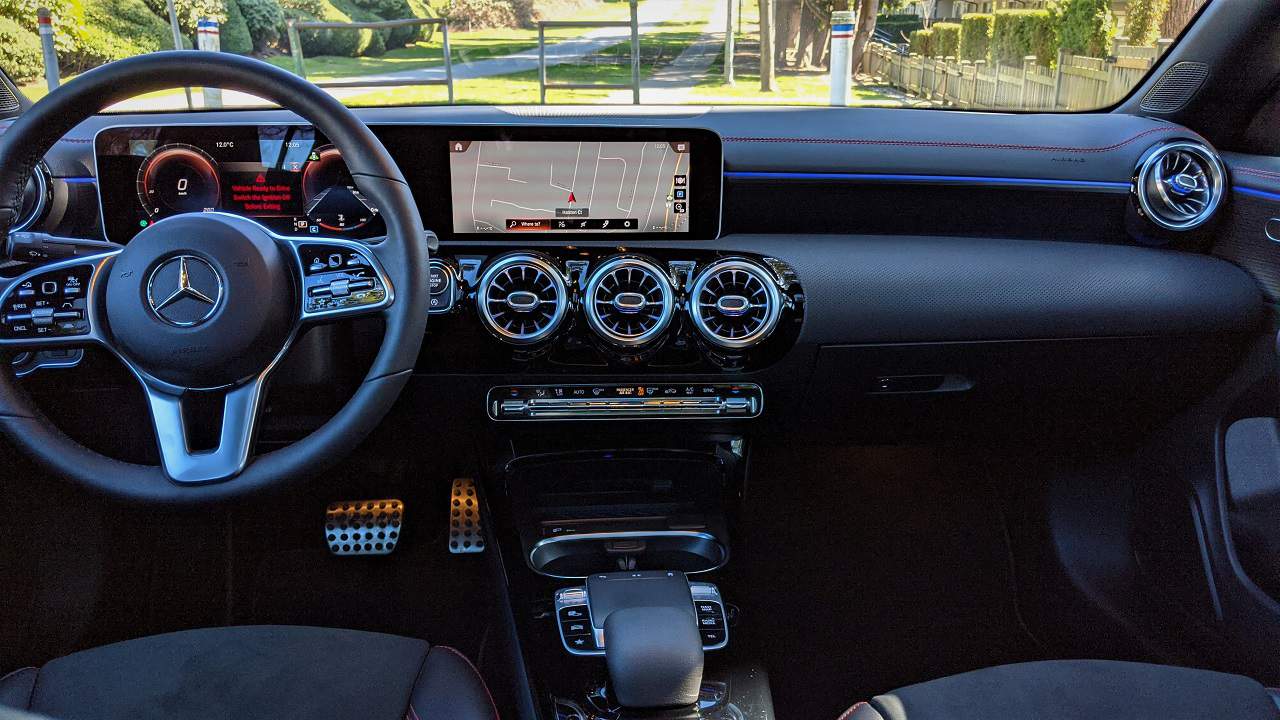 The interior is another area where the 2nd generation triumphs over the 1st generation CLA. It is a beautiful place to be in. The look is very familiar, mimicking most of the latest offerings from Mercedes Benz, which is a good thing. I think Mercedes-Benz has done an amazing job with the interiors on their latest vehicles.
At the heart of the interior is the large screen that flows from where the traditional gauge cluster would be to the infotainment screen, all one big piece. Below is another distinctive feature, three round air vents with lights, which change color with the temperature and can be customized.
The interior is a mixture of hard and soft touch materials, it certainly feels luxurious. The interior is fairly quiet and roomy, considering its size.
Overall Impressions of the 2nd Generation Mercedes-Benz CLA 250 4MATIC Coupe
The 2nd generation CLA is a much-improved version of a very popular Mercedes-Benz car. The 2020 Mercedes-Benz CLA 250 is a good-looking car, it could almost be mistaken for its bigger and more expensive stablemate, the CLS. Even with the base engine, the CLA is quite fun to drive. It has a good amount of interior room for its size and the interior is luxurious, which is what you'd expect from a Mercedes-Benz vehicle. Overall, I enjoyed my time with the 2020 CLA 250 4MATIC, and would definitely recommend this car to someone looking at an entry level Mercedes-Benz car.
For more information, visit mercedes-benz.ca.