I'm going to sound like a broken record, but I'm going to say it anyway, crossovers are taking over the world! Yes, you heard it first on UnfinishedMan … okay, everyone knows how popular these vehicles have become over the years and they just continue to dominate the marketplace and keep taking bites out of sedans' market share.
The latest trend in the CUV market has been the subcompact CUV, which there are a lot of. One of the newer subcompact in the wild is the Nissan Kicks, making it the sixth CUV/SUV Nissan has currently available in the Canadian market.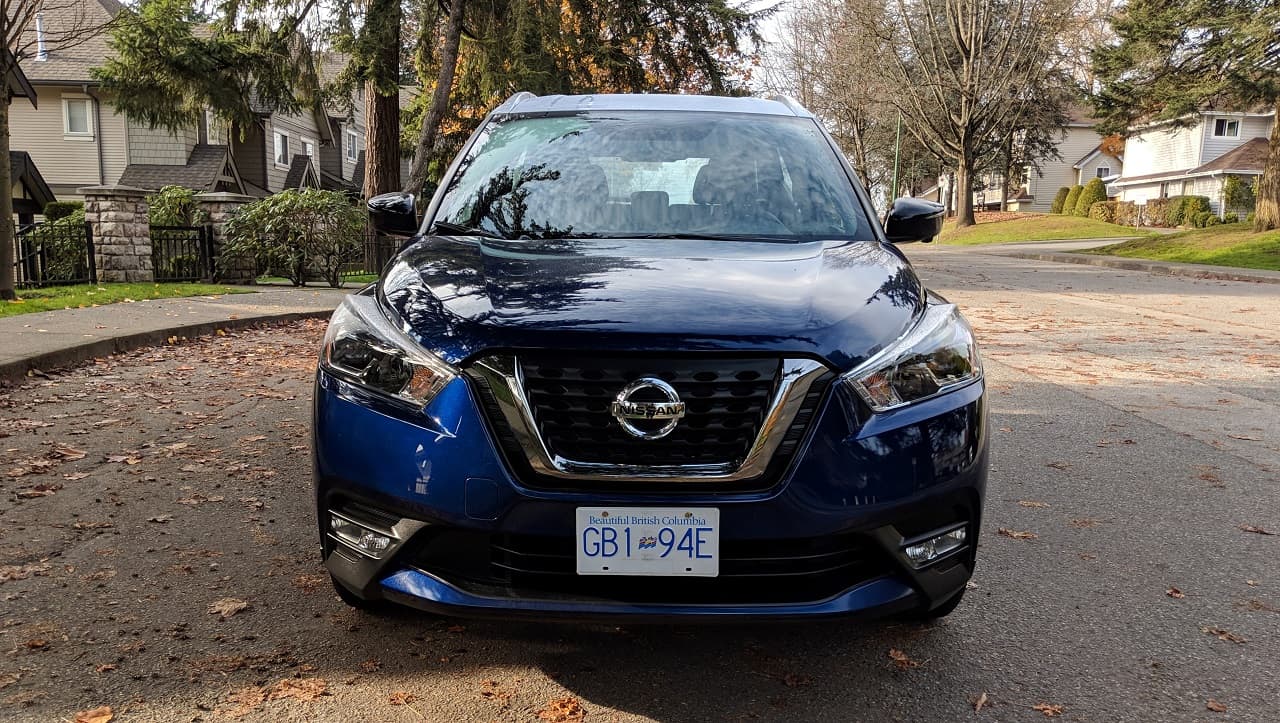 Prices
The Nissan Kicks has a very reasonable starting price of $17,998 for the base Kicks S. The next trim is the SV, which starts at $20,808, and the top of the range is the Kicks SR, with a starting price of $22,798. All trims come with Intelligent Emergency Braking, remote keyless entry with push button start, Intelligent Auto Headlights, and 7" touchscreen with Siri Eyes Free.
If you want Apple CarPlay/Android Auto, you'll need to step up to the SV trim, which also includes bigger 17" wheels, two-tone exterior paint, and intelligent key. The top of the line SR includes Bose sound system with 6 speakers plus two speakers in the driver headrest, around-view monitor, blind spot warning and rear cross traffic alert, remote engine start, and Prima-Tex seats with orange stitching.
Our review car for the week was the 2018 Nissan Kicks SR, with a total price of $25,043. The price included $450 for two-tone pearl paint and $1,795 for Freight & PDE.
Engine/Driving
All three trims of the 2018 Nissan Kicks are equipped with 1.6-liter 4 cylinder engines, producing 125 horsepower at 5,800 rpm and 115 pound-feet of torque at 4,000 rpm. Power is sent to the front wheels via Xtronic Continuously Variable Transmission, AWD is not offered on any of the trims, which might send some potential buyers to other subcompact crossovers in the marketplace.
The biggest complaints I've read about the Kicks (on YouTube videos, yes I know it's a rabbit hole and one should never read comments on YT videos, but I took one for the team), are the lack of AWD, low horsepower, and the Continuously Variable transmission.
The omission of AWD might be something that will turn some customers to other brands, but personally I don't think it's that big of a deal. I've always owned/driven FWD or RWD cars and in the winter with a good set of tires I've never really needed AWD. But then again, I don't go out when there's a foot of snow on the roads, so some people might want/need an AWD equipped vehicle.
As far as the engine is concerned, I actually had a pretty fun time in the Kicks, even with the small amount of HP produced by the engine. The engine is pretty responsive and it's pretty fun to zoom in and out of city traffic, and that's what most people forget, the Kicks is aimed at city drivers. It's not an off-road vehicle, even if it was, most people never leave the paved road. The CVT is also not bad, it has simulated gears, which makes it feel a bit like a "normal" automatic transmission. It's not as good as the Maxima's but that car is a sports sedan while the Kicks is an Urban Utility Vehicle.
I was expecting the Kicks to struggle getting up to highway speeds, however, I thought it did a pretty good job at getting up to speed and passing wasn't too big of a deal. You do have to plan your passes, as the engine isn't going to pin you to the back of the seat from its awesome acceleration. Overall, I think it performed well enough for what this vehicle is intended for.
According to Nissan, the 2018 Nissan Kicks should consume 7.7 L/100 km in the city and 6.6L/100 km on the highway. In our weeklong drive, with fairly light-footed city driving, the computer showed 8.0 L/100 km in the city and 6.5 L/100 km on the highway. These are pretty good consumption numbers and our city fuel consumption number is very close to the claimed number while I beat the claimed highway number. Not bad at all.
Styling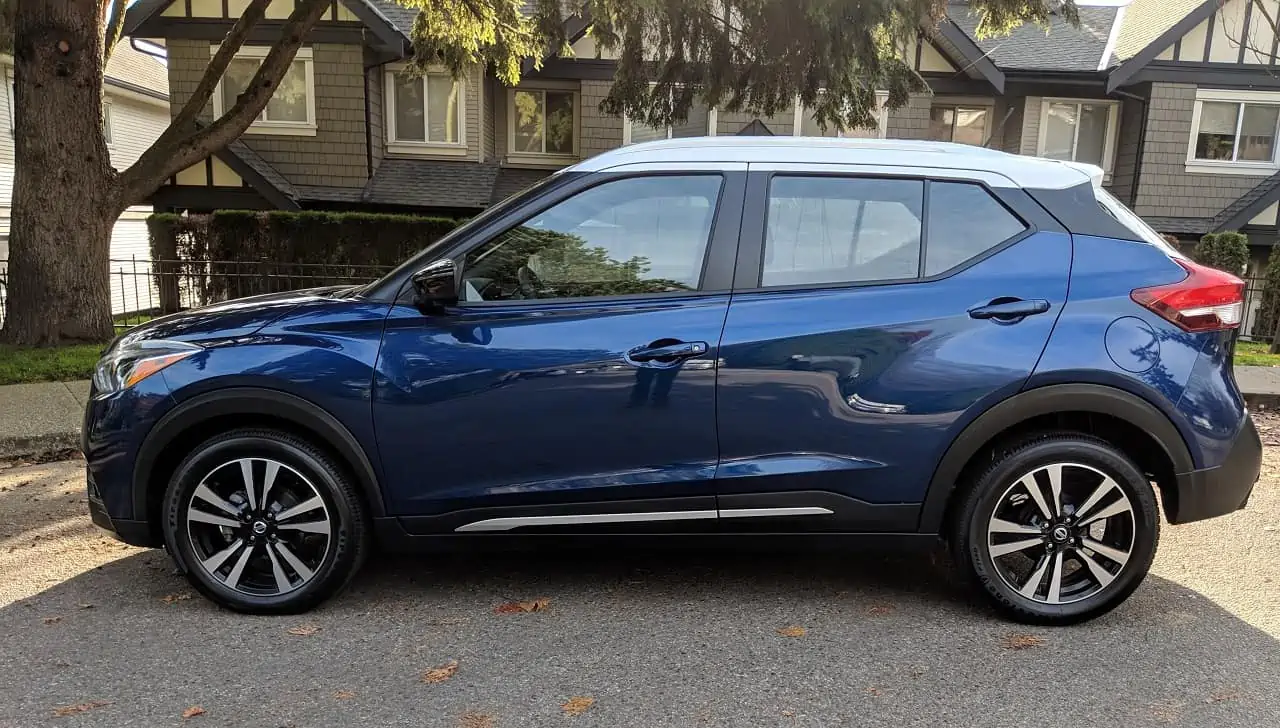 Styling is a personal taste matter, but I think the Kicks is a pretty decent looking CUV. It shares its looks with the bigger crossovers from the Nissan family, which is very apparent in the V-Motion grill. Some of the competition in this segment is going for the cute look, some sporty, while others try to make their subcompact CUVs look tough, I think the Kicks has a right blend of styling, it's neither trying to look tough or cute, it has more of a sporty look.
Interior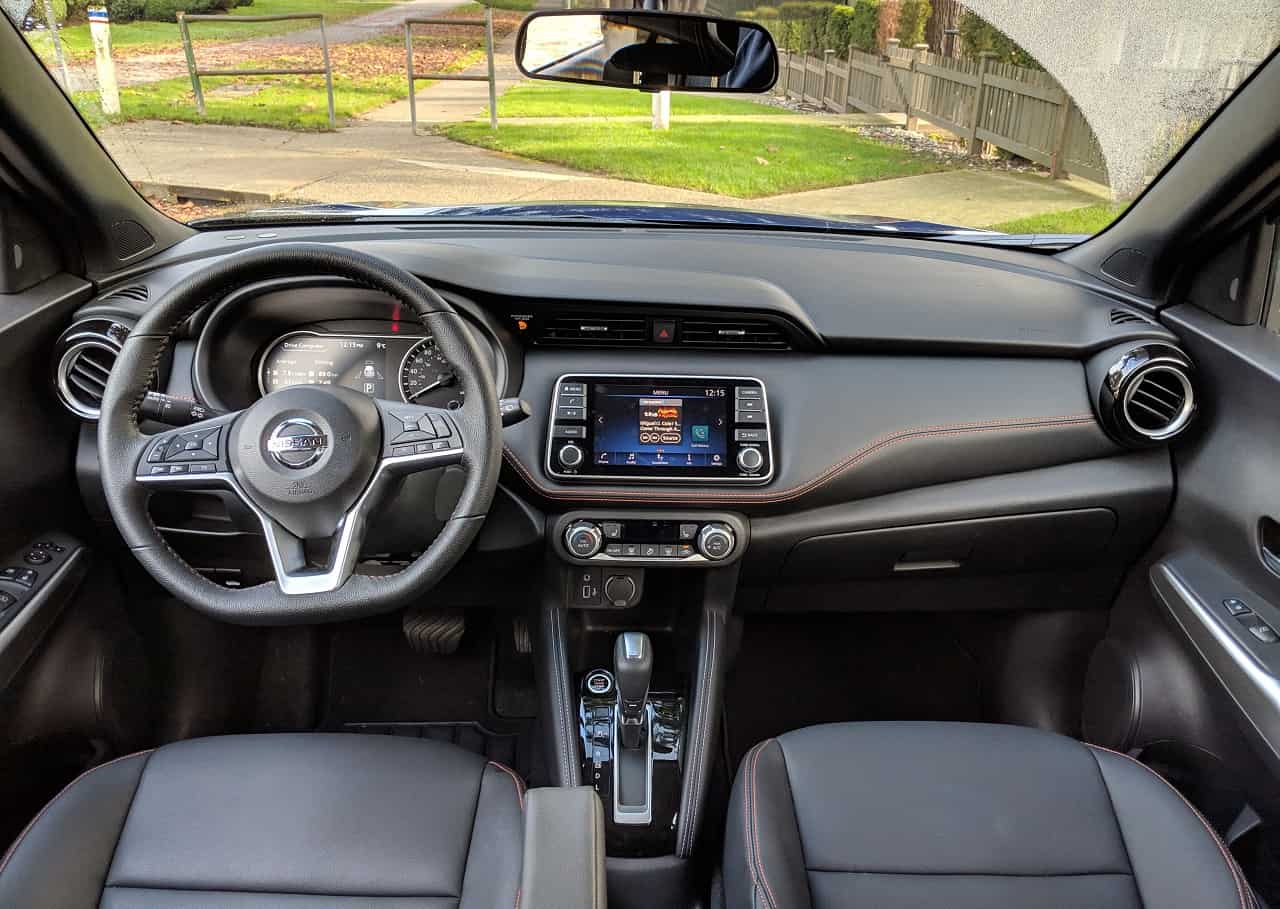 The interior has a very clean and easy to understand layout, everything is within reach. The 7" touchscreen is pretty responsive and has clear graphics. Below the touchscreen is a separate set of buttons for the climate control, which I like over climate control buttons hidden in menus in the touchscreen. The leatherette seats are also very comfortable and roomy. The driver's seat armrest was quite awkward, it's very high, I didn't notice it at first but after resting my arm on it for a bit, I felt a pinch in my right shoulder; I didn't use it much after the first couple days of painful shoulder, which was fine afterwards. Hopefully it is brought down a few inches or completely eliminated.
The rear seats are much roomier than I was expecting, because of the higher seating position, you're sitting in an upright position, giving you extra legroom. The trunk is also fairly decent sized for a subcompact CUV. The interior is also pretty quiet, however under hard acceleration, you can hear the droning noise of the engine/CVT. At highways speeds there is some wind noise at the top of the window, but it's on par with most vehicles in this segment.
Overall Impressions
I wasn't expecting to like the Nissan Kicks, but I actually had a fun time driving this little crossover. It's a pretty decent looking CUV, it has a lot of interior space, it's fuel efficient, and even fun to drive. It doesn't offer AWD, but I'm sure there are customers that are looking for something that has a bit of a higher seating position and that looks somewhat like an SUV.