Subcompact cars are quite popular in the Canadian market, CUV/SUVs have taken a bit out of this market but there is still enough demand for these little cars that automakers are willing to introduce new models. Hyundai's Accent is a pretty popular subcompact car, for 2018 it gets a complete makeover with new interior and exterior styling. The exterior design is more in line with the rest of Hyundai's family of cars.
The Hyundai Accent is available as a sedan or a hatchback, the hatchback is not available in the United States. For our review, we had the 2018 Hyundai Accent GLS sedan, we will be reviewing the Accent hatchback at a later date.
Pricing for the 2018 Hyundai Accent in Canada hasn't been announced yet, however, the 2017 Accent had/has a starting price of $13,999, so the 2018 should start close to the same price. We'll update this post when we're provided with pricing information.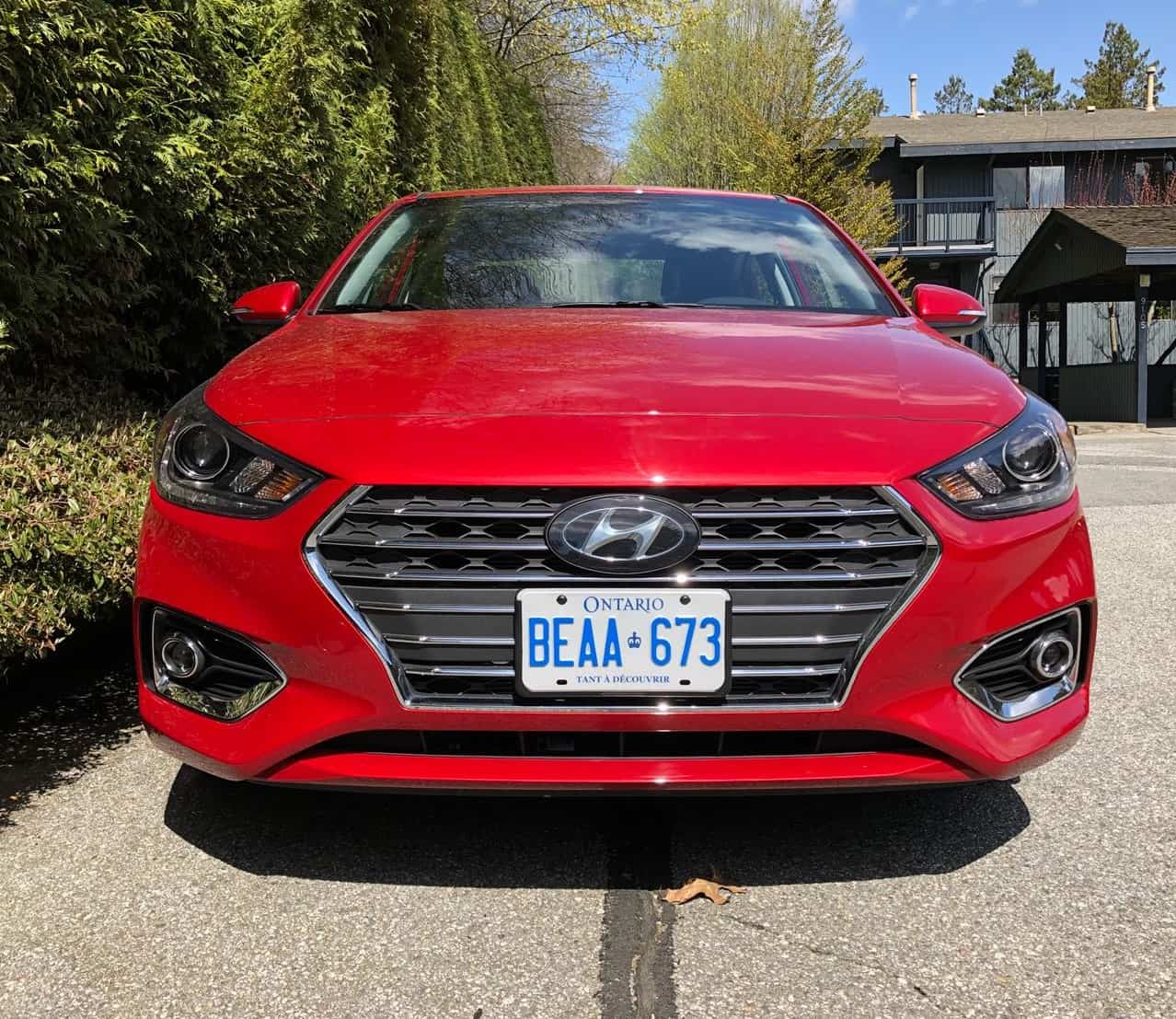 All trims of the 2018 Hyundai Accent come equipped with 1.6 liter 4-cylinder direct injection engines, producing 130 horsepower at 6,300 rpm and 119 pound-feet of torque at 4,850 rpm. Power is sent to the front wheels via a 6-speed manual or a 6-speed automatic transmission. Our review Accent was equipped with the automatic transmission, personally I would've preferred the manual but that's not available on the GLS sedan but it is available on the GLS hatchback. The hatchback we'll be reviewing later in the summer will be equipped with a manual.
According to Hyundai, the 2018 Accent equipped with the 6-speed automatic transmission should consume 8.3/6.2/7.4 L/100 km in city/highway/combined driving. For our weeklong review, the onboard trip computer showed 7.3 L/100 km in 50/50 city/highway driving. I wasn't driving it hard, just normal relaxed driving. Comparing my fuel consumption with the Honda Fit, which is in the same category as the Accent, the Accent is a little thirstier but that could be due to the manual transmission on the Fit, I always get better fuel consumption with a manual.
The 1.6 liter 4-cylinder engine does an adequate job of propelling the Accent, it's quick enough to keep up with city traffic and driving on the highway is not bad, the Accent isn't a sports car so I wasn't expecting it to break any speed records. There is a "Sport" mode available, which holds the transmission in the gear a bit longer than in normal mode, I guess it adds a tiny bit of sportiness to the car, but not much.
The transmission is also fine, it's not quick shifting but isn't sluggish either. I did notice something weird, when I'd stop on a slight hill and then start back up, the car would roll back a little, like a manual transmission. This scared me a bit the first time it happened because I don't expect automatic cars to roll back, I'm not sure if this was just the case with our review car or this is normal for 2018 Accents. Either way, it caught me off guard quite a few times and it's something that definitely needs to be looked at.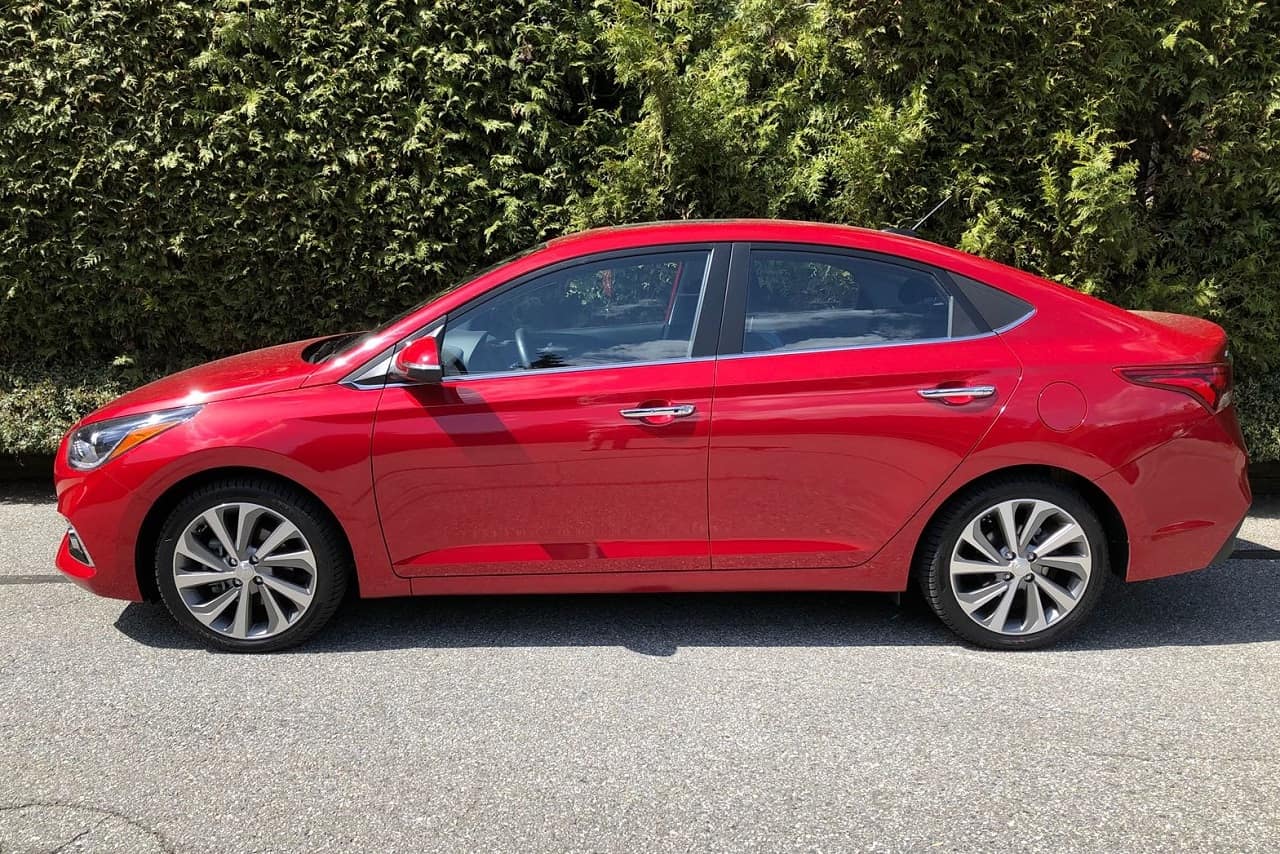 The 2018 Accent looks completely different from the model it replaces, now it looks more like the Hyundai Elantra, which is a pretty good looking car in my opinion. I personally don't like the look of most sedans in the sub-compact segment, the cars look too cartoonish, the same cars look much better as hatchbacks. However, I think the Accent sedan looks quite good, especially with the chrome trim on our top of the line model. Hyundai has done a great job of making the car look like it's bigger siblings.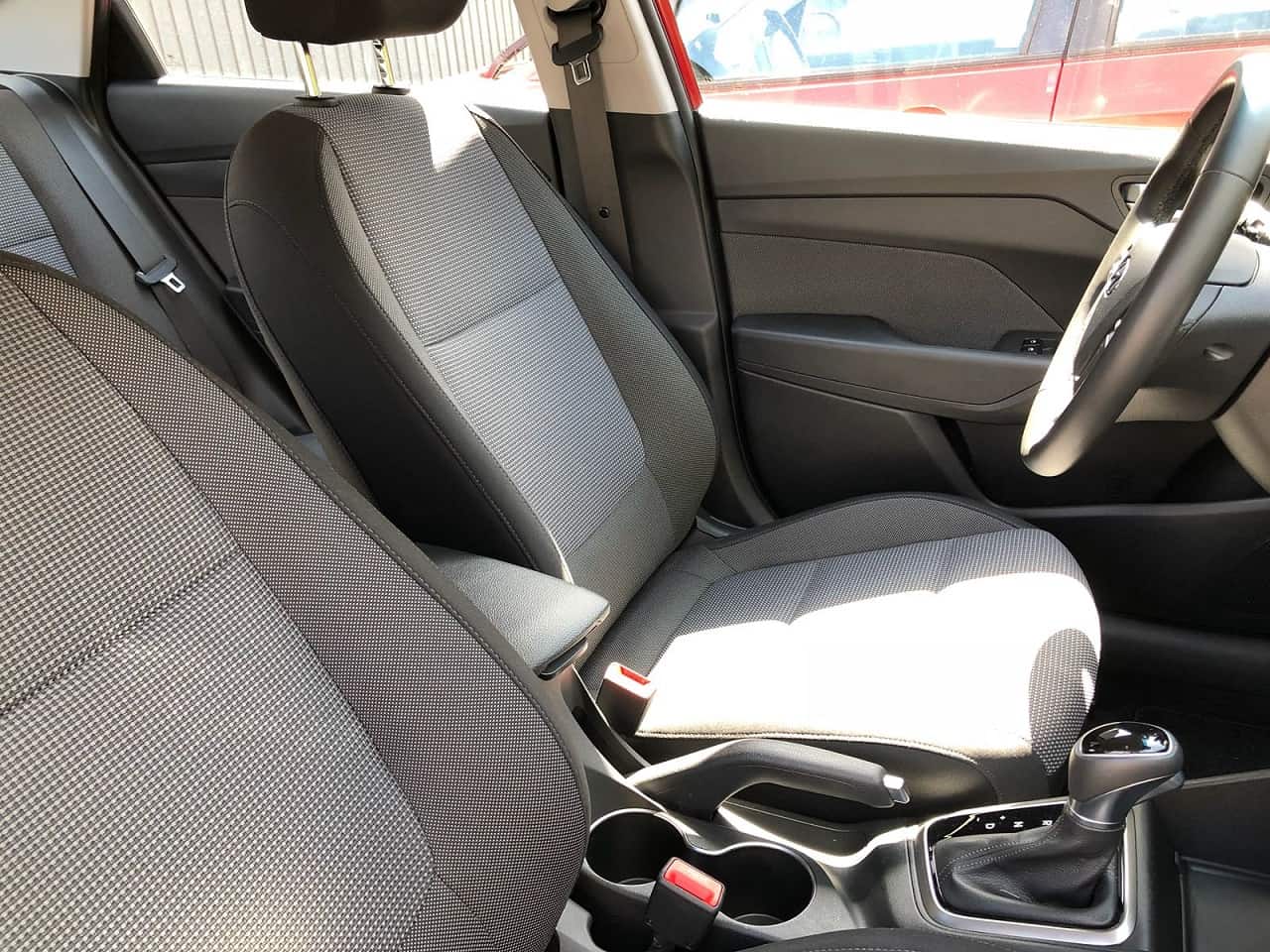 The interior on the new Accent is also redesigned, and it has a nice simple layout. The interior design is very clean looking and I personally like it a lot. I'm 5'8" and found the driver's seat to have adequate space and the seats are comfortable enough for driving around in the city, I didn't take it on a long drive, so I don't know how comfortable the seats would be on a longer stint. The rear seat had enough room for me, sitting behind my driving position. I had a couple of inches of room between my knees and the back of the front seat and had an inch or two to spare above my head. I think the rear seat might be tight for anyone above 5'10". I did put in a car seat in the rear seat, there was enough room to put the car seat but it made the front passenger seat useless. The entry to the rear seat is also a little tight, my wife bumped my baby's head against the top when she was putting him in.
I found the interior to be a bit on the noisy side, I think the Honda Fit is quieter, there was a decent amount of noise at highway speeds around the window and plenty of tire noise.
The controls on the Accent are easy to reach, this is a small car after all, and easy to understand. Connecting my phone to the car and using Android Auto was a breeze.
As far as tech/features, our review car was the fully loaded version, below are some of the highlights:
Automatic headlights with escort function
Projection headlights with LED accents
Sunroof, power glass- tilt & slide, safety one-touch
Heated front seats
7.0″ Color touchscreen AM/FM/SiriusXM
Android Auto & Apple CarPlay
iPod/USB and MP3 auxiliary input jacks
Rear view camera
Bluetooth hands-free phone system with voice recognition
Air conditioning with automatic temperature control (Single zone)
Leather wrapped heated steering wheel
Proximity key with push-button start
USB charging outlet for rear seats
Smart trunk
AEB (Autonomous Emergency Braking) – Radar only type
FCW (Forward Collision Warning) – Radar only type
Overall, I think the 2018 Hyundai Accent is a pretty good car, it's definitely the best looking sedan in the subcompact segment. It's pretty good car for city runaround, it performs well in city stop and go traffic and has enough power to keep up with traffic on the highway. There is good interior room for its size, and it comes with a few of the gadgets found on more expensive cars. This car should appeal to the younger crowd and even families without kids.
2018 Hyundai Accent Review Photo Gallery
For more information on the 2018 Hyundai Accent please visit hyundaicanada.com.