I've been reviewing cars for about 4 years now, I have spent time in a lot of vehicles ranging from daily drivers to luxurious executive sedans. I have driven cars that get you from point A to B, and cars that get your blood pumping, making you find any excuse to get out and go for long drives.
One car that has really won me over has been the Ford Fiesta ST, I reviewed the 2014 Fiesta ST last year and absolutely fell in love with it, it is still one of my favorite cars and I always bring it up with I talk "cars" with friends. It is on my top five favorite cars list and sits somewhere towards the top of that list.
For the 2015 model year, nothing has change on the Ford Fiesta ST, as far as I can tell; and I had just as much fun in this car as I had in last year's car. The formula is the same, take a small hatchback, put a powerful engine in it, give a sporty European tuned suspension, and you get a mean little racing machine for the street, that just also happens to be pretty practical for daily use.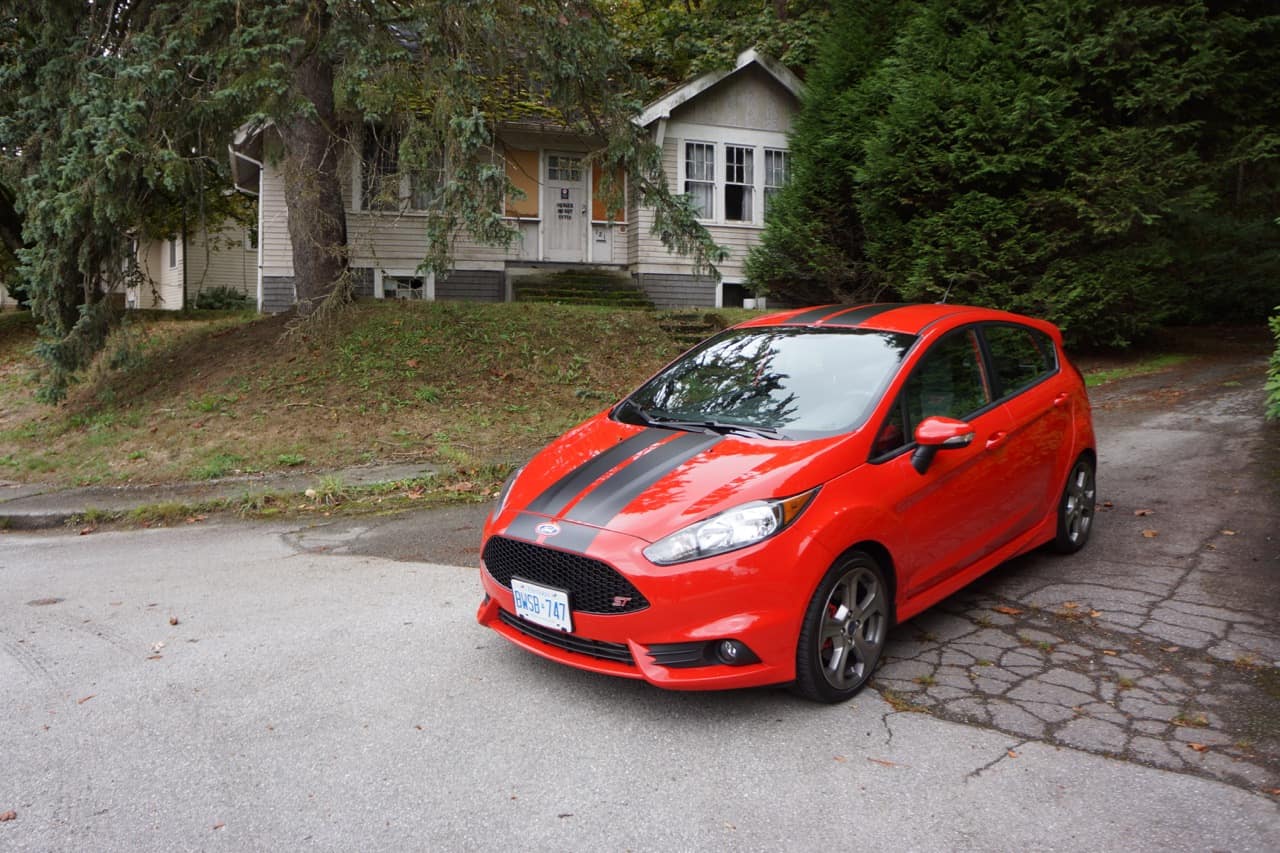 The 2015 Ford Fiesta ST has a starting price of $24,999 (discounts are currently available at dealerships), which is also the same as last year. Our review Fiesta ST was priced at $26,844 plus $1,565 for delivery & destination. Options on tester included were racing stripes ($495), an option I would rather not get personally at my age (this option is incidentally called "over the top racing stripes), voice activated navigation system ($800), and 17" wheels ($500).
The 2015 Fiesta ST is powered by the sweet little direct injected 1.6 liter turbocharged EcoBoost 4-cylinder engine, producing 197 horsepower at 6,000 rpm and 202 pound-feet of torque at 4,200 rpm. Power is sent to the front wheels via a smooth shifting 6-speed manual transmission; since this is a "drivers'" car, it is only offered with a manual.
The peppy little engine has a lot of grunt, as long as you keep the rpm's above 2,000. Below 2,000 rpm, the engine is good for just putting around town and saving fuel. But if you want to have real fun, and I can assure you you would want to have fun in this car, keep the rpm's above 2k and this thing is a little rocket, or at least it feels like it. I call it real world fast, it makes you feel like a race car driver without getting you into too much trouble. The Fiesta ST reaches 60 mph (96 km/h) in 6.7 seconds, which is pretty respectable.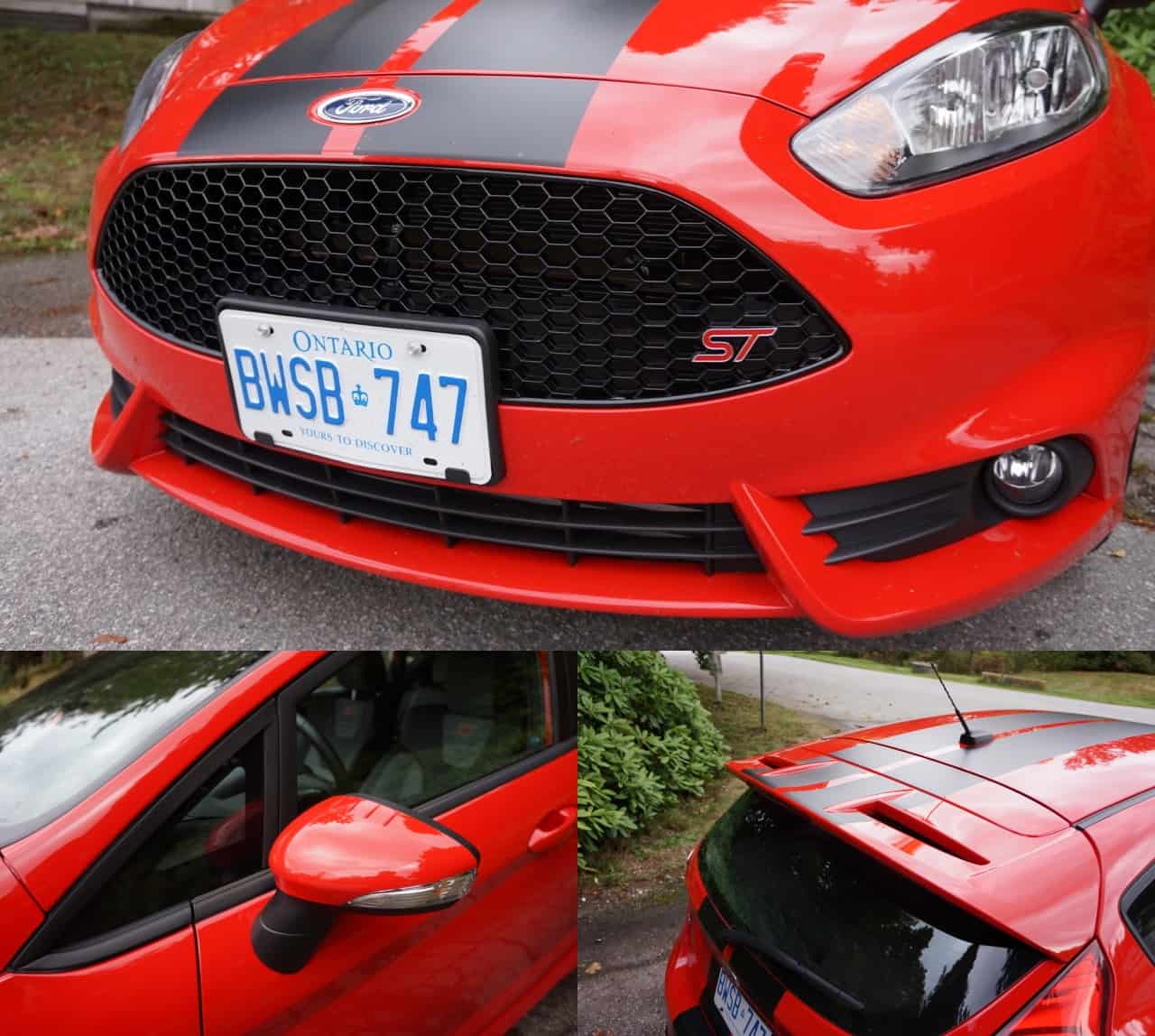 Unlike a powerful sports car, the Fiesta ST won't have you crying at the pump. According to Ford, the 2015 Fiesta ST consumes 9.0 L/100 km in the city, 7.1 L/100 km on the highway, and 8.1 L/100 km on the combined cycle. If you take a look at my review of the 2014 Fiesta ST, the claimed fuel consumption has lower for last year's car, this doesn't mean the Fiesta ST has become less efficient though. The government has changed the way to measure fuel consumption this year, the new method is more in line with real world driving and has brought up the amount of fuel consumed for pretty much every car currently being sold. Our week-long review netted us 8.4 liters/100 km (according to the on-board computer), which is 0.4 L/100 km more efficient than I managed to get last year. Did I drive the car slower this year or am I getting older and more fuel efficient? Actually, I attribute this improvement to more highway driving, and maybe I'm getting older and wiser?
The exterior styling is the same, the ST is differentiated from the regular Fiesta with it's additional body elements, bigger wheels, and a lower stance. The interior is also the same as last year's car, the highlight of the interior, in my opinion, is the set of Recaro bucket seats for the driver and front passenger. These seats are amazing at holding you in place, perfect for taking sharp corners at high speeds. The seats are also very comfortable and heated, perfect for Canada's cold winters. Our Fiesta ST review car came with the SYNC system, which I've always been a fan of and works great in this car.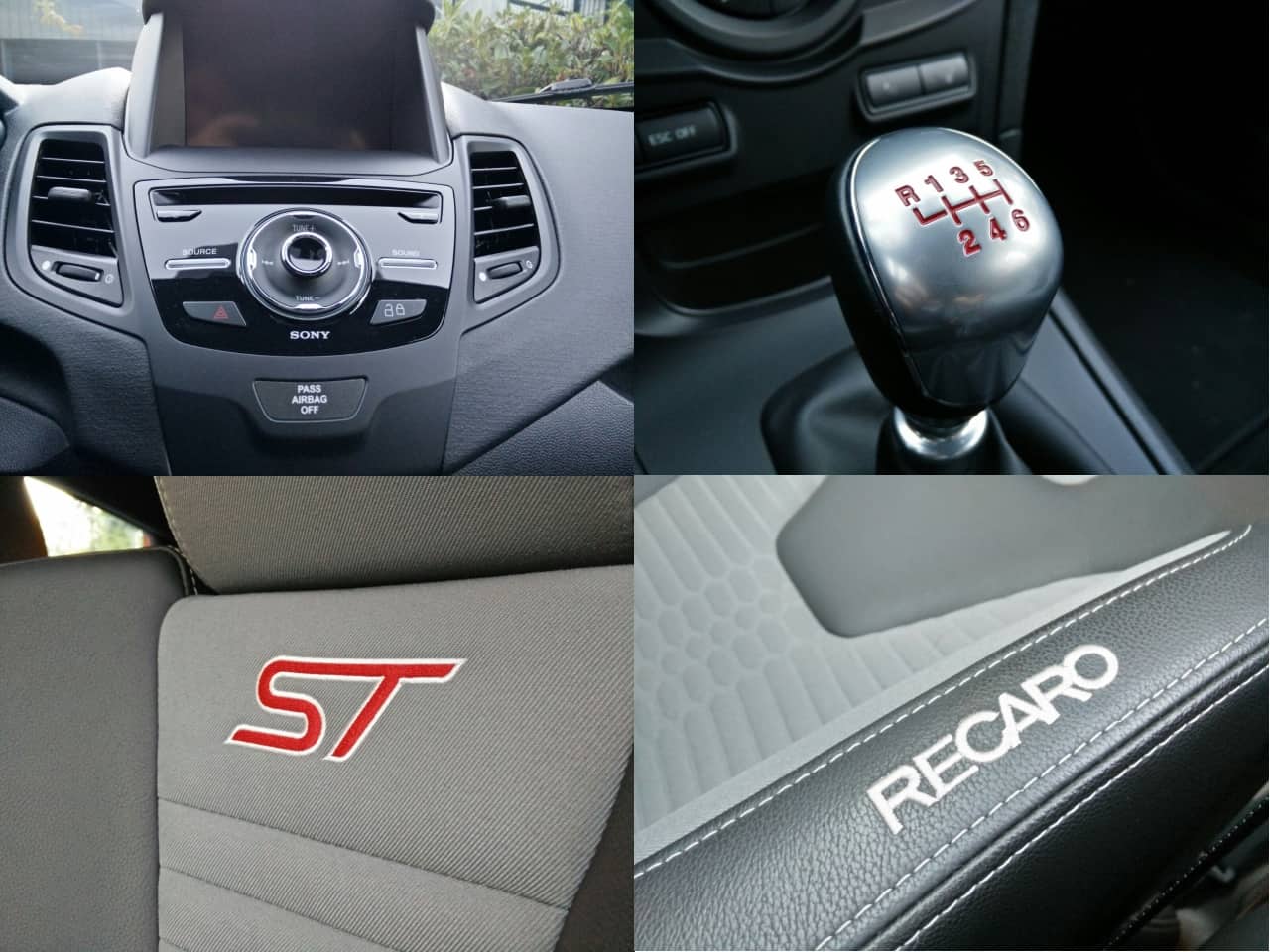 My only complaint about the interior is the little piece of polished "aluminum" on the lower half of the steering wheel, which can be very shinny if the sun is behind you, I had to put my hand on the bottom part of the steering wheel to cover that shinny piece from reflecting sun light onto my eyes, on a few occasions.
Final Thoughts
In my opinion, the great little the Ford Fiesta ST was last year is still just as good, I still love this fun little car as much as I first drove it. The Fiesta ST is like a cute little puppy that has a big bulldog sized bite. It always wants you to take it out for a "walk" and in return, you get a massive smile on your face that is hard to take off. The Fiesta ST just begs to be driven and you'll find yourself taking the long way home (pardon the cliché).
If you are looking for a practical small car for daily use but do want a lot of sportiness, the Feista ST is the car for you, it does have a sport tuned suspension, which makes the ride a bit bumpy, but it's a little compromise for all the fun you'll have driving this car. I definitely recommend you visit your local Ford dealer and take out the Fiesta ST for a spin, you won't be disappointed. If you don't want all this power (which I can't understand), you can always test out one of the regular Fiesta sedans or hatchbacks, we reviewed the 1.0 liter 3 cylinder Fiesta here.