Weeee… is what you'll be saying every time you get behind the wheel of the 2014 Ford Fiesta ST, at least that's what I was saying. I have done quite a few car reviews over the years, some very expensive and powerful cars, but I can't remember the last time I had this much fun. And the best part is, this car isn't going to cost you an arm and a leg.
Like the Focus RS I reviewed last year, the Fiesta is available for the first time in North America; our European friends have been enjoying this little "pocket rocket" since 2005. But in North America the car is only available with 4 doors (I hate calling the hatch the 5th door), in Europe you can get it with 2 doors.
In Canada, the Fiesta ST has a starting price of $24,999 and the car we reviewed for a week had an as tested price of $28,027 plus destination charge of $1,550. Our vehicle came with Molten Orange metallic paint ($400), moon roof ($1,200), navigation with touchscreen ($800), and 17" premium painted wheels ($1,700).
Driving the Ford Fiesta ST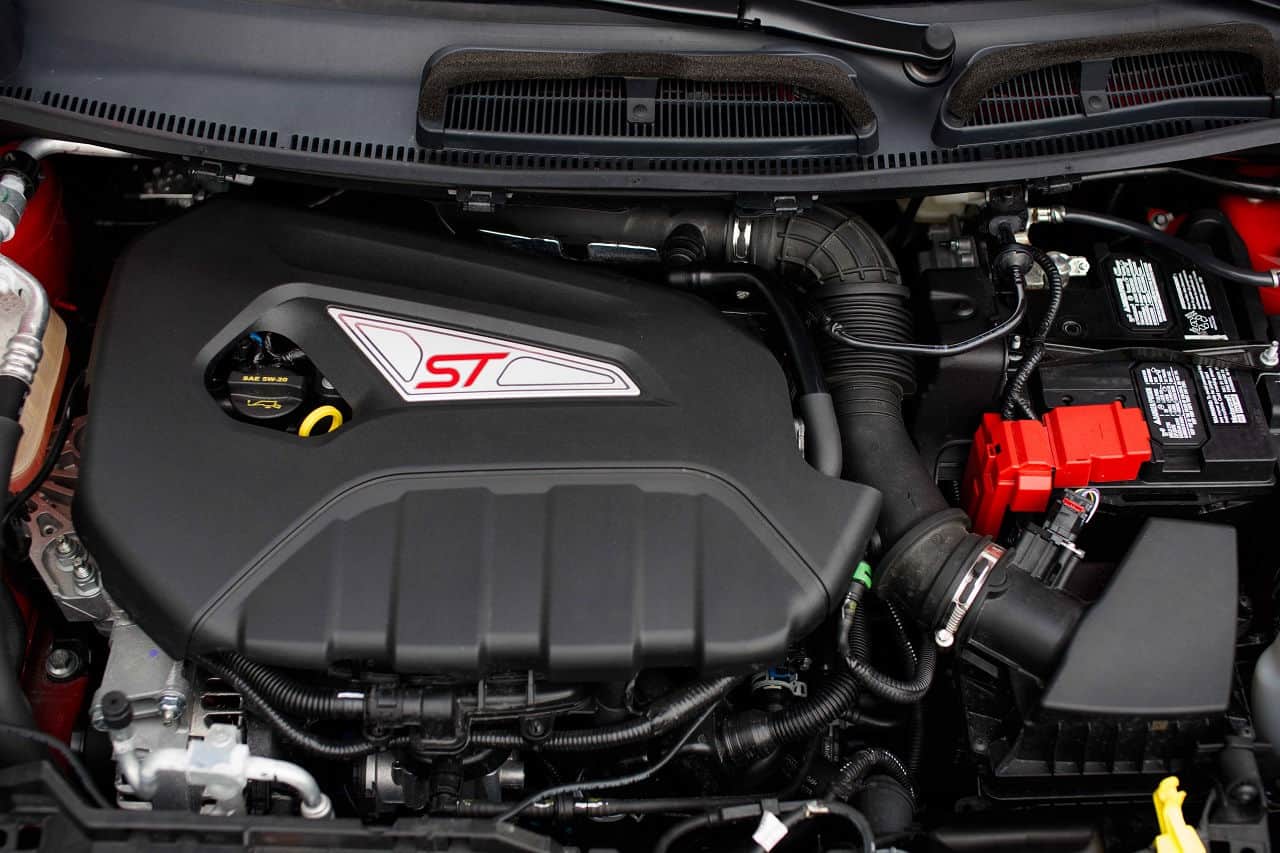 The 2014 Ford Fiesta ST is a small car, powered by a small engine, but it packs a hell of a punch. The car is powered by a 1.6 liter direct injection turbocharged EcoBoost 4-cylinder engine that produces an impressive 197 horsepower at 6,000 rpm and 202 pound-feet of torque at 4,200 rpm. Power is sent to the front wheels via a smooth shifting 6-speed manual transmission, no automatic is offered. The Fiesta weighs only 1,243 kilograms (2,742 pounds), combine that with almost 200 HP, the 0-60 mph (0-96 km/h) is achieved in 6.7 seconds.
The Fiesta ST is a performance oriented car, other than the engine upgrade, it also benefits from a sporty suspension, upgraded disc brakes on all four corners, and lower ride height. The car comes with an electronic front differential and Torque Vectoring control (which applies brake to the inside wheel in a corner for quicker turn ins); combine that with the quick ratio Electric Power Assisted Steering (EPAS), the car begs you to throw it into corners or keep switching lanes on city roads. When it comes time to stop, the brakes are extremely responsive; they stop the car on a dime.
Not only is this car powerful and sporty, but it's also very fuel efficient. According to Ford, the little ST consumes 7.8 L/100 km (26 mpg) in the city and 5.6 L/100 km (35 mpg) on the highway. Of course you're not going to get those numbers if you drive this car the way it's meant to be driven. In my week long test drive, I drove it pretty hard and some normal cruising, in mixed city/highway traffic (70% city 30% highway) and I was able to 8.8 L/100 km (26.73 mpg), which is a pretty good fuel consumption for a 200 HP car.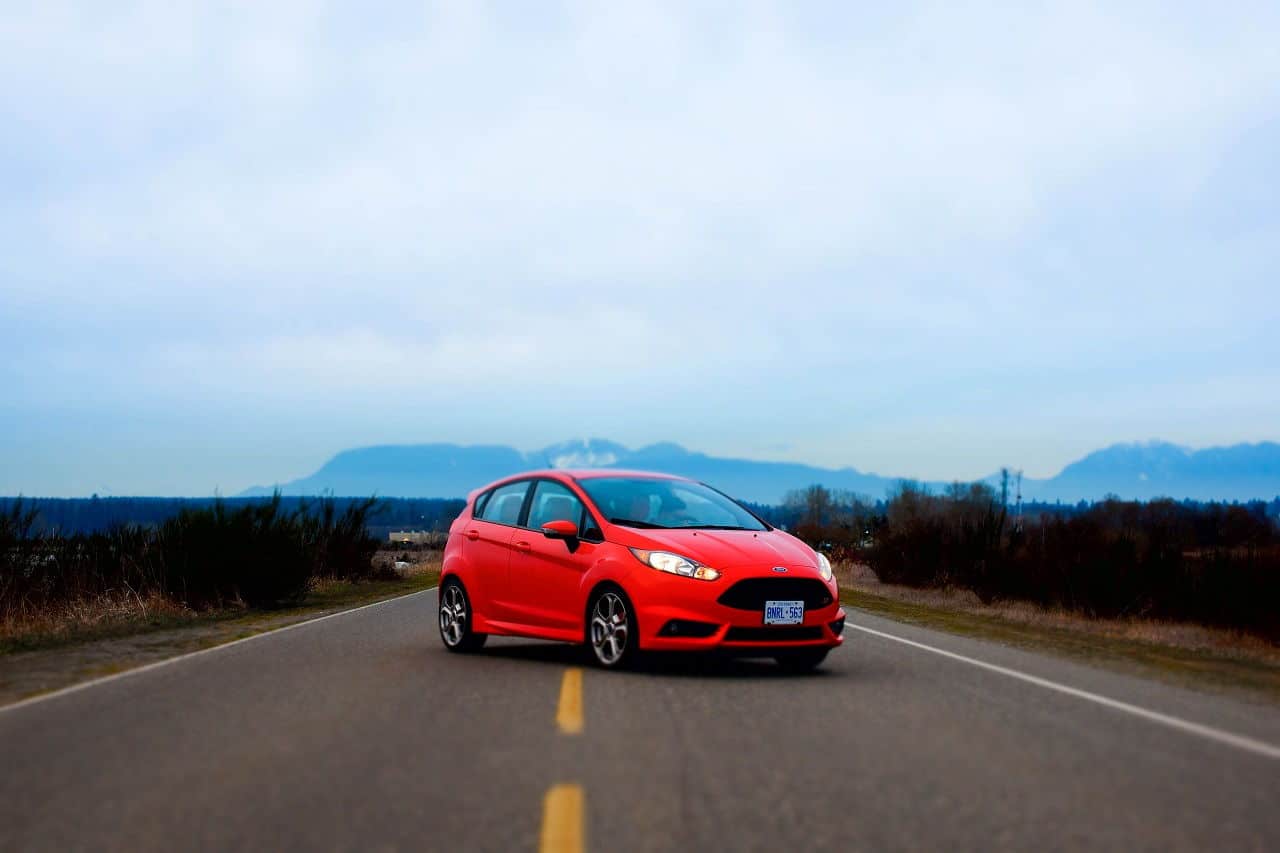 The car is powered by a small turbocharged engine, so there is a bit of turbo lag, you'll need to change gears quite often when driving in the city. Below 2,000 rpm, there doesn't seem to be as much power but if you're canyon carving and keeping the revs up, there's plenty of power and fun to be had.
Like I said at the beginning of the article, the Fiesta ST is a hell of a lot of fun; every time I got behind the wheel, I had the biggest smile on my face. I really enjoyed the Focus ST last year, but the Fiesta ST seems even more fun, even though the Fiesta has less horsepower. I've always been a big fan of small cars with lots of power; cars like the Golf GTi, Mini Cooper S, the Abarth 500 etc.; I used to own a Cooper S and the Fiesta reminded me a lot of that car, with the ST being just a little more practical with the additional pair of doors. The Fiesta ST is very close to being the perfect car that I'm looking for; it's small, powerful, handles great, loads of fun to drive, and not too expensive.
Ford Fiesta ST Styling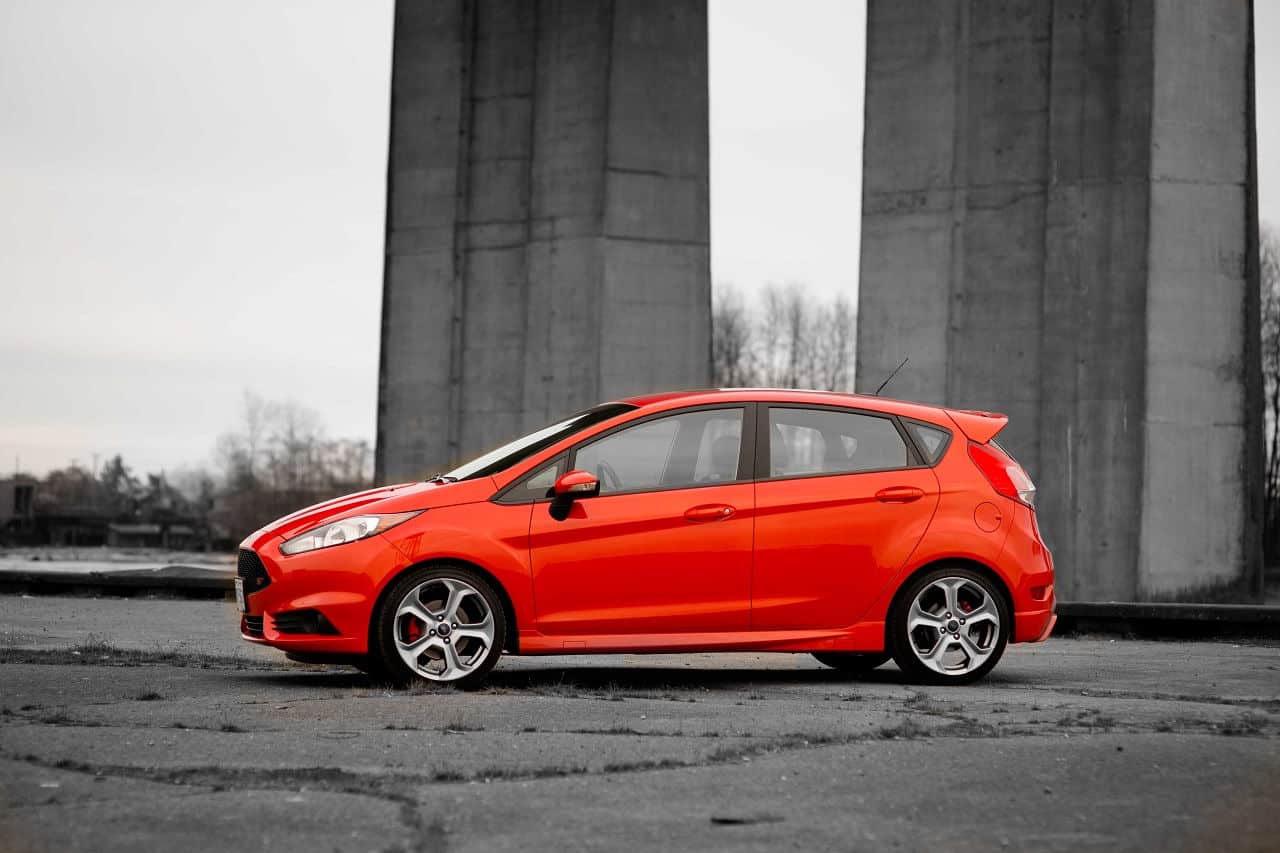 The Fiesta ST gets a lot of little styling additions to make it look different from the regular Fiesta. At the front, there's a unique grill, a chin spoiler, and a new hood. The sides get side skirts, which make the car look even lower, and there's a roof mounted spoiler and a diffuser with twin exhaust tips. The car sits 15 mm lower and rides on 17" rims.
All these little additions give the Fiesta ST quite an aggressive look; it looks like a muscular bulldog. I really like the styling on this car, it doesn't scream at you, but you know there's something special happening here.
Interior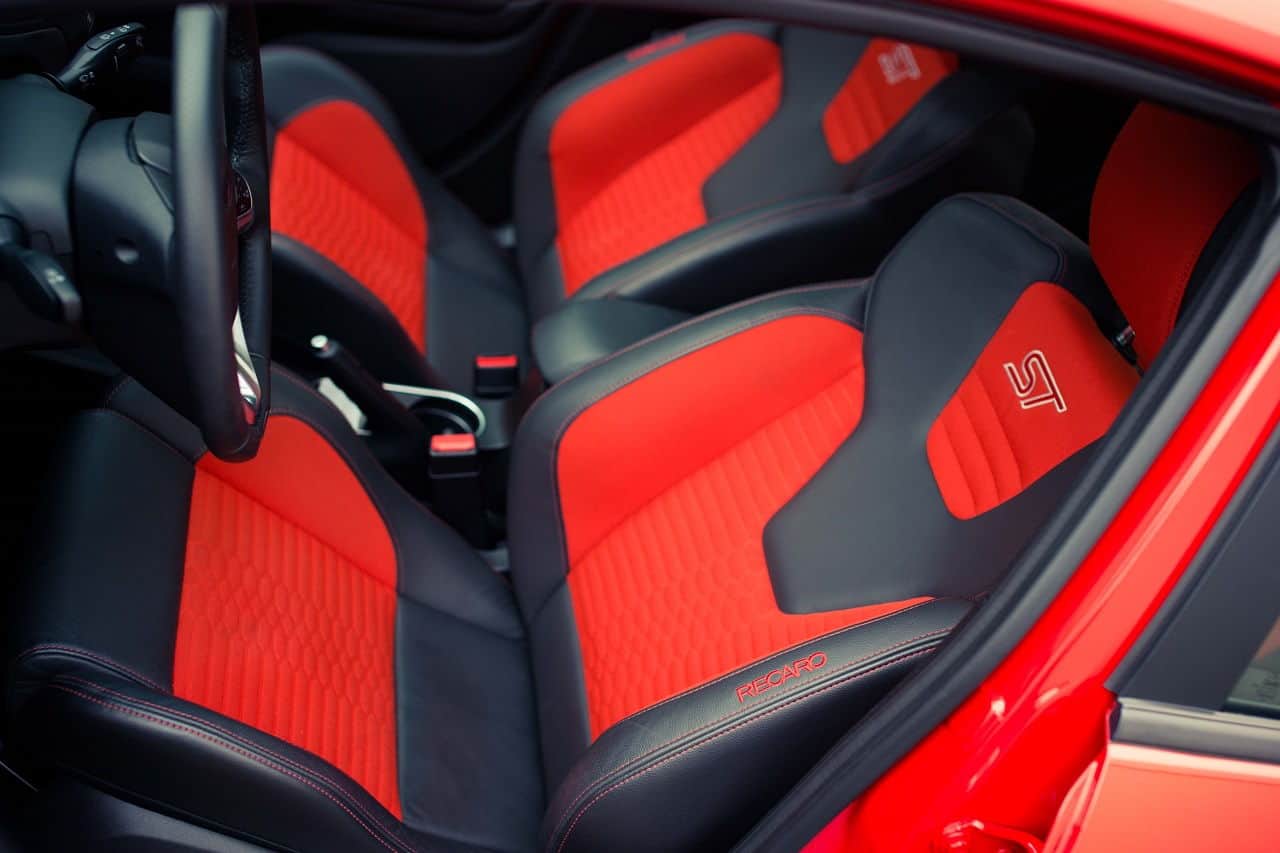 The interior doesn't change much compared to the Fiesta Titanium, with the exception of the seriously bolstered Recaro bucket seats that are partially covered in leather. I thought the seats on the Focus ST were aggressive, but the Fiesta ST's seats seem even more aggressive. They'll definitely hold you in place no matter how hard you're cornering; they are perfect for someone my size, they might be a bit tight for bigger guys, I think adjustable side bolsters would remedy that (not available on either of the ST cars).
The car comes with pretty good interior materials; the dashboard has soft-touch plastic on it but the doors panels are hard plastic. The driver and passenger seats are heated and are manually adjusted. The interior is relatively quiet, not much of the engine noise comes into the cabin, something you want in a car like this. Ford does have synthesized noise pumped into the cabin, just like on the Focus ST, but for some reason it's more noticeable on the Fiesta and I didn't really like it. It seemed a little too fake, especially when you're in a higher gear at low rpms and floor the gas pedal; the sound doesn't match with the acceleration of the car. I think this feature should've been left out or they should've removed some of the sound-deadening material on the firewall to let more engine noise into the cabin.
The interior is pretty comfortable place to be in, sitting in the body-hugging Recaro bucket seats makes it feel very special. The ride quality is very firm, this is a sporty car with a sports suspension, so don't be surprised if you feel the bumps and ruts on rough roads. There is plenty of room in the front, but the rear seats are a bit tight and head room is limited if you're 6 feet or taller.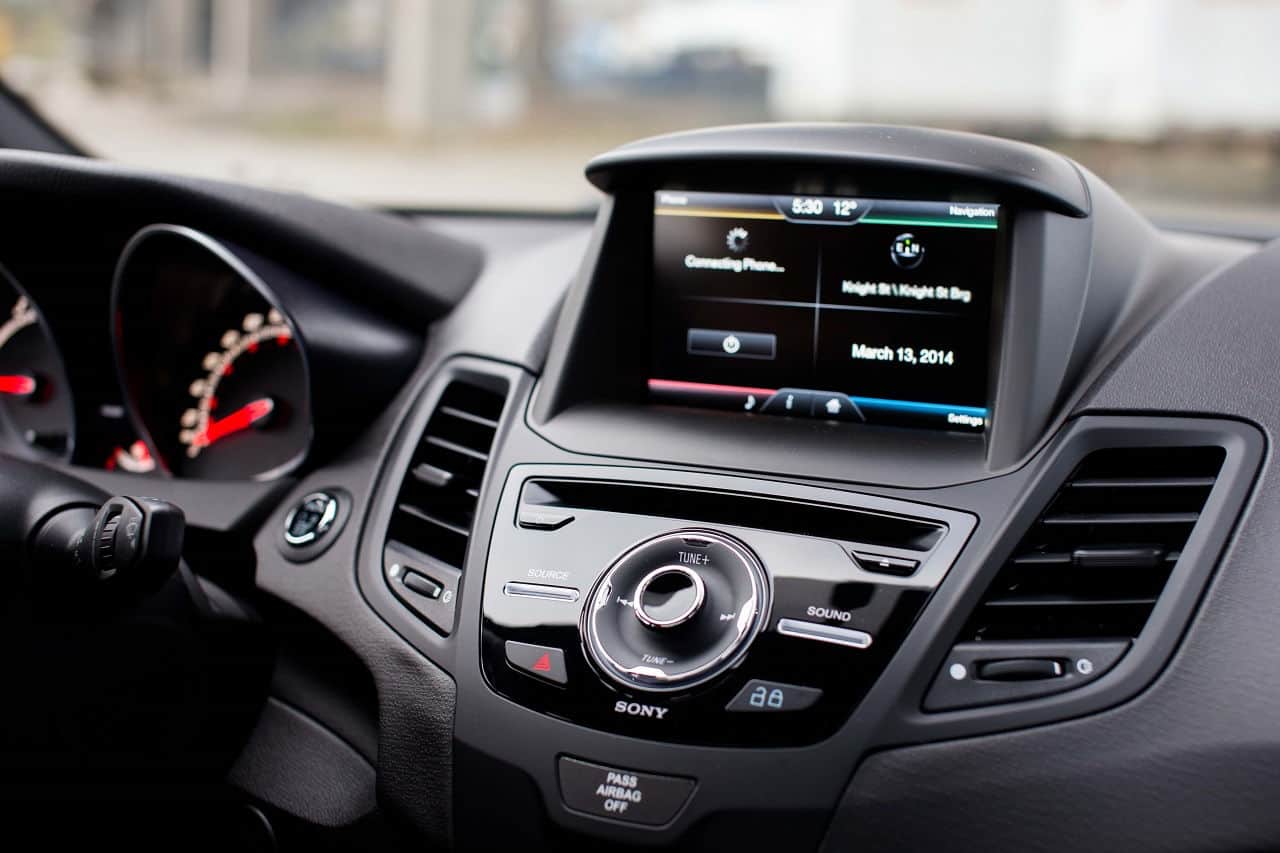 The car comes with the usual tech gadgetry found on other Ford vehicles, like the MyFord Touch system. However, there is no rear camera available, but it is a small car and the camera is not really needed.
A lot of journalists have complained about the MyFord Touch system, I personally like it; it has always worked for me. But on this car, the system didn't respond as smoothly as it did on other Ford vehicles. I'm not sure what the reason for that was, maybe the software needed to be updated?
Another minor complaint was the placement of the touchscreen; it's placed on top of the dashboard and is hard to reach from a comfortable seating position. Placing it on the lower part of the dashboard would make it a bit closer and easy to reach.
Overall Impressions
I can honestly say this is the most fun I've had in a car in a very long time. Sure, it's not the most powerful car I've ever driven, but there's something magical about the Ford Fiesta ST. It's just such a flick-able car, you just want to weave in and out of traffic or take it to some very twisty corners. Ford engineers did an amazing job with this car, I'm very impressed with what they've done here… now bring on the Fiesta RS 😉
If you don't believe how much fun this car is, head on over to your local Ford dealer and take it out for a test drive, I promise you, you'll be hooked, just like I was.
2014 Ford Fiesta ST Review Photo Gallery
[Photos by: Danny Yee]