In the world of mid-size luxury cars, you have quite a few options from the Americans, Europeans, and the Japanese. Most people think of Audi, BMW, Lexus, and Mercedes-Benz, when we talk about such cars, but there are other players in the market that produce pretty impressive mid-size luxury cars and these cars are definitely worth a look.
One such car is the Acura RLX sedan, which was introduced as an all-new model in 2013, replacing the Acura RL, which replaced the legendary Acura Legend, one of my favorite luxury cars from the 1990's. We spent a week behind the wheel of a 2015 Acura RLX Sport Hybrid SH-AWD, and all I can say is "wow, what a car!!". I absolutely had a blast in this car, which is something I don't normally say about big luxury cars.
In Canada, the Acura RLX comes in four trims: the base RLX with a starting price of $49,990, RLX Tech starting at $55,990, RLX Elite starting at $62,190, and the range topping RLX Sport Hybrid priced at $69,990.
Our week-long review took place in the RLX Sport Hybrid with the Super Handling All-Wheel Drive (SH-AWD), priced at $69,990. This is the fully loaded model and there are no options to add, other than picking a color.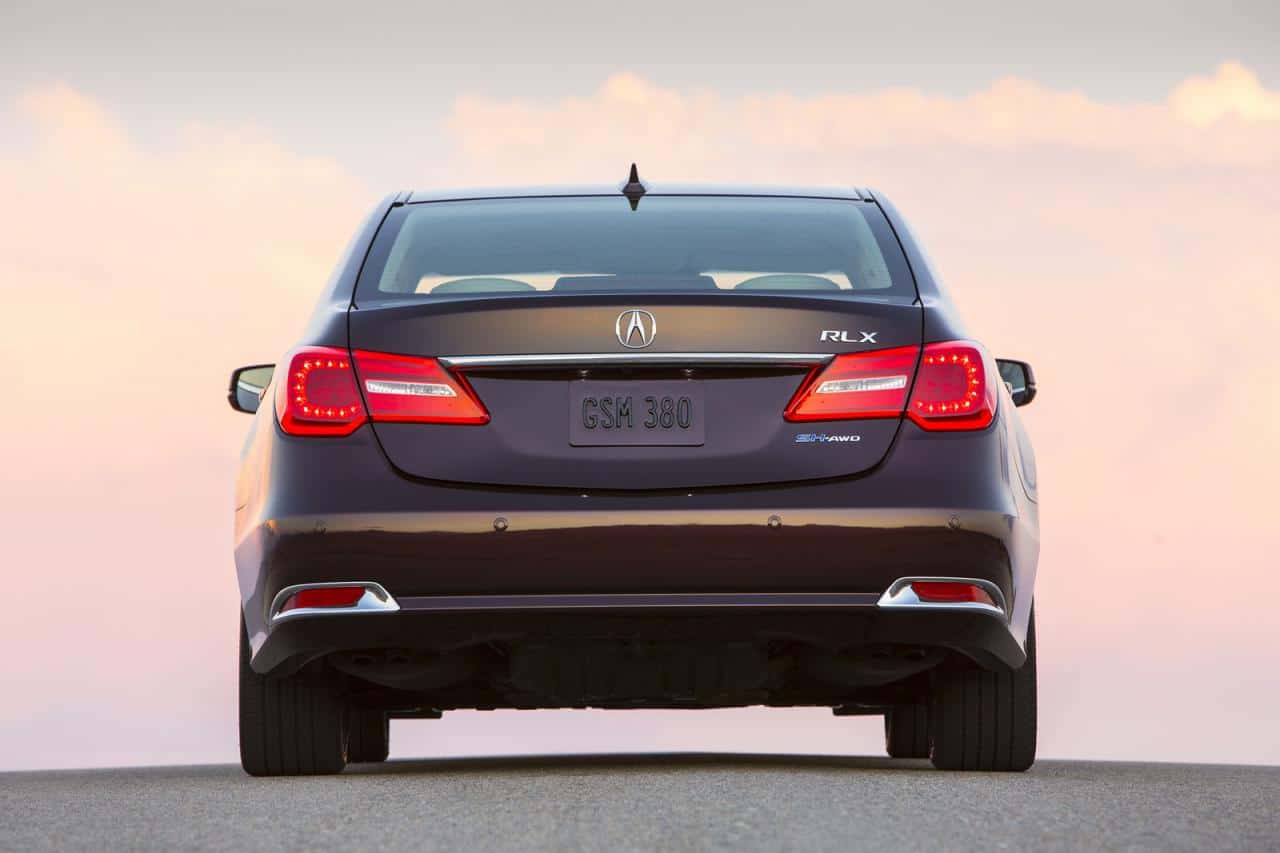 The three non-hybrid models are powered by 3.5 liter V6 engines with direct injection, producing 310 horsepower at 6,500 rpm and 272 pound-feet of torque at 4,500 rpm. Power is sent to the front wheels via a 6-speed automatic transmission with steering wheel mounted paddle shifters. The RLX Sport Hybrid SH-AWD is also powered by the same engine but also gets assistance from 3 electric motors, bumping total combined output to 377 horsepower and 341 pound feet of torque, making it the most powerful production vehicle ever produced by Acura. Power is sent to all four wheels via a 7-speed dual-clutch automatic transmission with paddle shifters.
The three-electric motor system is similar to what will be used on the Acura NSX supercar, so it's a bit of a taste of what we should expect in the NSX. There is one 37 kilowatt (47 HP) motor mounted at the front, integrated into the transmission. This motor powers the front wheels when extra power is needed, it also regenerates electricity during braking/deceleration, and charges the lithium-ion ion batteries during normal driving. The other two motors, 27 kw (36 HP), providing power to the rear wheels and managing the electric torque-vectoring, these motors also regenerate electricity during braking/deceleration.
When most people think "hybrid" car, they think of the Toyota Prius and think slow car that gets you from point A to B while using the least amount of fuel it can. And you probably think I'm crazy for saying "wow, what a car" above, who in their right mind would be impressed with a hybrid car. Well, you'd be wrong. The Acura RLX Sport Hybrid is nothing like a Prius, it definitely is a hybrid but that hybrid goodness is used to give you more power and the fuel savings come as a bonus.
Speaking of fuel savings, according to Acura the RLX hybrid consumes 8.0 L/100 km in the city, 7.5 L/100 km on the highway, and 7.7 L/100 km on the combined cycle. In our week-long review/trip of around 700 kilometers, we were able to get 7.9 L/100 km in combined driving with some very fast accelerations and some "experimental" high-speed runs (all in the name of research). I think this is the closest we've come to achieving the fuel mileage claimed by a manufacturer. I think if we didn't do those speed blasts, we could have easily beat the Acura's fuel consumption numbers.
Going back to the fun aspect of the RLX, I can comfortably say this is among my top 5 favorite cars I've reviewed over the last three years or so. It is one of the smoothest cars I've ever driven and it is extremely sporty. The car feels very light on its feet, despite being a hybrid (heavy batteries), and feels very nimble thanks to its Super Handling AWD system and all-wheel steering. To me it almost felt like a sports car, with the bonus of lots of leg room and room for two passengers in the back seat and a decent size trunk. The trunk is on the smaller side because of the batteries, and it seems small considering the size of the car, but the trunk does have about 12 cubic feet of space, which should be enough for regular runs to the grocery store.
So yeah, I really enjoyed the driving dynamics of the car, the way it launches off from a stop, and the best part is, you're consuming less fuel than a 4-cylinder small car.
Driving around in the city in the Acura RLX Sport Hybrid is a very comfortable experience, the car drives very smoothly and because of its hybrid system, you can drive quite a bit on battery power alone, which makes the car even more comfortable because of the lack of noise. The car goes from electric to gasoline modes without any drama and I had a hard time noticing when it actually switched. The switching between the two modes is the smoothest I've seen so far, I was also very impressed with this aspect of the car. The brake pedal does take a bit of getting used to because it's very stiff, and you also have to alter your braking style a bit. Normally I coast to a stop, hitting the brakes towards the end, but in order to charge the batteries quicker, you need to use the brake instead of just coasting to slow down.
Driving on the highway, the RLX is really fun. Put your foot down and all the motors come to life, shooting you off accelerating forward that's more like a sports car than a hybrid. It's very fun to go fast in this car and you'll be hitting 200 km before you even realize it.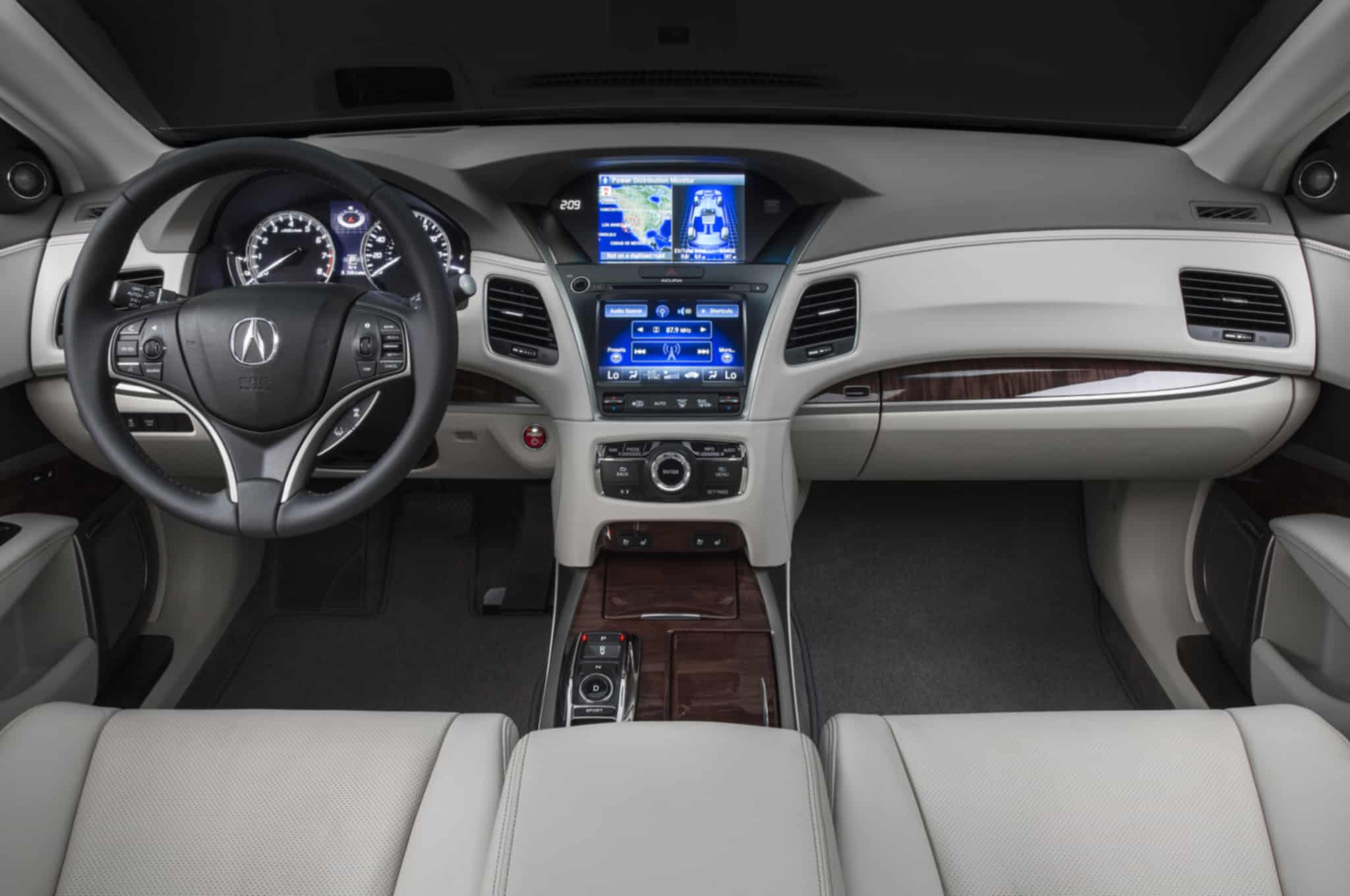 The interior on the RLX is a very luxurious place to be in, it's well put together with high quality materials. The interior also has a very simple layout to it, with a similar look to the TLX. The interior features dual screens, with the top one displaying the navigation map and acting as a screen for the backup camera, and the bottom screen features controls for various functions like navigation, audio, climate, and phone.
The seats are covered with Milano leather and are very comfortable, the driver and front passenger seats are 12-way adjustable with 4-way power lumbar support and two memory settings for the driver seat, the seats are also heated and ventilated. The back seats offer plenty of leg room and headroom but can only seat two adult passengers comfortably because of the hump in the middle, it could fit a child though.
As the RLX Sport Hybrid SH-AWD is Acura's flagship model, it's loaded up with the latest and greatest technology gadgetry, below is a list of what you can find in the car:
Head-Up Display
Forward Collision Warning (FCW)
Heads Up Warning
Lane Departure Warning (LDW)
Lane Keeping Assist System (LKAS)
Adaptive Cruise Control (ACC) with Low-Speed Follow
Blind Spot Information System (BSI)
Power windows with auto-up/down, auto-reverse and key-off operation
Power tilt and telescoping steering column
Push Button Start Ignition
Automatic Folding Mirrors
Keyless Access System
Multi Information Display (MID)
Multi-angle rearview camera with dynamic guidelines
Surround View Camera System
Acura Navigation System with Voice Recognition™ (8″ display)
Heated Steering Wheel
Rain-sensing Windshield Wipers
Parking Sensors
Power Rear Window Sunshade
Bluetooth Connectivity
When it comes to exterior design, the Acura RLX is on the (very) conservative side. It is a good looking design but isn't a head turner like some of the cars in its class. If I were to spend $70k on a car, I would want a car that turns more heads. I do however like the design of the headlights with the multiple diamond shaped projectors.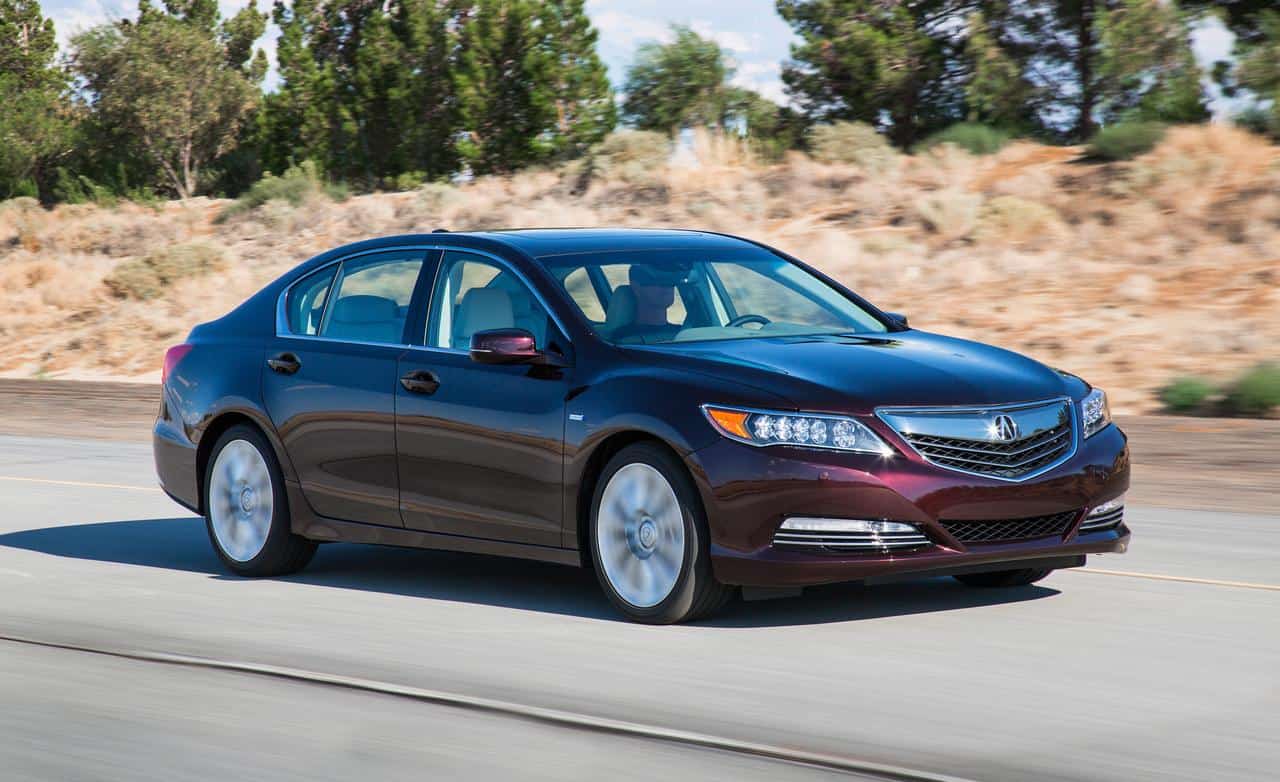 Overall Impressions
I've said it above and I'll say it again, the 2015 Acura RLX Sport Hybrid SH-AWD is one heck of a car! I absolutely had a blast driving it around for a week, it's a very comfortable car that feels like a proper luxury car when you want it to be a luxury car but it can also turn into a sports when you feel the need for speed. If you are in the market for a mid-size luxury sedan, you definitely need to take one of these cars for a test drive, I promise you won't be disappointed.
For more information on the RLX, check out acura.ca.