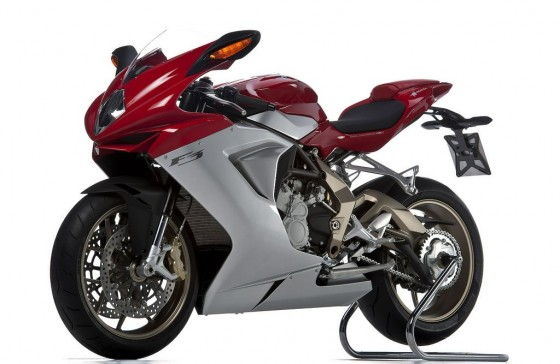 Italian motorcycle manufacturer MV Agusta has unveiled their 2011 middle-weight bike ahead of the EIMCA show in Milan, Italy.  The 2011 MV Agusta F3 is a three-cylinder sport bike that is equipped with an engine that is the most compact in its class.
The F3's engine is a 675cc three-cylinder which uses a counter-rotating crankshaft for reduced vibration.  Power and torque figures haven't been released yet, but we're sure there will be enough power to put a smile on those lucky enough to own one of these beautiful motorcycles.
The F3 takes many design cues from its bigger brother, the F4, with the exception of the exhaust pipes which stick out on the right side instead of under the seat and there are only 3 pipes instead of the F4's four pipes.  The F3 is equipped with some really advanced technology, including traction control and multi-map ride-by-wire which is a first for MV Agusta and this class of motorcycles.  I'm not really sure what it does, but it sounds cool and technologically advanced.
Visually, the 2011 MV Agusta F3 is a stunning bike, as you'd expect any Italian motorcycle to be.  The bike has an aggressive stance and is equipped with a single-sided swing arm.  The F3's frame is made out of aluminum and steel tubing.
2011 MV Agusta F3 Motorcycle Photo Gallery:
[Source: Motorcycle.com]