The haircuts we are about to present to you aren't the tamed kinds you will often see on the street in 2018. They aren't trending this year in the sense that many men will wear them. They are trendy because they are remarkable. We chose these haircuts for guys precisely because they were the most interesting we could find. You have to be woke in order to wear them.
We scoured the internet long before we found these trending haircuts for guys that we really think will redefine the fashion moment. The promise we can make is this: you will definitely not go unnoticed if you wear any of these gorgeous and astonishing cuts. People will ask you to let them take pictures with you. Your mother will probably disapprove of it (unless she's a really, really cool lady). Friends will envy it, the dating pool will dig it, people may frown to it on the subway. But you will be LEGEND.
1. Messy Blue Long Straight Hair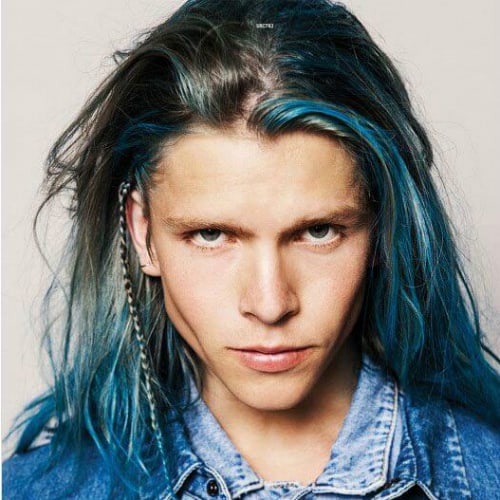 You will probably notice the color blue making an appearance in many trending haircuts for guys this year. But this one variation of it is among our favorites. Leaving your hair in this messy long careless style and dying it unevenly blue really makes a statement.
If you don't feel like waiting for your roots to grow out after dyeing so you can achieve this perfect uneven rebellious look, just ask a hairstylist to recreate this uneven effect right when you dye it. It's doable and you'll get this exact look right away.
2. Dark Silver Hair with Differently Colored Beard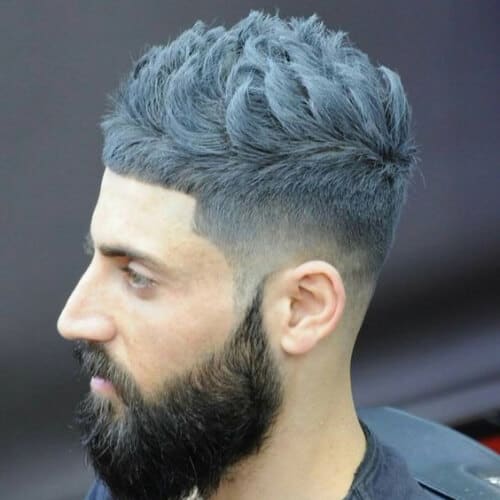 It's about time men appropriated the silver hair, which has always looked good on them. If you dye out your hair in this astonishing shade of beautiful dark silver gray, heads will turn. The haircut is otherwise tamed and kempt enough to make it even more interesting.
Of course, the best twist about this is the beard in a different color. It creates a contrast and makes it one of the best trending haircuts of the year.
3. Medium Dreadlocks for Grey Hair with Varying Lengths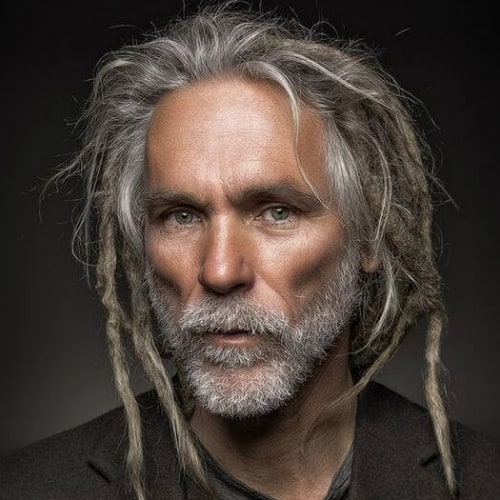 Usually, when we picture dreadlocks, we don't picture them with grey hair, only the browns and occasional blondes that we're used to by now. Furthermore, the medium length of the dreadlocks is also noteworthy, particularly with the interesting twist of the locks being of varying sizes.
This is a most stylish haircut for a gentleman young at heart but also with an innate elegance. If we could choose just one haircut and recommend it to everyone, this would be it.
4. Top Knot Long Dreadlocks with Shaved Under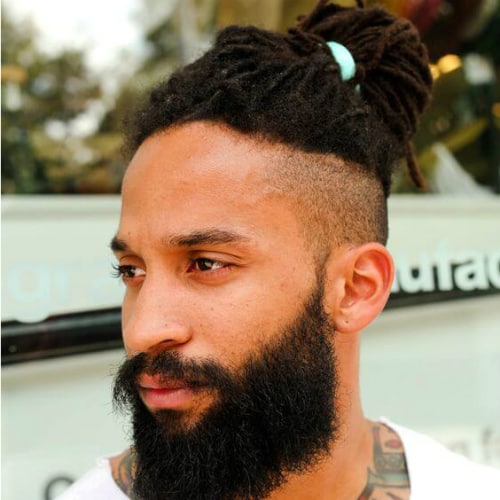 While we're on the subject of dreadlocks, this is another haircut that is taking this old favorite and reshaping it with a twist. The shaved under half of hair stands out beautifully in contrast to the top dreadlocks, and tying them up only makes this contrast all the more noticeable.
5. Structured Short Fade with Beard for Afro Hair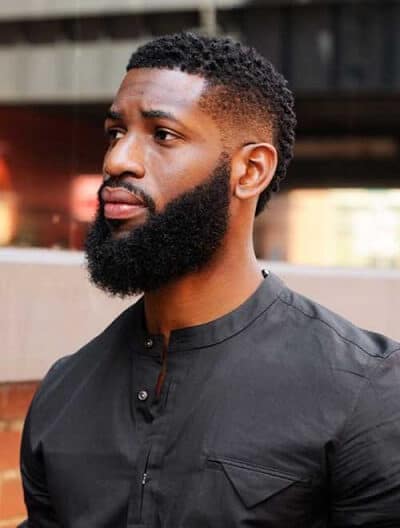 If you prefer to keep your haircut shorter and more kempt, this is the style for you. It works perfectly for men with Afro hair, or even slightly curly hair. The charm of this haircut lies in the unitary even look that the hair creates with the full beard that follows it.
The strong shave lines give it structure and a more uncommon look. If well-groomed is your thing, this style is guaranteed to make you good-looking and happy.
6. Double Hard Part on Sides with Upswept Hair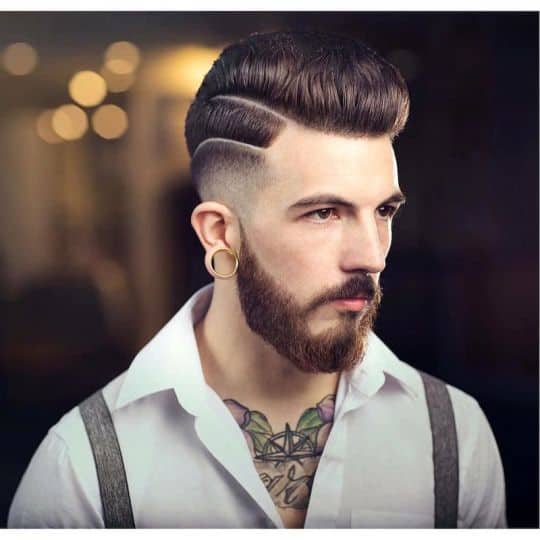 Straight out of a vintage barber's catalogue, but with a few decidedly modern details, like the double part sides and the fade. This upswept hairstyle is infinitely cool and will look good on almost everyone with straight hair.
Once you get this haircut it will be easy enough to maintain and style, with only a little styling product and a comb.
7. Blue Streak in Platinum Blonde Short Hair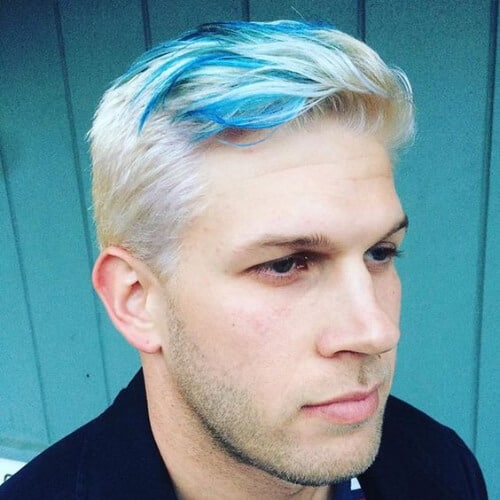 Blue knows how to make an entrance, and makes a nice entrance in our list, again. This is a great look for anyone with straight and very blonde hair. If your hair is darker and if you like the vibes of this hairstyle it's even worth bleaching for it.
It could also work well even without the bleaching, if your hair is light brown to medium brown. The beautiful blue color will stand out anyway.
8. Structured Ponytail with Braids Patten on Sides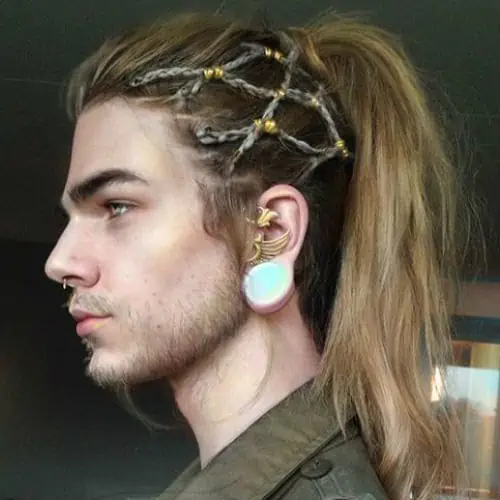 Trending haircuts and hairstyles for guys have long breached the high ponytail barrier. It has become quite common for guys to sport a high ponytail instead of the more traditional low-placed one.
But this high ponytail really takes the cake with its structured looks and tribal braided details on the sides. It is a wonderful fit for any men with long straight hair, regardless of their hair color. It takes a while to make it look like this so it's not realistically for everyday use, but on a special occasion it definitely makes a statement.
9. White Lowlights in Medium Layered Haircut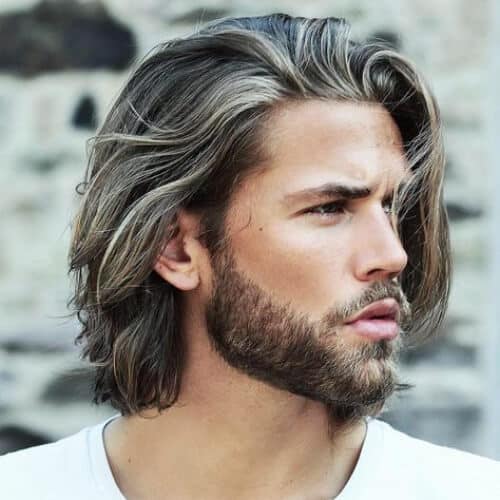 The white lowlights in this haircut are not like anything we've seen before, and really special at that. They make a statement without being too bold, and create a wonderfully layered effect on a medium cut hair.
If anyone who doesn't know too much about haircuts looks at this, they would probably be hard-pressed to guess that the color of this hair has been altered. In fact, many men with hair which has just begun greying out probably look like this. But the layered length of the cut itself and these white lowlights create such an elegant and remarkable effect that it's simply astonishing.
10. The Frosty Spiky Frizz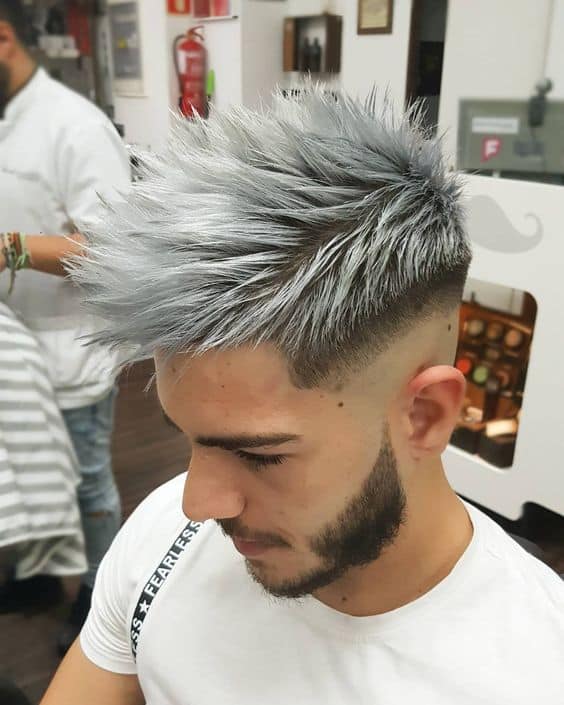 The 90s are back to haunt us and amaze us in this wonderful throwback hairstyle! Even though the style reminds us of the crazy 90s, there are also some decidedly modern details about it: the longer tips, the feathered frizz and the overall more structured look.
The 90s pop stars couldn't have pulled this one off with the more rudimentary products and techniques which existed then. Lucky us, more for in the now!
This was our take on the best trending haircuts for guys that we will see in 2018. Time will tell if our hunches were right or not, but these hairstyles and cuts will always remain our favorites for the year.