In various administrative tasks or anything related to work documents, of course, you often deal with PDF documents. PDF is a form of "office document" that is often used in addition to Microsoft Office such as Word, Excel, and so on. PDF looks more formal and elegant than Word for example, a reason that makes its popularity tend to increase from year to year.
Since it looks format and elegant, PDF is usually chosen for making official letters or other important documents. Naturally, PDF has a lock feature so that the sent document cannot be edited. Today PDF can be accessed easily, either via PC or smartphone.
What is PDF?
PDF or Portable Document Format is a type of document or file format for the purpose of exchanging digital documents created by Adobe Systems in 1993. Initially, this PDF format was used for the purpose of exchanging digital documents, but now it is also widely used for the presentation of two-dimensional documents consisting of letters, text, vector graphics, and images.
Everyday PDF is getting more and more sophisticated. Even now Adobe System Inc. has developed the Acrobat 3D program, which is the ability of PDF to read three-dimensional documents. Now PDF has become an ISO standard with code 32000-1:2008 since July 2008.
Unfortunately, for some people PDF is a difficult format. Not everyone is comfortable when it comes to editing and converting. Especially for Apple users. If you are an Apple user, then this article is for you.
If you're an Apple user, you may have noticed that Apple provides a native Preview app to open PDF files on your Mac (even if you're using macOS 11). If you're having trouble, you can switch to another Apple app, Pages. This is a native Apple application that can open various file types such as .rtf, .pages, and .docx. To open a PDF on Pages you must convert the PDF to another file format (supported by Pages). But if you don't know how you convert your PDF files, then you will be introduced to a great tool, PDFelement. Of course before converting your PDF files, you have to download and install PDFelement first. Once you have that installed, launch the app and perform PDF Convert in the following steps:
1. Load PDF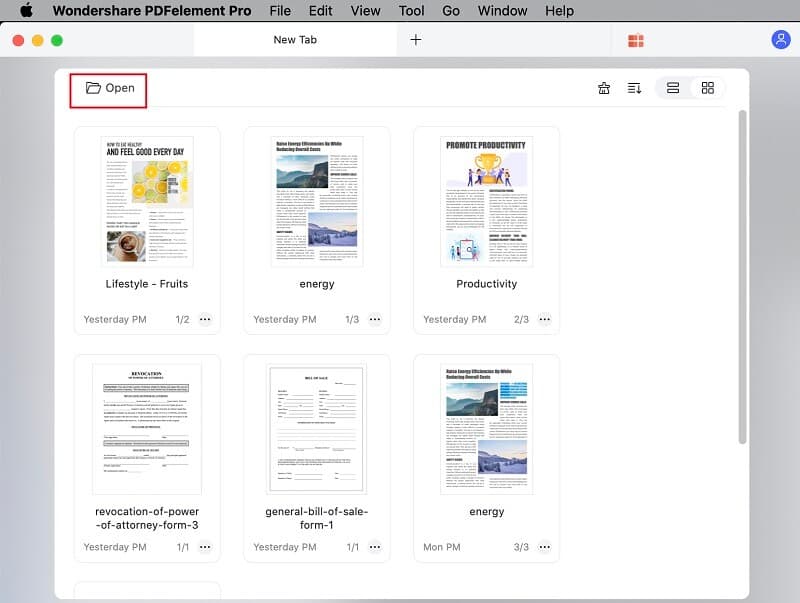 First of all, open the PDF file that you want to convert. Drag and drop it into the program. You can click "Open" on the main screen. Select the file and click "Open" in the pop-up window that will open.
2. Edit your PDF file if needed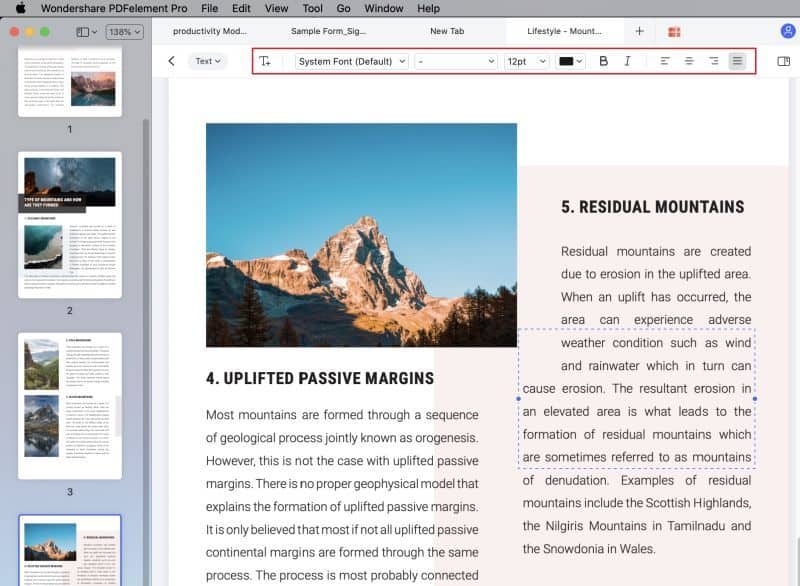 If you want to make changes to your PDF file click on "Edit" which is located on the top toolbar. By clicking on it you will activate the editing mode.
3. Convert to formats supported by Pages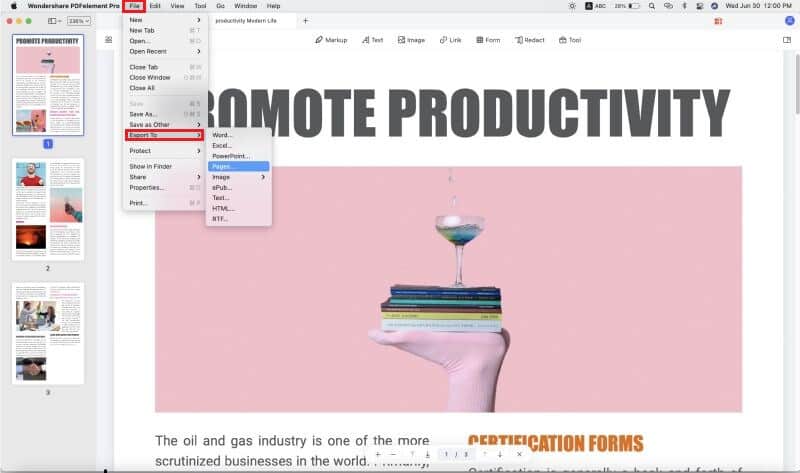 You now need to convert the file to a format supported by Pages, for example to Word. You can do this by clicking "File" at the top, selecting the "Export To">"Word" button to start the conversion process.After the conversion process is done, you will find the results of the conversion in the output folder. Now click on "Open with">"Pages" in the drop-down list.
To note, Pages gives you the possibility to import PDF files directly, unfortunately it will import in the form of images. As a result you will not be able to edit your PDF files in Pages.
PDFelement has been around for years to help anyone who is having trouble converting PDF files to other formats. During this time, PDFelement has undergone a series of updates. For Mac users, Wondershare PDFelement for Mac 8.0 is the latest version. This version has undergone a series of updates like:
* Brand-new UI
The brand-new UI makes it easier for anyone to access it, even ordinary users. It is complemented by larger icons, making navigation easier. Here are some UI-related updates:
– Optimization of user experience and office efficiency. You can change the default grid view to a list view. You can also make more customizations such as showing the most recent document first. That way you can make tabs look cleaner than before.
– Tab lock. No more worrying about you accidentally closing tabs. The tab lock feature can prevent that from happening and make your performance more efficient.
– Thumbnail panel has been moved to the left side. Toolbars has everything you need to edit your PDF documents. This update makes the UI feel much cleaner.
Dark & Light Modes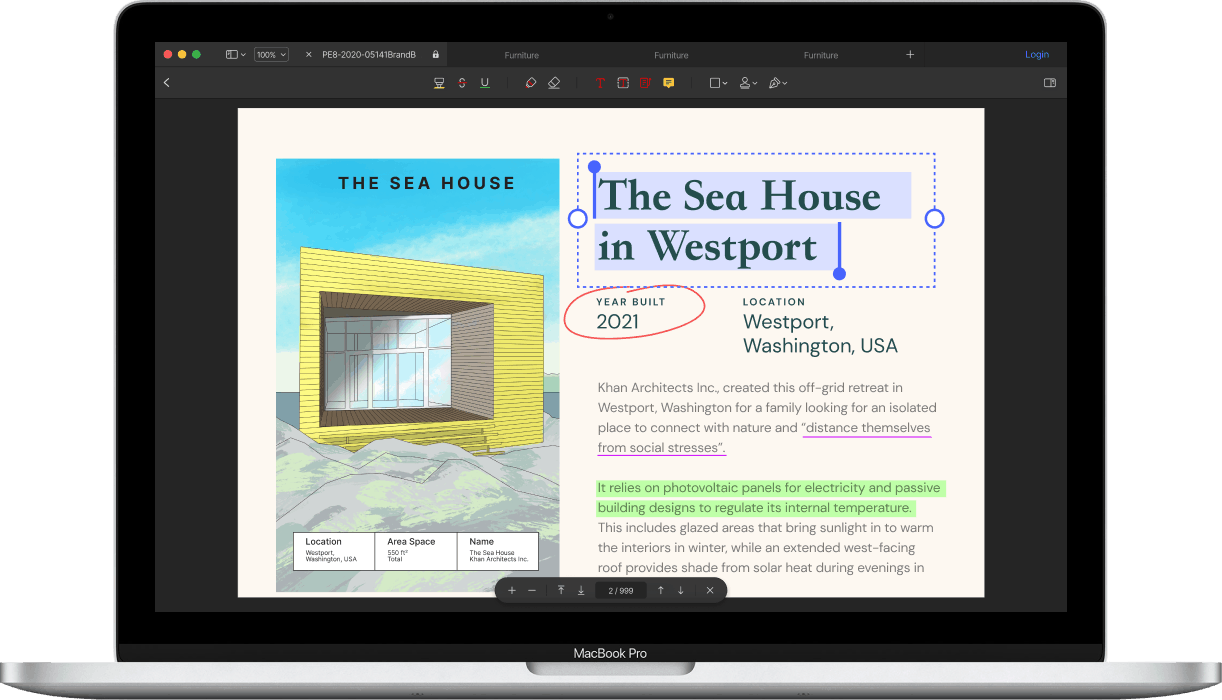 The dark and light mode options are very useful for making light adjustments to increase your comfort while working. An example is blue light. Dark mode can reduce the blue light emitted by your Mac screen. Blue light can cause insomnia if you are used to working late into the night. Dark mode can reduce blue light without changing the color contrast ratio.
Better Annotation Experience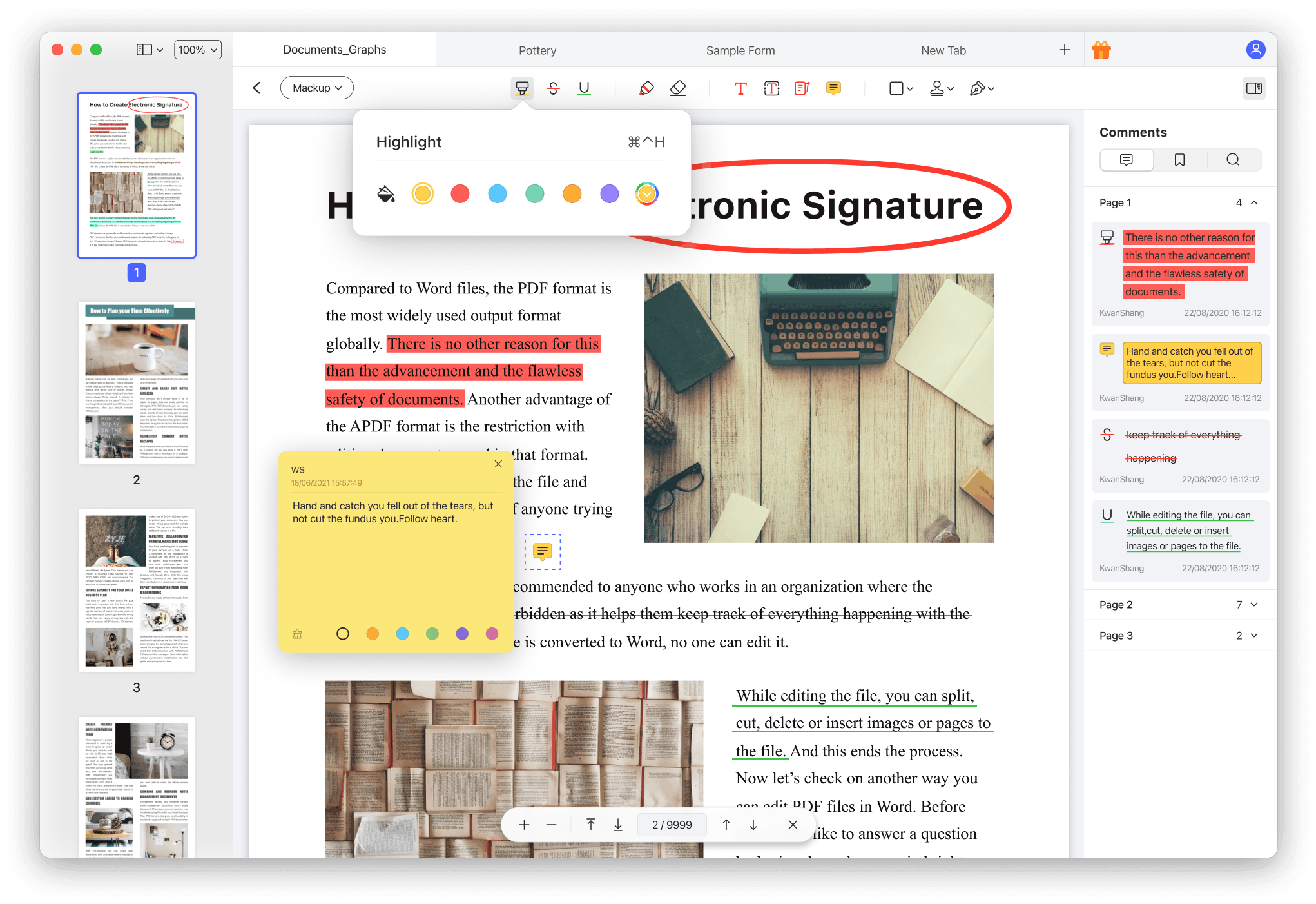 The sidebar panel on the right makes it easy for you to bookmark documents. In this latest version for Mac, you can see your annotations as you add them. This will make it easier for you to navigate to certain comments. An improved annotation experience will make it easier for you when it comes time to collaborate on a document.
Trackpad Signature
In this version 8.0, you can eSign, giving a natural impression to your signature (on your PDF documents). No more struggling with your mouse to create a simple signature.
Better Conversion-Quality
Version 8.0 has been equipped with a conversion engine that is not only more accurate, but also faster. The accuracy is increased by 50% from previous versions. This can be noticed when you use Batch Process to convert multiple files at once.
Multitab Navigation
With this feature you can navigate between documents more quickly and comfortably. With the tab locking feature mentioned above, everything will be more perfect.
Organize Pages
This feature allows you, with just one click, to go to a new page to insert and rotate pages, share files, extract specific pages, and delete them.
It is clear that Wondershare PDFelement is the best tool for dealing with PDF documents as it is constantly being updated to improve the user experience.
If you want to use this great tool on your iPhone device, you can use PDFelement for iOS. PDFelement is available for various operating systems. As a reputable software manufacturer, Wondershare has ensured that each of its products can be used on various operating systems and devices.
Are you now interested? You can get PDFelement for Mac 8.0 now!