If you're looking for a cheap tattoo, Koolsville Tattoo in Las Vegas is the place to go. For just $10, you can get a tattoo that will last a lifetime! The artists at Koolsville are experienced and talented, so you can be sure your tattoo will look great. So why would anyone want to get a $10 tattoo? There are several reasons: affordability, convenience, and the ability to get a custom design.
I'm not sure that affordability is my #1 concern when I'm getting a tattoo, but if you can do them for cheap *and* keep them high quality, why not?
What's the deal with Koolsville?
For many people, affordability is the most significant factor. Koolsville Tattoo offers high-quality tattoos at a fraction of the cost of other shops. If you're on a budget or don't want to spend much money on a tattoo, Koolsville is the perfect solution.
Another reason to choose Koolsville is convenience. The shop is located in the heart of Las Vegas, so it's easy to get to. And if you're traveling from out of town, Koolsville can save you a lot of time and hassle by offering affordable tattoos close to all the action.
Finally, Koolsville Tattoo gives you the ability to get a custom design. If you have an idea for a tattoo but can't find the right artist, Koolsville can help. The shop's artists are experienced in creating custom designs so that they can turn your vision into reality.
So if you're looking for a cheap tattoo, Koolsville Tattoo is the place to go. You'll get a high-quality tattoo at a fraction of the cost, and you can be sure that your tattoo will look great. So why wait? Stop by Koolsville the next time you're in Vegas and get the tattoo you've always wanted. Maybe avoid getting a clown tattoo on your neck, though.
How can they offer tattoos for so little money?
Koolsville Tattoo can offer tattoos for such a low price because they are a walk-in shop. This means there is no need for an appointment, and you can get your tattoo done on the same day. This saves the artists time and money, which they pass on to their customers.
Though I haven't personally gotten one of their tattoos, based on their Instagram photos, the tattoos look pretty good. Especially given how little they cost.
They're far less expensive than many of the tattoo places I wrote about in Spain and probably much closer to home for many of you.
Why did they call it Koolsville?
Koolsville Tattoo is named after Kool Kase, the owner of the shop. Kool Kase is a tattoo artist who has been in the business for over 20 years. He opened Koolsville Tattoo to provide high-quality tattoos at an affordable price.
How many people are looking for $10 tattoos in Vegas?
You would be surprised how many people are looking to get cheap tattoos in Las Vegas. Koolsville Tattoo is one of the most popular tattoo shops in the city. They are always busy, and they have an excellent reputation.
Do they have a tattoo sheet I can look at?
Koolsville Tattoo does not have a tattoo sheet, but you can browse their Instagram photos to get an idea of their work.
And if you're unsure what a tattoo sheet is, some tattoo shops will have a binder or portfolio with designs you can look through to get ideas for your tattoo.
Where can I find some reviews of their work?
If you're looking for reviews of Koolsville Tattoo, you can find them on Yelp and Reddit.
Overall, the reviews are positive. People seem to like the shop and the artists. The only negative comments I saw were about the price being too low, which is to be expected. It seems to make people a little suspicious.
Koolsville Tattoo Locations
They have four different locations, all in the Las Vegas area.
Arts District
1223 S Main St
Las Vegas, NV 89102
(702) 384-3136
Downtown
1501 S Las Vegas Blvd
Las Vegas, NV 89104
(702) 639-1264
The Strip
806 S Las Vegas Blvd
Las Vegas, NV 89104
(702) 384-3800
The Strip
1232 S Las Vegas Blvd
Las Vegas, NV 89104
(702) 477-0757
Learn more about them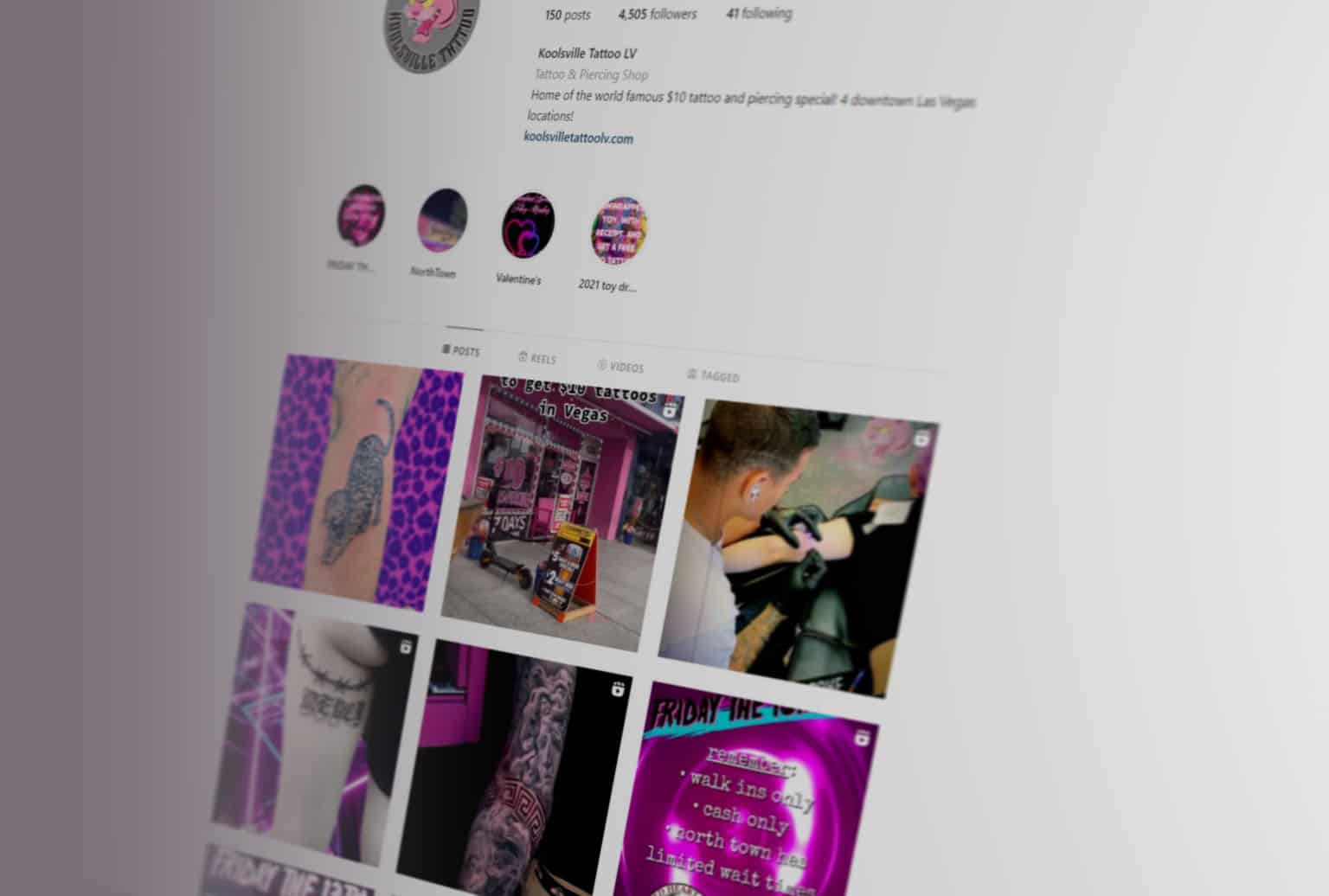 Koolsville Tattoo has a website and an Instagram account (@koolsvilleofficial) where you can learn more about their artists, shop, and tattoos. The website is easy to use and includes photos of some of Koolsville's tattoos. You can also find contact information for the shop and directions to the Koolsville location in Las Vegas.