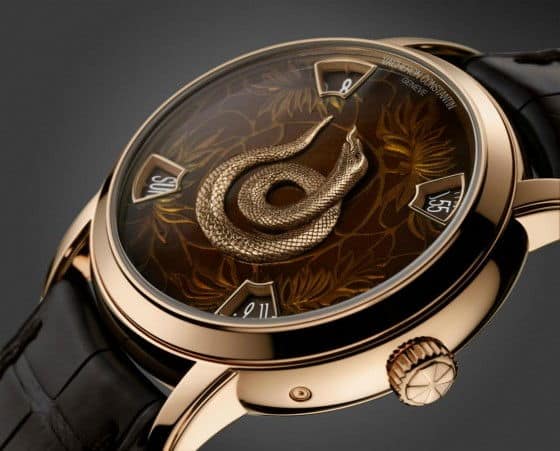 With the rise of China as an economic powerhouse, all sorts of manufacturers of consumer goods are trying to create products aimed at affluent Chinese consumers.  The implementation of designs inspired by the 12 animals from the Chinese Zodiac lunar calendar is one of the most popular ways Western manufacturers are catering to the Chinese and in turn these zodiac based items are becoming quite popular with the non-Chinese consumers.
2012 was/is the year of the dragon, the most popular year for the Chinese, and there were countless products with the "year of the dragon" inspired designs including cars, coins, pens, watches, clothes, and anything else you can think of.  2013 is the year of the snake and Swiss watchmaker Vacheron Constantin has created a new watch as part of their Chinese Zodiac series; I'm assuming there will be a new watch every year.
The watch is called Vacheron Constantin Métiers d'Art The Legend of the Chinese Zodiac – Snake.  The watches are available in rose gold and platinum cases with each version limited to 12 pieces.  The dial on the platinum version is blue with platinum decorations and a platinum snake right in the middle.  The rose gold version has a brown dial with gold decorations and a gold snake.
The Vacheron Constantin Year of the Snake watches are missing one major thing, the hour minute, and second hands.  Instead there are four windows with numbers, on the dial between the 1 & 2 o'clock position, 4 & 5 o'clock position, 7 & 8 o'clock position, and 10 & 11 o'clock position.  The windows represent the minutes, date, day, and hours respectively.
The watches come in 40mm cases with dark blue (platinum version) or brown (rose gold version) alligator leather straps with platinum or gold folding clasps.  The dials and the see-through case-backs are covered with sapphire crystal and the Vacheron Constantin Métiers d'Art The Legend of the Chinese Zodiac watches are powered by in-house Vacheron Caliber 2460 GW self-winding automatic movements with 27 jewels and 40 hour power reserve.