Here on Unfinished Man, we do a lot of features on cars, gadgets, video games, and traveling. While those things are fantastic there is one area we haven't really touched too much and that is fatherhood. Our readers come from all walks of life and of various ages and the majority of us are going to end up being dads. My wife and I will be first time parents at the end of June 2016 although I have plenty of "baby experience" with my niece and two nephews. Deciding to have a baby is one of the most important decisions that a married couple will make and one of the first and most important purchases you are going to make for your new baby will be a stroller.
No doubt about it that a stroller will be an important investment and something that can be passed on to be used by your next child or a family/friend expecting down the road. Shopping for a stroller is in many ways similar to purchasing a new vehicle except this vehicle will be for a baby. There are lots of things to consider when purchasing a stroller. Just like with cars, you need a budget. The budget in most cases will determine the features you will be getting on your stroller. When comparison shopping, you need to keep in mind that you have to compare apples to apples. You can't compare a $300 stroller with a $1200 stroller. With stroller shopping, you also need to plan in advance because your infant won't stay an infant for long. As the child gets bigger, the stroller will also need to be upgraded so keep that in mind as there are stroller options which can accommodate a growing child from infancy until "big kid" days. Finding the perfect stroller is near impossible as is buying the perfect vehicle. Our needs and wants are always changing but finding a stroller that will meet the needs of most parents is possible and the UPPAbaby VISTA Stroller just might be the one up for the challenge.
The UPPAbaby VISTA Stroller

The VISTA Stroller by UPPAbaby has already been awarded with two medals at the 2016 Mother & Baby Awards in the Best Travel Systems and Double Buggy categories. The VISTA Stroller features an intuitive design which allows the user to configure the buggy in multiple ways which are both easy and practical. The VISTA is flexible in options to meet the demands of today's parents.
The VISTA can easily be used for two infants, infant plus toddler, or two toddlers. And the one feature that's really great for parents that have three young children is the piggyback ride-along board which can be used by the eldest child. He or she simply stands on the board and comes along for the ride! The ride-along board can easily attached and will remain stable regardless of the terrain. It can just as easily be removed if there is no need for it.
Another amazing feature on the VISTA is the bassinet which is tested and approved for overnight sleeping. The bassinet can not only be attached to the stroller but it is also certified to be used as the actual bed for an infant at home or on your travels. Simply use the Bassinet Stand and you now have flexibility to have your infant in comfort even if you are traveling. The bassinet features an aerated perforated mattress pad and a vented base for added breathability which creates a comfortable and safe resting space for your baby.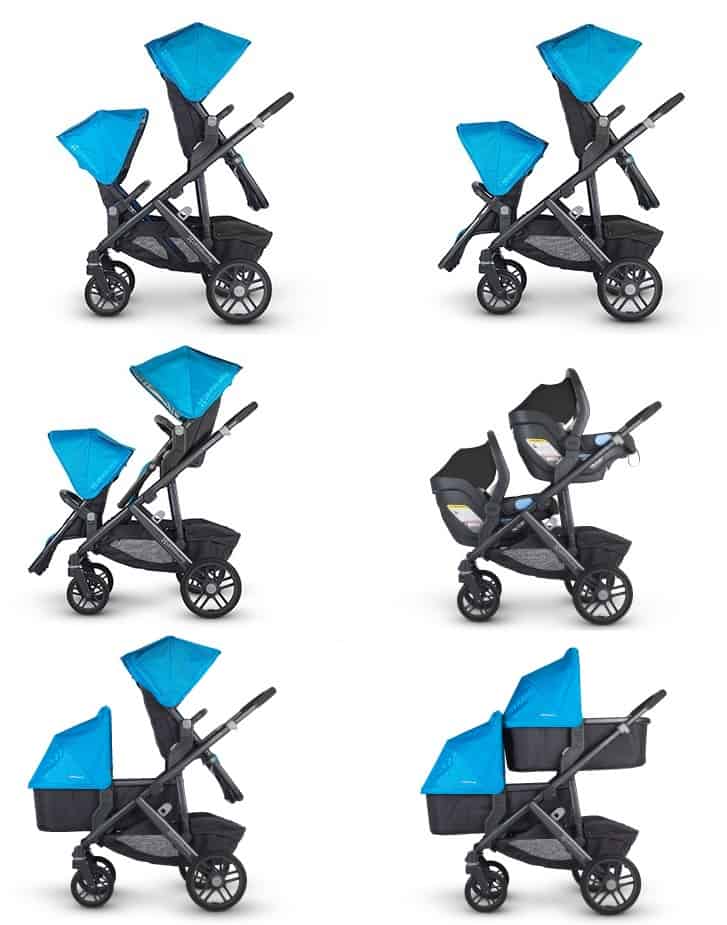 When it comes to strollers, safety of your child is always a priority. The VISTA Stroller comes with the MESA infant car seat which features state of the art technology which features a tightness indicator and self retracting latch connector allowing for easy and quick installation. The MESA car seat also has an adjustable headrest which is reinforced with EPP foam providing additional protection. Studies have shown that the MESA car seat keeps the baby's head still during impact ride collisions and is one of the safest car seats on the market.
Another very important thing for parents is available storage on strollers. The VISTA features a large and easy to access basket which can carry a load of up to 30 pounds! The basket can easily be accessed and used to carry a variety of supplies and snacks. And since it allows for a heavy load, it also comes equipped with a heavy duty suspension for a smooth and comfortable ride. The VISTA stroller features shock absorbing suspension for the front and rear allowing you to go on many types of terrain. The tires on the stroller are made from core rubber which will not puncture.
Strollers come in a variety of sizes while some weight a lot, others are relatively lightweight. The VISTA is compact despite its wide range of available features and can be easily folded for easy storage in your vehicle whether a sedan, hatchback, SUV, or van.
If you are looking for the ideal stroller, the UPPAbaby VISTA Stroller should definitely make your Top 3 cut. The stroller is very versatile and will adapt to your needs as your family grows in numbers. The UPPAbaby Vista stroller is available at the UPPAbaby website with a starting price of $839.99. It's available in a wide range of colors. More details are available at UPPAbaby.