So why did I decide to put together a review of the Travel Berkey water filter? Well…
A person can survive about 3 days without water, or about 3 minutes drinking the kind of water you'll find here in North York.
I'm kidding, it's not poison… it just tastes like it. If you haven't had the pleasure of experiencing our drinking water, then just try and imagine what paint thinner would taste like and you probably wouldn't be too far off the mark. So perhaps you won't find it surprising to hear that after moving here, I decided to research how to purify water using reverse osmosis. I started looking for an industrial strength water filter to match our industrially bad water. I want clean drinking water, and yes, I've even decided to filter my shower water.
Edit: I've made a few updates to this review, including my observations and experiences after having used the Berkey for the past 3 months. You'll find them at the end of the post.
Water Filtration is Tough Business
If it weren't, the market wouldn't be filled with absolutely useless water filters. Believe me, I've tried them all. The Soma water filter was my favorite for a while, right until they stopped shipping replacement filters to Canada. Even then, the filter design was lacking.
So what's a man to do?
In retrospect the answer was obvious: see what type of water filters preppers and survivalists are using these days. In fact, that's almost always the right answer. You see, these kinds of people are obsessive about finding the very best of everything. After that, all you need to do is read through their recommendations and reap the benefits of their knowledge. If you're wondering how to purify water, you've come to the right place.
Berkey Keeps Your Water Perky
Berky water filtration units came up again and again, so I decided to go ahead and get the smallest unit, the Travel Berkey. I live in an apartment, and didn't want something that would completely dwarf everything else in the kitchen. Having said that, you might have noticed that the unit isn't exactly tiny.
It's no slouch, producing up to 2.75 gallons of filtered drinking water per hour, but… that's pretty useless if the water tastes terrible.
So what's the verdict? Well, let me start by saying that Berkey water filters use a combination of alien nano technology and quantum entanglement, because that's the only way a filter could make my drinking water taste like not-poison.
(Actually it uses these things, but work with me here)
In short, the water tastes pretty great. The filtration technology may not actually be out of this world, but it still does an amazing job of removing harmful pathogens and other rubbish from the drinking water while keeping the useful minerals our bodies crave.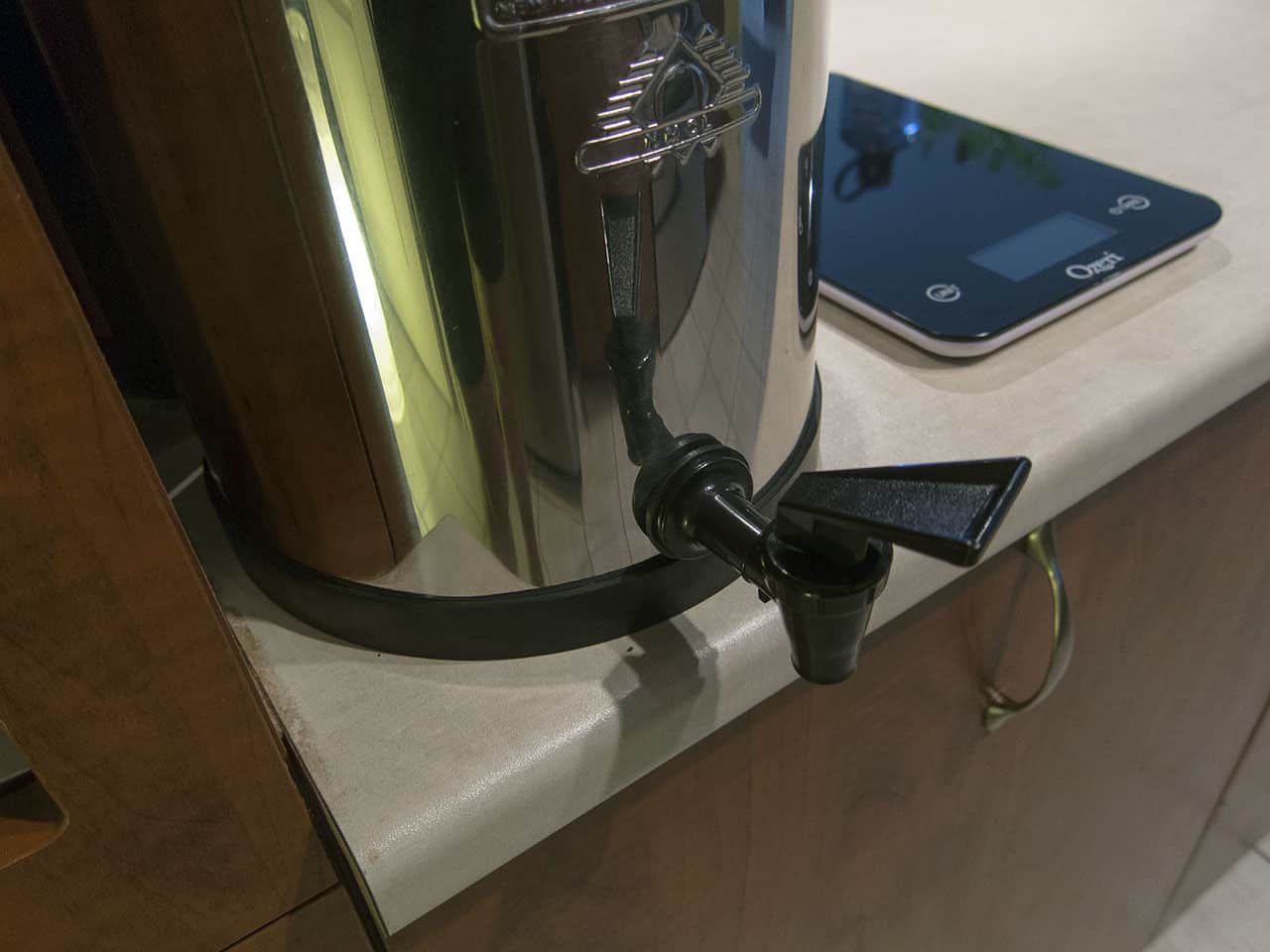 Unlike some of the other water filtration units I've used over the years, the Travel Berkey water filter is a pleasure to pour. The spigot works well, and with high pressure, as long as the vessel is filled.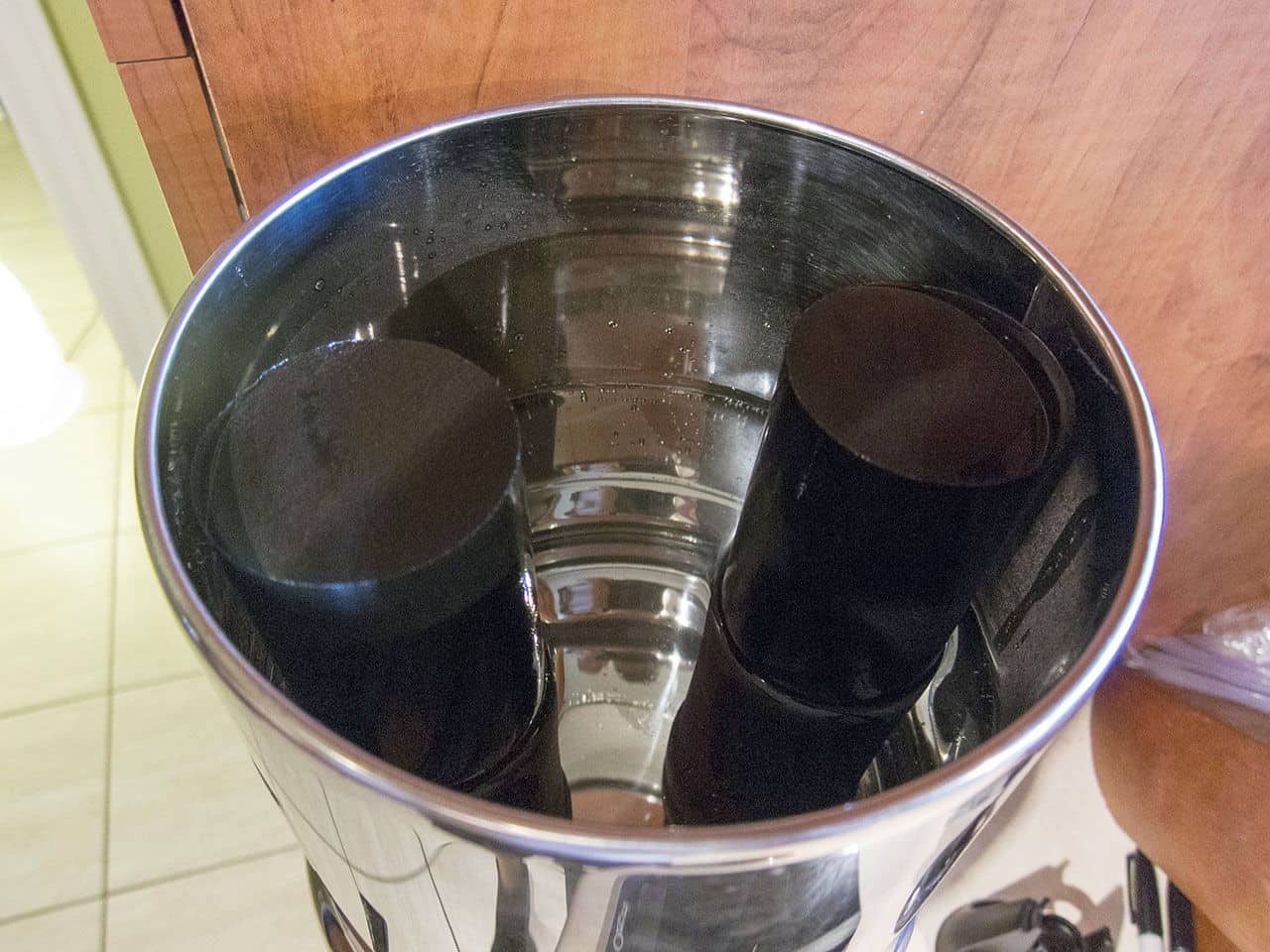 It's also simple to fill. You just remove the lid and dump in water. I usually fill a bowl and transfer it over, which is quick and painless.
Note: those two black tubes are the water filters.
Do you care about the environment? Of course you, do. You probably care about your wallet too, and that's good news because despite the high initial cost of the Berkey unit and water filters, you'll end up saving a ton of money on filters while cutting down on waste. You see, each filter is capable of filtering 3,000 gallons of water, which is a lot of friggin' water. Under reasonable usage conditions, these suckers can last years.
Less waste throwing out old filters, and more money in your bank account.
This Sounds a Little Too Good…
I would be lying if I said this thing was perfect. The water tasted a little sweet the first few rounds of filtration (that was user error, make sure to prime the filters correctly), and this thing gets covered in finger prints just from looking at it. However, it's hands down the best water filtration unit I've ever used.
If you have terrible tasting water, or just want to make sure you aren't ingesting a bunch of rubbish from the drinking water, then I believe Berkey units are the best water related decision you'll ever make.
With a starting price of $228.00 USD, it may not seem like the least expensive water filter on the market, but if you do the math, it certainly makes sense in the long run. I'm pretty sure people won't stop needing water in the next few years.
Update: I've been using Travel Berkey water filter for about 3 months now, and it's still working very well. However, what I will say is that I've been having to scrub the filter with a tooth-brush and re-prime it about once per month. Why? Simply put, the water here in North York is absolutely disgusting.
Given that the water tastes so good, and cleaning/re-priming both filters only takes about two minutes (I timed it), I don't mind in the slightest. Still highly recommend choosing this filtration system over the alternatives. The cleaning is just the price you pay for a solid reverse osmosis water filter.