The Toyota 86/GT86/Scion FR-S/Subaru BRZ has been a pretty hot seller, especially the Scion FR-S in North America. For those of you who are unaware, the vehicles I just mentioned are all the same but with different badges depending on which part of the world you are in. And the suspension setup is also unique to each brand. While the vehicle is affordable and a great bang for the buck when it comes to handling and the rear wheel drive factor but it does lack a bit of power.
The 200 stock horsepower is plenty to whip around in and truly enjoy the vehicle but there is still room for improvement and the folks over at Abflug couldn't agree more. The Japanese tuner has come up with a performance and styling package for the vehicle and is calling it the Toyota 'Spiral 86' which will be formally revealed to the general public at the 2013 Tokyo Auto Salon in January.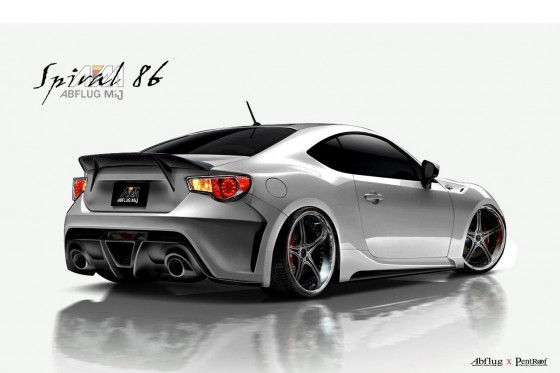 Abflug, in cooperation with Pentroof, have developed an engine tune which includes an HKS GT Supercharger, Pentroof's exclusive Water Bypass kit, and a Hi-Power HKS Spec L muffler which increase the horsepower of the vehicle to 255 while peak torque is increased from 151 lb-ft to 218 lb-ft. With more power, changes to the suspension and braking system have to be improved accordingly. The 'Spiral 86' gets a HKS Hipermax IV GT coil over setup as well as a DIXCEL braking system.
One of the most noticeable changes on the Spiral 86 is the changes in its exterior appearance. Abflug took great care in making sure their aerodynamics package stands out in the crowd. This is done so by designing a more angular front bumper, aggressive side skirts, redesigned rear bumper, a diffuser, and a lip spoiler on the trunk.
The final touches include things such as Abflug's 19-inch Prism III wheels wrapped in Yokohama Advan Sports tires. No details are yet available on the pricing of the 'Spiral 86' package but more details will be released early next year.