With the importance of male self-care being talked about more and more, the realisation that men may want to look after their skin just as much as women has revolutionised the beauty world. With SkinPro's new product 'The Daily Wingman', choosing the right face cream has never been easier.
A sharp increase in demand in male skincare has led to a plethora of new products filling our shelves. Knowing where to start without spending hundreds of dollars can be a task in itself. How do you know what to look for when finding the perfect product for your skin? What is important, and what's not?
That's why we've done some of the hard work for you. SkinPro's Daily Wingman is a revolutionary, premium quality, anti-aging skin cream, which does exactly what it says on the tin. And the best thing? You don't need to spend hundreds of dollars to see results.
Whatever your lifestyle may be, whatever your age and skin type, SkinPro guarantees visible results, with a 30-day money back guarantee.
SkinPro: A leading skin care company
For over 10 years, SkinPro has been a leading skincare manufacturer, with products ranging from anti-wrinkle creams to body sculpting treatments. Their expert knowledge and scientific research skills have led to a company that provides professional skincare products, without the consumer going broke in the process.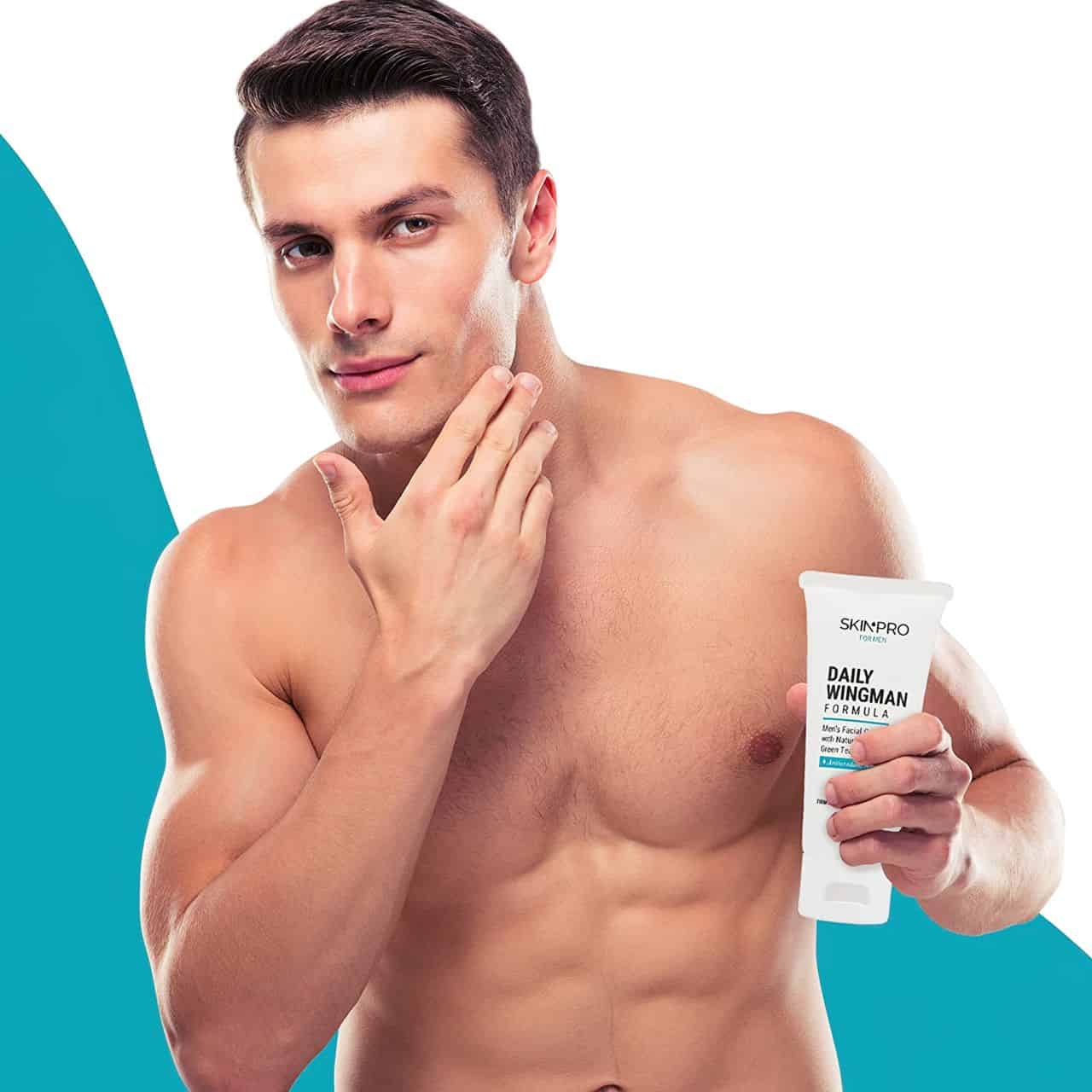 SkinPro is a brand that boasts natural ingredients combined with lab-made peptides, their latest product is aimed at men of all ages, with a goal of protecting skin from the environmental factors an average man faces on a daily basis.
SkinPro's Daily Wingman is a daily face moisturizer for men who are ready to look after their skin, and are ready to make a change. And best of all? This product can be used by itself, meaning you don't need to buy a ton of other products just to see results.
Whether you use the formula as an everyday moisturizer or as an aftershave treatment, it guarantees to soothe rough and dry skin and visibly reduce signs of aging. The unique formula combines green tea extract and natural oils to ensure your skin is hydrated around the clock, no matter what your skin is going through in your busy working life.
Skincare for the Everyday Man
With ingredients known to hydrate, soothe and purify your skin, The Daily Wingman is perfect for a man who likes to indulge in the finer things in life.
Whether you're waking up from an evening of cocktails or spending too many late nights in the city, this formula will help to cover any wear and tear, lessening redness whilst brightening the skin to hide work stress, late night antics or hours spent entertaining clients.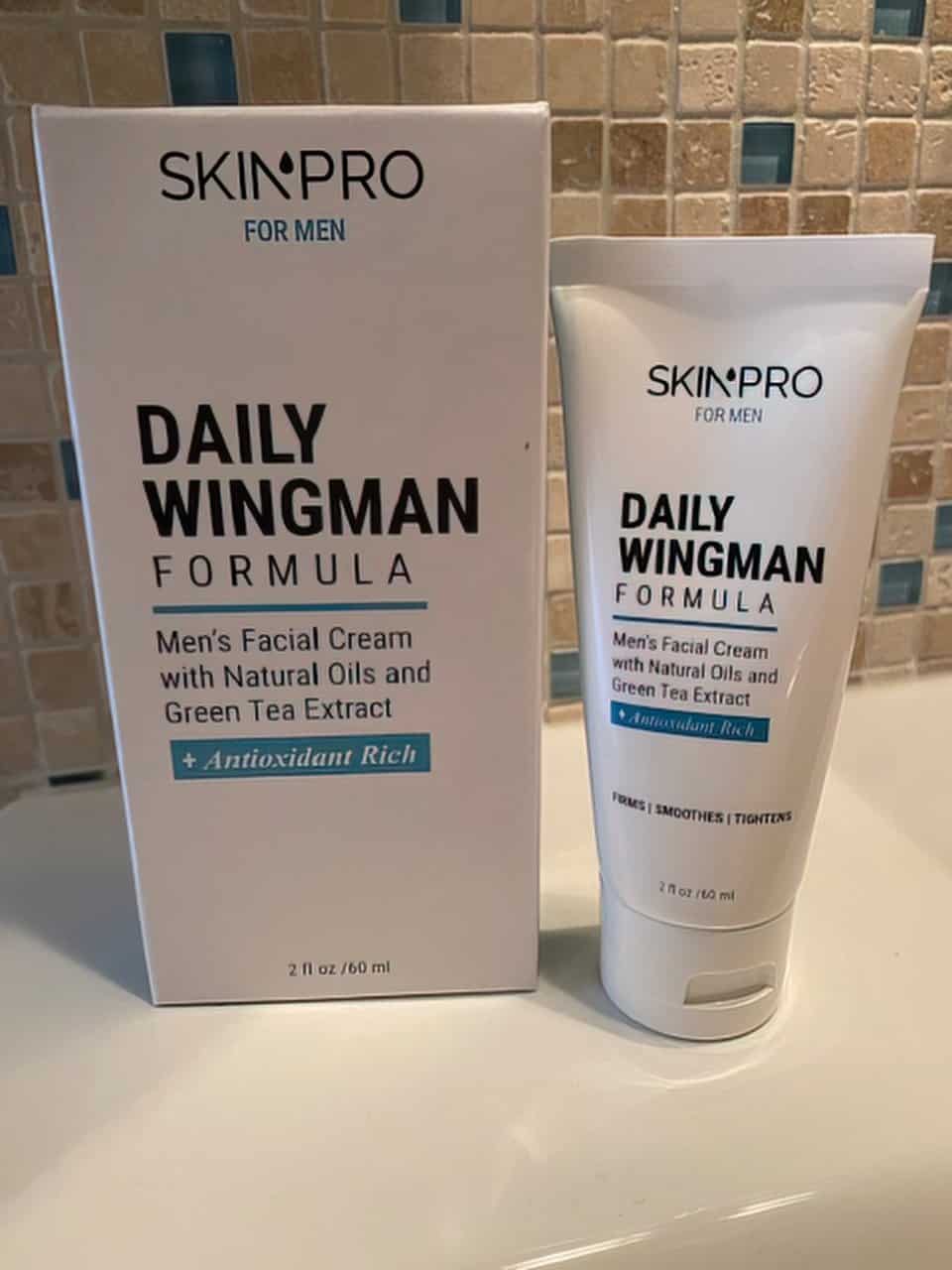 Not only is it an anti-aging dream, it's like a hangover cure for your skin.
As your skin begins to age, it loses some elasticity as it produces less collagen, leading to the dreaded sag and fine lines.
The Daily Wingman's ingredients work together to plump and hydrate your skin, reducing the depths of your wrinkles, everyday puffiness and fine lines.
One of the biggest skin care problems we face here in the US is damage from UV rays. Whilst most of us love the great outdoors, the damage it can cause to our skin can be irreversible.
Dark spots, creases and blemishes can all be caused by the harshness of UV. If you enjoy a game of golf or a walk on your lunch break, this antioxidant-rich formula works as an extra layer of UV protection, making you ready to soak in the rays at any time of day.
Not to mention its ability to hide a bad diet (we won't tell anyone if you don't). Just say hello to brighter, younger and healthier looking skin.
Natural care and ingredients
Not only will your skin thank you, but so will the environment. This product uses an abundance of natural ingredients, including green tea extract, avocado, olive, peppermint and coconut oil. All to create a perfect blend of anti-aging magic.
In addition to the benefits of the moisturizer, the Daily Wingman boasts a non-greasy formula to ensure it doesn't clog your pores during the process. Suitable for all skin types, the product contains no irritating fragrances or colours.
Award-winning Skincare Science Innovations
With specially trained scientists working in a lab in the US, hundreds of hours have been put in to create the perfect product to keep your skin looking ten years younger.
When used correctly, the Daily Wingman guarantees long-term results, and has been clinically tested to give visible results in a short period of time.
Premium Quality
SkinPro's promise is that every tube of their product has been carefully curated and checked just as much as the next.
With extensive independent tests, each tube of moisturiser has been produced in an approved and certified facility in the USA, and guarantees an unbeatable quality product.
Rejuvenated skin without breaking the bank
As previously mentioned, The Daily Wingman can be used as a standalone product. This means there's no need to fill your bathroom shelves with everything you can find in the store with all the empty promises most brands make.
At a price of under $40 a bottle, this really may be the best wingman you've ever had.
Guaranteed results – or your money back
SkinPro are so confident in their product, that they even run a 30-day money-back guarantee. Not happy with your results? Let them know and claim your refund.
They also have a 24/7 customer help desk ready to answer any questions or queries you may have along the way.
The Daily Wingman is currently priced at$39.97, and is available on Amazon.com. At that price, you really can't afford to not give your skin a second chance.
Unfinished Man is doing a giveaway…
SkinPro The Daily Wingman Men's Skincare Product Giveaway