Are you considering purchasing new shades for your next date, business trip, or upcoming interview? Want to be that hot mystery man?
Choosing the right pair can be stressful – especially if your occasion is time-sensitive – but luckily, there are thousands of awesome options. You might be surprised at what suits you best, whether classy or practical.
Types of sunglasses
Sports sunglasses
Functional and fast, sports sunglasses are made to be comfortable in any outdoor situation. Grey-tinted sunglasses are recommended as they shield the eyes from glare and reduce brightness, eye strain, and fatigue during physical activities.
Wayfarer sunglasses
Trendy since 1956, this retro style is one of the most popular and is fashionable, functional, and suits most face shapes. This is a great first pair if you're looking for a classic style to complement your outfit.
Clubmaster sunglasses
Also known as the "brown line" style, these sunnies will always make a statement. With gold and silver detailing, they meet style right in the middle. They aren't too classy, and they aren't too geeky. It's a win-win.
Hingeless sunglasses
Prefer a more discreet style? These rimless glasses are the perfect go-to everyday look. Not only are these sturdy, but they are lightweight and great if you're more of a minimalist.
Aviator sunglasses
Looking for something cool? With thin metal frames and tinted lenses, aviator glasses are designed to fit closer to the face. Pilots in the military also used these for protection and to navigate the skies easier.
UVA/UVB sunglasses
Go out in the sunshine often? Short and long rays from the sun can damage your eyes, so these types of sunglasses give you optimal protection during the day.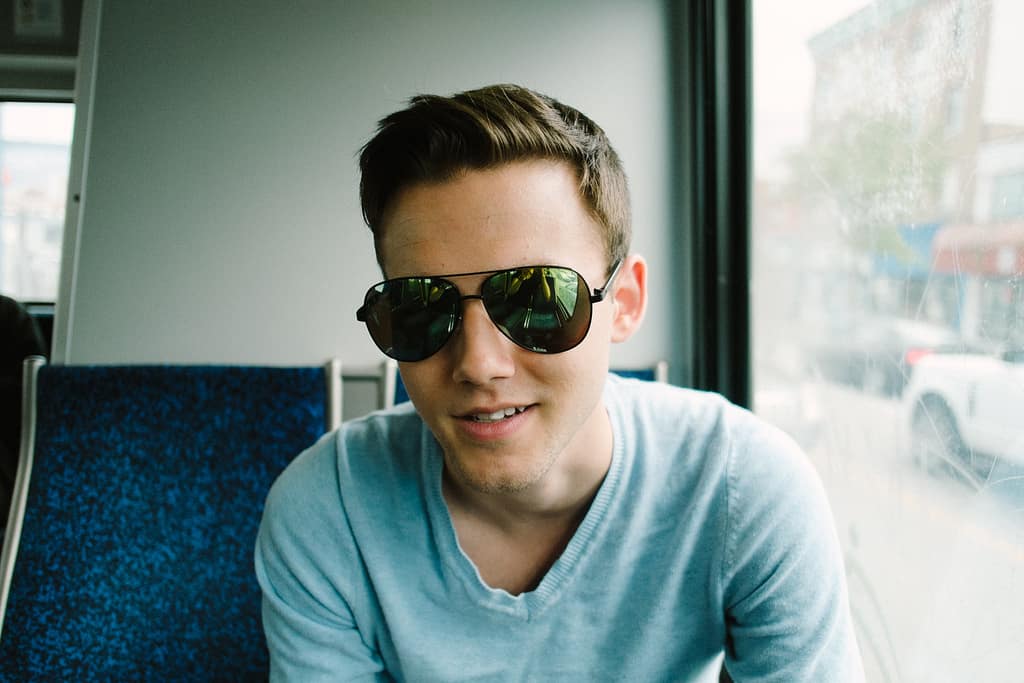 Types of frames
Frameless
If you have poor vision, aren't fond of contact lenses, and don't like the look of glasses, frameless lenses may suit your preference. The bridge of these frames can be made of metal or a mixture of plastic and metal.
Full frame
If you want to show off your latest pair, full-frame lenses will help make your eyes pop. Durable with the support of extra metals, you'll be keeping these frames for a long time.
Half Frame
Aiming for a more mature look? With these frames, only the upper part of the lenses is supported by a frame, and although they're more delicate, you're not carrying too much weight.
Types of lenses
Polarised lenses
Do you fancy an afternoon drive with the boys? These lens types protect the eyes 100% against UVA and UVB rays. Horizontal light waves can't pierce through, only vertical light.
Photochromic lenses
Don't want to keep switching from normal eyewear to sunglasses? Photochromic lenses transition from light to dark depending on your sun exposure and can reduce eye strain from these changes. However, these can't replace prescription lenses.
Anti-reflective lenses
If you're constantly on the computer, these lenses are perfect for protection against glare, halos, or screen reflections. Overall, they improve your vision. Blue lenses also work similarly, preventing eye strain and helping you sleep.
How to style sunglasses?
Think about what you need
Want sunglasses for a fashion statement and durability, or are you aiming for functionality in exploring the outdoors? Thinking about the reasons for wear can make it easier to style your specs.
Match your getups
Bring out the shades of your clothing with the right pair of sunnies. Neutral designs, for example, will match anything in your wardrobe, and black metallic frames will go with your new suit.
Choose comfort first
Sunglasses for men are made to look good, but you want them to feel great, too. Most glasses are made from metal, acetate, or biodegradable materials. Choose a pair that fits your face, has no awkward gaps, doesn't poke, and doesn't slip. This way, you can wear them for extended periods.
Choose sunglasses for your face shape
Do you have a wide, strong jaw with sharp angles? Square face shapes suit clubmaster, circular or half-circular sunglasses.
Rounded faces suit rectangular or aviator specs. With wider cheekbones, you can experiment with some edgy, sharp square shades.
Oval face shapes are horizontally proportionate and suit square, circular, or D-frame glasses. The width of the sunglasses, the better.
Heart and triangle shape both suit Wayfarer or thin sunglasses due to being broadest at the forehead and softest across the cheekbones.
Diamond face shapes exist and suit oversized, sports, or D-frame glasses with their stronger cheekbones.