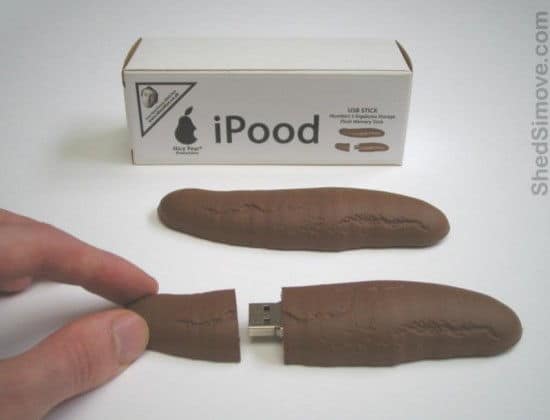 Shed Simove, the creative genius who brought us the revolutionary iNotepad, has done it again with the amazing, must have gadget, called the iPood.
The iPood is a must have flash flush memory stick for anyone who's sick of their regular crappy memory sticks.  The iPood is so good that it'll flush all the other guys away and can hold a number 2 gigabytes gigashites of your crappy data.  The iPood makes a perfect gift for that special geek on your list, "Show someone you give a crap by giving a crap".
It took Shed a long time to get the colours of the final iPood completely right and he had to send Pantone references to the factory in China to get the authentic and realistic final shade – which, if you're interested (how can you possibly not be?), is Pantone 4485C.
The iPood has to be the most popalicious gadget of the year.  I it give two turds up 😉
httpv://www.youtube.com/watch?v=7Woot8_MdCs
[Source]