As a young urbanite, it took me a while to become convinced that I needed to a car. For years, I've done just fine biking and taking public transit to work and to run errands around town. But I also like to take a break from the city on weekends and for vacation. When I go, I like to be able to take gear with me to have some adventure out in the woods or on the water. On one weekend, I might tote a couple of bikes. For a weeklong vacation into the woods, it could be a kayak and a tent.
Over time, I got tired of planning trips with friends or renting a vehicle that may or may not have the roof racks or storage I need. This put me in the market for a car that would fit in well with my city life while making it easy for me to break out in my free time.
I needed a good balance between a rugged SUV and a tiny compact car, but I wasn't sure that such a thing existed. Then I discovered the Ford EcoSport SES.
Compact Car, Meet SUV
If you're like me, you probably feel that "compact car" and "SUV" are two concepts that are as far apart as apples and bananas. With the EcoSport SES (pronounced "echo sport," in case you were wondering), Ford has successfully managed to merge the two worlds together in a way that's attractive and crazily functional.
First of all, the EcoSport is a really great-looking vehicle. It has a sporty "can-do" vibe that one would normally associate with a Jeep – you definitely get the feeling that this vehicle is waiting to go exploring.
That's where the visual comparisons end, however. The EcoSport is much shorter than its compact SUV competitors. At thirteen-and-a-half feet long, it's five inches shorter than the Jeep Renegade. It's also seven and eight inches shorter than the Mazda CX-3 and the Honda HR-V, respectively. When I use this vehicle to zip around the city, finding a parking spot is no problem. (The lightning blue metallic color draws stares from passersby, too, which is fun.)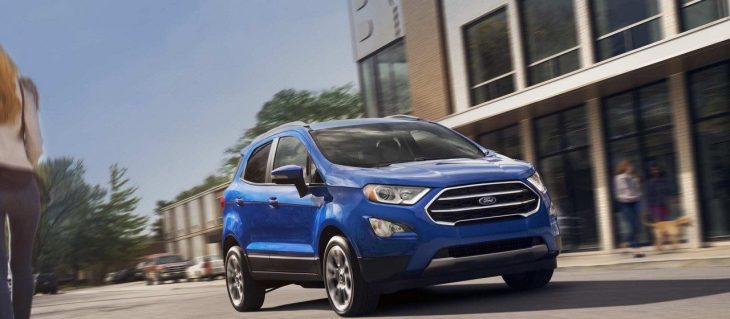 The size doesn't negatively impact its sporty function, however. With the back seats folded down, I can easily fit two bikes in the cargo area. Anything that doesn't fit in the back goes up on the roof racks. I do wish that the back cargo door swung up instead of to the side (a bit of a frustration if I've parallel parked myself into a tight parking situation), but problems don't arise from that very often.
Convenience and Comfort
Ford designs interiors that aren't exactly luxurious, but feature everything you need with no complaints. The seats feature ample cushioning for superior comfort even on long roadtrips. They also sit high, giving you a surprisingly great view from the inside of such a small vehicle. This is even the case in the backseat. I had a couple of my taller friends check it out and they reported that although legroom is scarce, the height of the back seats means that no one feels cramped or claustrophobic.
The front driver's seat has a very cockpit-style feel. All of the controls and electronics are comfortably within reach and don't require any stretching or straining. While heading out of town or running errands, I can enjoy the heated front seats and the 7-speaker audio system with its superior sound.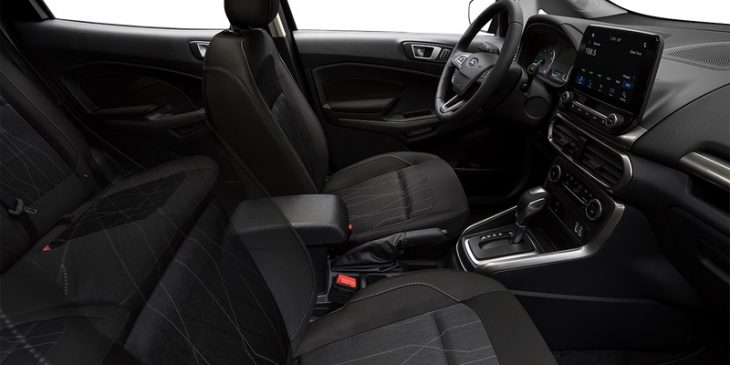 The 8-inch touchscreen display is intuitive; anyone can jump right in and use it from day one. It has a whole host of features that include satellite radio, a voice-activated navigation system, traffic updates from Sirius XM, as well as Android Auto and Apple CarPlay functionality. There's also an incredibly useful SYNC Wi-Fi hotspot for quick connectivity on the go. I can even use my Alexa account to talk to the Ford and get information such as weather forecasts.
The Driving Experience
The first time I got behind the wheel of the Ford EcoSport SES, I wasn't sure what to expect. What would this vehicle drive like? Would it feel like an SUV or a compact car?
Thankfully, it turns out that the answer is the latter. The 2.0-liter, 166 horsepower engine in my EcoSport has a surprising amount of get-up-and-go for a small SUV. This makes it easy to maneuver when picking up speed to join traffic on a freeway. The great visibility means that blind spots aren't a huge problem; I feel totally in control in any traffic situation.
I was concerned that the size of the engine (an upgrade from the EcoBoost SE's 1.0L engine) would make a huge impact on fuel efficiency, but the EcoSport SES gets an impressive 23 mpg in the city and around 29 mpg on the highway. When I use it around town, I rarely ever have to fill it up, and even when I head out to travel, it's not a huge hit to my wallet.
Another plus is the vehicle's beautiful and agile handling when I drive it around town. Its independent rear suspension makes it handle just like a compact car and is a lot of fun when I zip around the city.
In addition to all of this, the four-wheel-drive is a fantastic feature that gives me huge peace of mind that my Ford can handle any driving conditions. This isn't the kind of vehicle you're going to take far off road or crawling over rocks, but the four-wheel-drive allows me to deftly maneuver through mud, snow, or any sticky situations that may arise during my travels.
Final Thoughts
All in all, I'm pleased with the experience I've had with the Ford EcoSport SES. It's a nice-looking vehicle and its finishes and features make it a comfortable driving experience both in town and out.
While it's not the most spacious vehicle on the interior, I didn't expect it to be (it is a crossover SUV/compact car, after all). The space limitations aren't enough to make occupants uncomfortable or prevent me from toting gear around.
The handling is awesome in the city and acceleration just enough to make freeway driving a breeze. For in-town handling and out-of-town functionality, the Ford EcoSport SES is definitely a solid choice for a vehicle.