The human spirit can easily be likened to a phoenix rising from the ashes, with its intrinsic capacity to bounce back from adversity and carve a path to success. Rather than stumbling blocks, personal trials have, time and time again, served as a springboard, propelling individuals willing to persevere to unrivaled triumphs that defy all odds.
Nestled within the heart of Connecticut lies Stamford, a city that is home to one such story of defeat and victory. An industrial giant, Stamford has recently become synonymous with innovation and style as it proudly wears the crown of hosting an outstanding sneaker destination – Laced Dreams.
Behind this treasure trove filled with fashion gems is Taylor Tobias, whose life journey was as intricate and captivating as the designs that grace his store's shelves. Yet, in spite of his current success, this path of Taylor's wasn't paved with golden bricks.
Since his earliest childhood, he wrestled with the shadows cast by his mother's battle with substance abuse and his father's loss. These tragedies set an adverse course for Taylor himself, who ended up in the unforgiving clutches of the same demons his mother had fought with.
"My childhood was indescribably difficult. Looking back at all the things that I've gone through, I sometimes honestly wondered how I made it out," Taylor shares.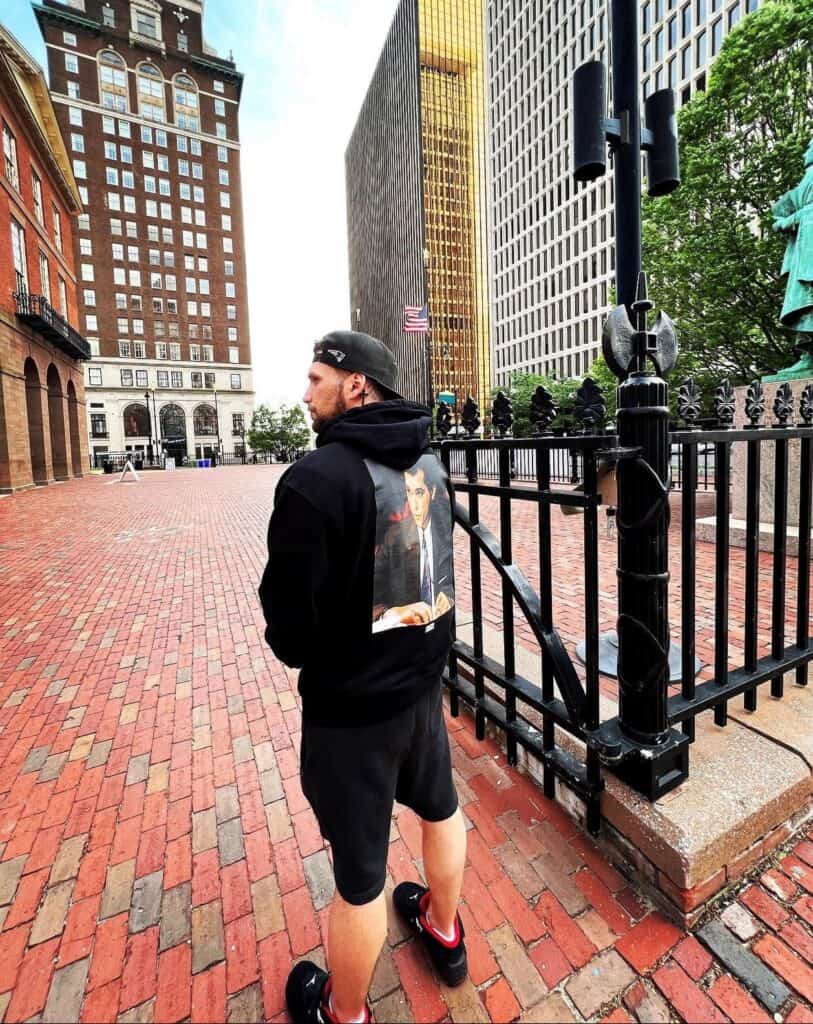 From facing homelessness at the tender age of 15 to a years-long battle with addiction, the future undoubtedly seemed bleak to Taylor.
Impressively, straight out of high school, he plunged into the corporate realm and soon enough landed a job in finance. This career path that took him from Wall Street and Citibank to owning his own brokerage firm defined his twenties.
But, instead of resulting in prosperity, as it does for many hopeful entrepreneurs, Taylor's battle with addiction often overshadowed his potential.
"It got so bad that I wasn't able to save up any money despite working at Wall Street. Addiction took everything from me back then, and the fact I was stuck in a rut made me more depressed," he says.
At one point, Taylor came to a crossroads. He realized he could only take two paths: one would lead to prosperity and the other to absolute darkness.
Unwilling to give up and armed with enough resilience to conquer his demons, Taylor chose the former. The road to sobriety was no walk in the park, but Taylor pushed through, feeling rejuvenated by his brand-new dreams of a brighter future.
After he got clean, Taylor returned to the world of finance. This time, it was a brief consulting stint, yet one that turned into an unlikely but exceptional turning point.
While the world fought to keep itself together during the COVID pandemic, Taylor was one of the lucky few who leveraged the circumstances and channeled them into unparalleled success.
In fact, this milestone allowed Taylor to not just invest a handsome amount of money into opening up a sober living environment to help others in their recovery process but also to start another business— a reflection of his childhood passion that would become Laced Dreams.
A store like no other, Laced Dreams was Taylor's unique contribution to the vibrant streets of his beloved Stamford. Each shelf, meticulously curated, tells a story of brilliant craftsmanship, style, and innovation. Taylor's keen eye for detail and commitment to quality transformed the store into a mecca for those in pursuit of the perfect pair.
"Growing up, I could never find a shoe store in Stamford where you could go to and get Jordans or Yeezys, or anything close to that," Taylor reveals. "It's a great city, full of potential, and yet, for years, no one dared to bring something new and fashionable."
Taylor, indeed, dared. His immaculate sense of fashion and a keen eye for detail turned Laced Dreams into a shoppers' haven in record time.
From an impressive collection of limited-edition and exclusive sneakers to a plethora of apparel, bags, and other accessories, Laced Dreams has become a go-to destination for sneakerheads and fashion-forward individuals alike, catering even to the most demanding of tastes.
What's more, Taylor is also dedicated to nurturing the next generation of sneaker enthusiasts, which is why he has expanded Laced Dreams' collection to cater to kids. This exciting addition introduces children to the world of high-quality, stylish sneakers, ensuring that even the smallest feet can step out in style.
Yet, beyond apparel and footwear, Laced Dreams is a symbol of Taylor's victory over misfortune, a place where, in his own words, "dreams, no matter how distant, can be realized and celebrated."
The store's success has gone far beyond just selling shoes. It's about sharing a vision, a legacy, and, most importantly, an aspiration laced with hope and determination.