I have never had so much fun covering kids in ink. I may have never covered kids in ink before, but now it is all I want to do. A colourful explosion of family safe fun. The kind of experience you can share with your children, or even your friends. Why discriminate who can be on the receiving end of said ink. One thing's for sure: Nintendo wants everyone to be covered in ink. This may all sound a little suspect, let me explain…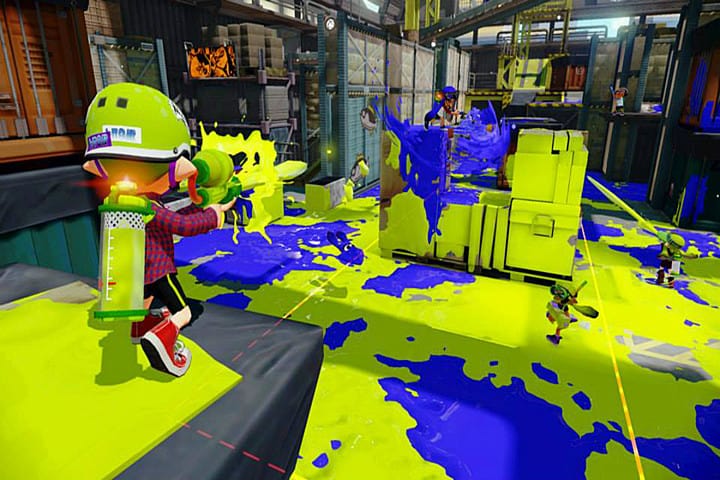 Splatoon is Nintendo's new third person shooter splashing onto the Wii U just in time for summer. In Splatoon you are an Inkling. Inklings are kids that can turn into squids. They are equipped with a varied arsenal of ink weapons. Some of my favourite ink weapons are the rapid firing ink blasters, though sniper-like weapons and a close-range ink roller also round out the impressive catalogue. I was actually surprised by the diversity of the weapons and they all include their own secondary weapons(ink bomb, ink sprinkler, etc) and special moves (ink strikes, shields, etc). These weapons don't only allow you to splat the bad guys but also cover territory in ink. While you are a kid, you are able to use your ink weapons and claim more turf. While in squid mode you are able to travel quickly and up walls in your own ink. Touching ink that is not your own colour slows you down and can damage you while your own colour ink will re-fill your ink reserve. Turf coverage and the shape-shifting mechanic form the basis of Splatoon's gameplay.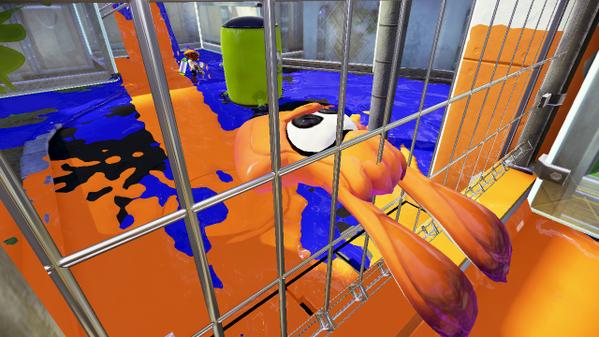 Splatoon has a few game modes including a single-player campaign called Hero Mode, local 1vs1 multiplayer mode called the Battle Dojo, and Online Battles which are the main focus of the game. The single player campaign has you battling against an enemy race called Octarians. One hundred years ago the Inklings battled the Octarians in "The Great Turf War". The Inklings won the war, but now the Octarians have stolen the the Zapfish which power the Inklings city of Inkopolis. You are the Hero who must get these Zapfish back and defeat the Octarians.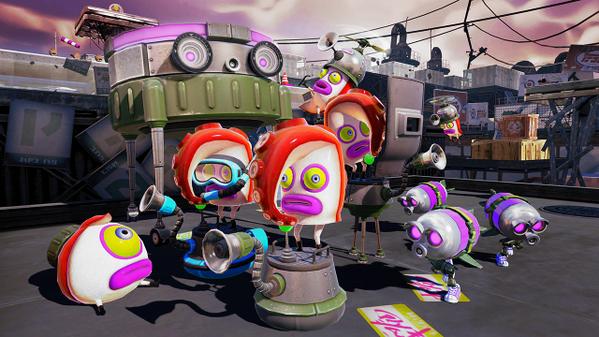 Hero Mode is not long but it is filled with the same sort of creative gameplay you are used to from Nintendo games. Over the five hours it took me to complete the campaign, the Inkling's abilities were used to their full extent to solve puzzles, traverse diverse stages and splatter various Octarian baddies. In typical Nintendo fashion, there is a boss battle at the end of each area. Each boss requires you to use your abilities in different ways and are satisfying to conquer. It would have been nice if Hero Mode was longer and I would have been open to more challenge.
The local multiplayer mode, Battle Dojo, is clearly not meant to be a main attraction of the game. The mode has you and one other battling out on one of five current maps (there were four when the game launched). One player uses the gamepad as their screen while the other gets the TV. The goal is to pop the most balloons and is enough to provide a little fun but it's not something you could play for hours. Since the maps are the same that are used for online, a beacon warns where the balloons will appear causing you and your adversary to be directed to the same location allowing for a battle to pop the most balloons. Though I never complain about more content, I don't think this mode was required. With that said, Battle Dojo could be good for families who have purchased the game as it's the only way to play with another person locally.
Now, the main focus of Splatoon: Online Battle. Online Battle has two game modes. Turf Wars and Ranked Battles. Turf Wars is a colourful blast. Two teams of four are pitted against each other with the goal of covering the map with their own ink colour. This mechanic allows you to immediately see which turf is under your control as it is covered in your ink. While battling you can also shoot the opposing team with your own ink, "splatting" them. Though enemies splatted is shown on the scoreboard after the game, it has no effect on which team wins. This means that splatting members of the other team is just a way to slow them down, and cover their turf uncontested. Turf Wars last three minutes and can often be won in the last ten seconds which can be extremely satisfying if you are on the victorious side. The action is even more fast paced because of your ability to move quickly as a squid in your own ink and an ability to launch your Inkling to the position of your teammates. This mode is addicting and many times I found myself in an infinite cycle of playing "one more match". At the end of each match you gain experience to level up as well as money to buy new gear which can effect your stats. The max level is 20 and once you reach level 10 Ranked Battles become unlocked. This is when the game starts getting serious.
Ranked Battles still pit two teams of four against each other, but now instead of covering the entire map with ink, the game focuses on one or two territory zones. This current game mode is called splat zones, but future game modes may be added. Your team must hold these zones in order to cause your timer to go down. Both teams start with 100 seconds and you either win when it reaches zero, or the team with least amount of time on their timer after five minutes wins. There is also a comeback mechanic where time will be added on top of a timer if you lose control and the other team gains control. This forces you to play defensively though the amount of added time doesn't always seem to make sense. If the losing team has control of the zone when the timer is up, the game will go into overtime allowing for some wicked comebacks. Overtime wins can be extremely satisfying but losing in overtime can sometimes be enough for me to stop playing the game, if only for ten or fifteen minutes.
Winning ranked battles consecutively allows you to rank up through a system utilizing letter grades. You start out at C- and can make your way all the way up to A+. It's a good means of matchmaking as losing games will have you fall in the ranks. Ranked Battles allows the variety of weapons to be used with much more effect. Though sniper and charge weapons aren't very effective in Turf Wars, they become powerful in Ranked Battles. The zones also cause both teams to focus on specific areas resulting in much more combat. Ranked Battles can be extremely satisfying as well as frustrating. Most of all, it's addicting and I keep coming back to this mode. Your team must work together and use strategy in order to become victorious, which brings me to some of my gripes with the game.
First, there is no voice-chat. It's a Nintendo game so we should be used to that, but at this point there should at least be the option. I know they want their games to be family safe, but they could implement some sort of parental controls allowing voice chat to be enabled or disabled. In a game where strategy is so valuable, voice chat would create a more immersive and satisfying experience. You could always dial your friends up on Skype, but that would almost seem unfair in the games current state. This is essentially my biggest issue with the game, but there are some other small problems. When the game launched there were only four maps, a minuscule amount for a full price game. They have since added one new map and promise many more in free updates. This makes it feel as if they rushed the game for a summer launch, but I definitely won't be complaining about free updates and I haven't grown bored of the current maps yet. They are also planning on adding more weapons and some other game modes.
Overall, Splatoon is a refreshing game that reinvents third person shooter gameplay. Though it may have a childish aesthetic, Splatoon is filled with typical Nintendo charm and characters full of life and personality. I especially love the gibberish that characters use to speak, reminiscent of the Animal Crossing or Pikmin series. Currently short on content, it still entertains for any age-group. Gameplay can range from casual to hardcore thanks to a ranking system that makes sure you battle players with similar skill. I'm excited to see where Nintendo takes the game with future updates. I highly recommend Splatoon as a must-have for any Wii U owner.