The iPhone is arguably one of the best phones in the market today. But, like most other devices, it is susceptible to damage. For the iPhone, some of the infamous faults it develops is the iPhone black screen and the iPhone white screen also known as the white screen of death.
In this article, you will learn how to fix the iPhone black screen and the iPhone white screen faults.
If your iPhone screen is completely white and you can't see any icon or your home screen, you might be faced with the dreaded iPhone white screen. But, there's no need to panic just yet. Your phone is not hopeless, and 80% of the time you can still salvage your device. The white screen of death rarely lives up to its name.
So let's get down to how you can salvage your iPhone if the screen is totally white.
Before we do that, it is important that you understand what can cause this white screen so that you can avoid some of the self-inflicted faults next time.
Some of the major culprits of an iPhone white screen include;
Failed software update or jailbreak: A failed software upgrade is one of the major culprits for an iPhone white screen. When you want to upgrade your iPhone, make sure you have sufficient battery. If you don't have sufficient battery, postpone the upgrade or plug your phone to a power source.
Hardware problem: If software isn't the problem, then it's hardware. If it's a hardware issue, then it's probably the tiny cable that connects your iPhone screen to your motherboard. It may have detached from the motherboard or may have accumulated debris over time.
Regardless, we can't control everything in life, so the question is what do you do to fix it if you have an iPhone white screen. The solutions below can be applied to solve an iPhone white screen but at the expense of losing your files. If you are looking for a surefire solution to solve your iPhone white screen, scroll down to the 1st solution.
iPhone black screen is a bit more complicated than the iPhone white screen. 80% of the time, an iPhone black screen is caused by a hardware issue. However, the remaining 20% could also be a software issue that could be fixed with Dr.Fone – system repair (iOS).
Figure out if It is a hardware or firmware issue
If your iPhone screen is stuck on apple logo, or a black screen and won't move at all, the first step is to figure out whether it is a hardware or firmware issue. As I said, a totally black screen could be a hardware issue, but in order not to waste money, here's how to confirm if it's a hardware or firmware issue.
If you accidentally dropped your phone on the ground or inside the water, then the cause of your black screen of death is probably a hardware issue.
How to fix iOS system if its a hardware issue
If you are sure that your iPhone screen is black due to a hardware-related issue, then examine your charging port to make sure that your device is actually charging because your device might just be turned off due to a low battery. Examine and clean your charging port and make sure your phone is charging.
If nothing else works, then you can also visit a nearby Apple Store or an iPhone repairing center. They will replace the damaged component of the phone and your device should start working perfectly well again
But, an iPhone black screen or iPhone white screen of death is not always caused by a hardware issue, I have gone ahead to list out ways you can fix a software issue seamlessly on your iPhone. The first solution is the best one because it solves the problem but not at the expense of your files or data.
How to fix a software related issue on your iPhone
Solution 1: Fix iPhone white screen or black screen without losing data
There's a way to fix an iPhone white or black screen without having to sacrifice your files or data. You can follow the steps below to fix an iPhone white screen or an iPhone black screen with Dr.Fone – System Repair (iOS);
Step 1: Download and install Dr.Fone on your PC. Upon completing the installation, connect your iOS device to your computer and launch the Dr.Fone program.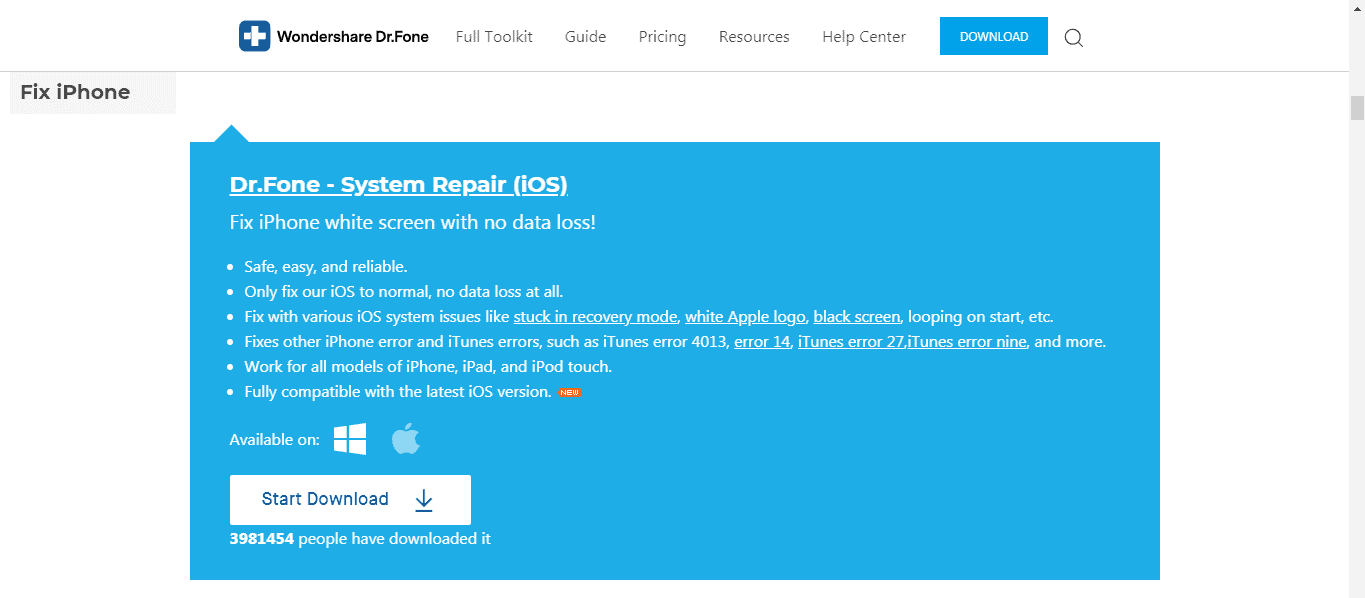 Step 2: From the main window, select 'System Repair'. Then select 'Standard Mode' once connect your device to pc.
Step 3: Dr.Fone will begin the repair process by downloading the latest iOS firmware. Simply hit 'Start' and wait for a file to complete.
Alternatively, you can perform a manual download, before clicking 'Select' and importing the relevant firmware package that matches your iOS device.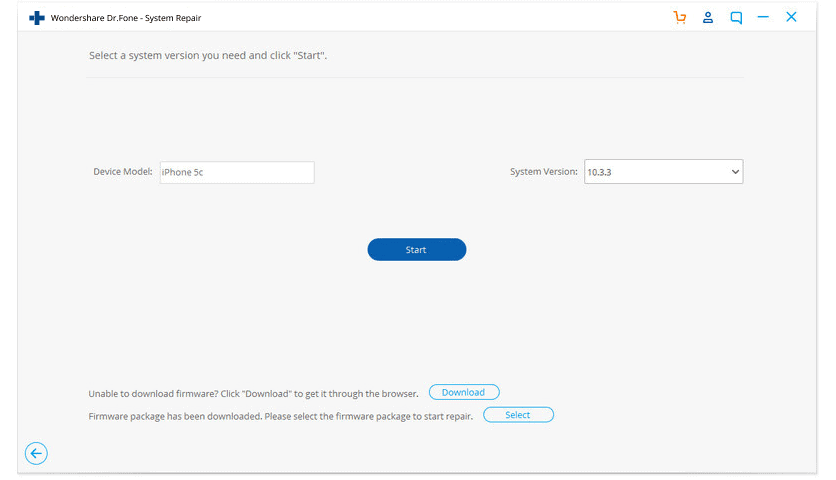 Step 4: As soon as the firmware download is completed, Dr.Fone will enter the final recovery process for the 'white screen' glitch. And within 10 minutes, your device will be repaired and ready for use.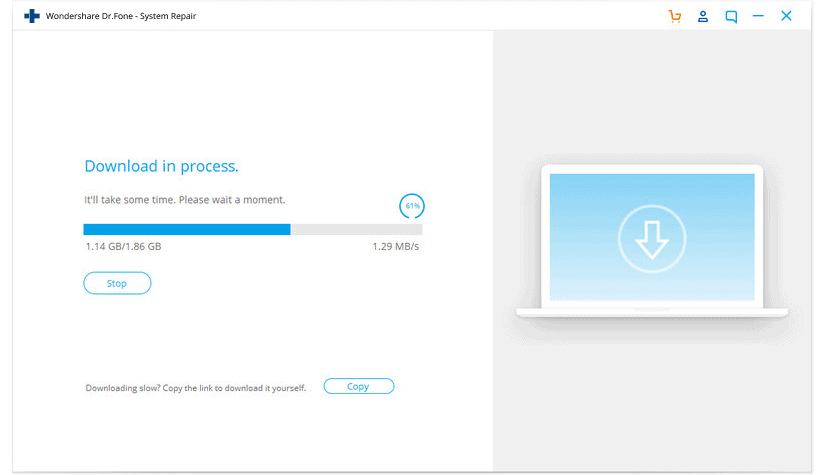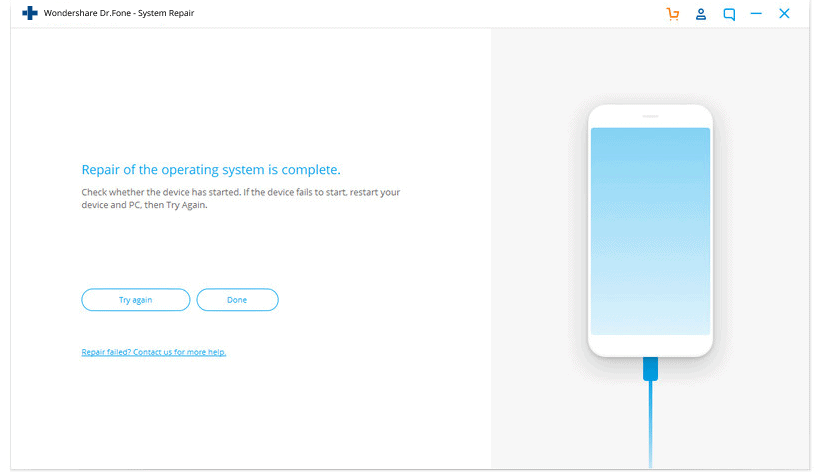 Solution 2: Turn off the zoom feature on your phone
Sometimes your phone might not have an issue at all. You might have mistakenly zoomed in on a white photo and you can't zoom out. You can try the triple-finger tap first to fix your iPhone white screen.
To fix this issue, all you need to do is hold three fingers together and then use them to double-tap the screen. If your screen is magnified, this will bring it back to the normal view. Turn off magnification in Settings > General > Accessibility > Zoom > Off.
Solution 3: Turn off iPhone Auto-Brightness to fix the iPhone white screen.
Turn off your iPhone auto-brightness to see if it is the problem here. It has been reported in earlier iOS versions before the iOS 11. If you are using an earlier version of iOS, and it is indeed auto-brightness that is the issue, you can fix it by all you had to do was head over to your settings, select "Display and Brightness", and toggle the option off.
Solution 4: Fix iPhone white screen by restoring iPhone
If none of the solutions above fixes your iPhone white screen, you can go ahead to restore your iPhone white screen by using the restore your iPhone with iTunes option. However, bear in mind that you may lose your data in the process of restoring your iPhone. If you still want to go ahead with this solution, follow the steps below;
Use a USB cable to connect your iPhone to the computer and run the iTunes.
Click on 'Restore iPhone'.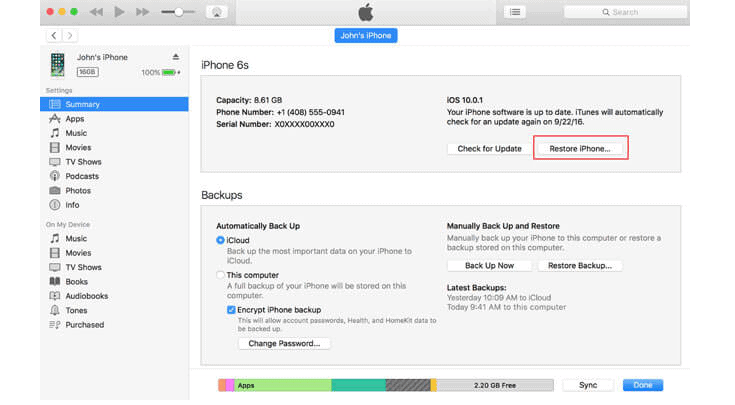 Then, iTunes will pop up a dialog box, click 'Restore'.

iTunes will download the software for your iPhone and restore it when the downloads are completed.

Tips to prevent an iPhone error 4013, white screen and black screen of death
Always keep a battery health check
Keep your device battery charged, to avoid battery drain
Install any third party app only from apple store only
Avoid jailbreaking the device. This might breach security measures.
Always keep in contact with the Apple Support team or have their contact information at bay. This will be helpful at the time of need.