After having played Splinter Cell: Conviction, I decided to scour the internet to find a real life version of Sam Fisher's backpack. It looked to be both stylish and rugged, and practical for things like training Parkour, or just hauling beers to a party. I spent a few weeks researching potential sling packs and eventually stumbled on the Monsoon Gearslinger by Maxpedition. It looked to be exactly what I was looking for. I went and found a coupon code, placed my order, and patiently waited for it's arrival. After having used the pack for a few weeks I can safely say that Sam Fisher would probably disapprove.
(I've found some interesting options on The Gear Hunt, and I'm always open to suggestions.)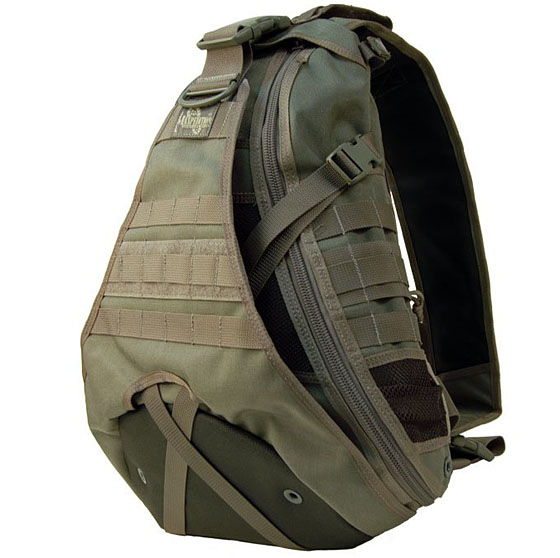 Before I explain why I wasn't satisfied with the pack, I want to say that it does have a lot going for it. For one thing, the construction is of the highest quality. I have a feeling that I could throw it through a wood chipper and have it come out still resembling a backpack. The stitching seems to be strong, the aesthetics are pleasing, and whoever designed it really had the right idea in terms of pocket layout and webbing placement. Having said that…
The Gearslinger is simply too big to be a practical sling pack, and that's really my biggest complaint. Because of the weight distribution of sling packs, they are inherently poor for heavy loads, even with the Gearslingers extra wide shoulder strap. I found that after about an hour of hauling around a moderate load including the best ice augur I own that my shoulder would become rather sore, and based on some of the comments I've read on various forums, I'm not alone. The pack is sized to carry a large heavy load, but only seems practical for light loads. I can't imagine a person simply filling a military/hunting inspired pack with clothing, but hey, who knows?
So what could Maxpedition do to improve the pack? I think simply shrinking it down but maintaining the design would be a step in the right direction. The teardrop shape means that the pack would never be well suited for carrying something square like a notebook computer, but with a little work, it could be perfect for a hunter on a day trip, or someone looking to to travel lightly.
That concludes my (admittedly) brief review. Sadly, my quest for the perfect sling pack (or backpack) continues. Do you know of a great lightweight aesthetically pleasing backpack?