Welcome to our exclusive Q&A session with Drew Plotkin, the founder of Derm Dude™, a groundbreaking men's grooming and hygiene brand. With his extensive experience in the beauty and skincare industry, Drew identified a gap in the market for authentic, effective products tailored specifically for men.
In this interview, Drew shares insights into the creative process behind Derm Dude's popular TikTok videos, his personal journey that led to the development of the brand, and the challenges he faced as an entrepreneur. He also highlights the unique qualities that set Derm Dude™ apart from other offerings and discusses the brand's mission of promoting self-confidence and comfort in one's own skin. Join us as we delve into the world of Derm Dude™ and learn valuable tips for aspiring entrepreneurs.
Unfinished Man's Q&A with Drew Plotkin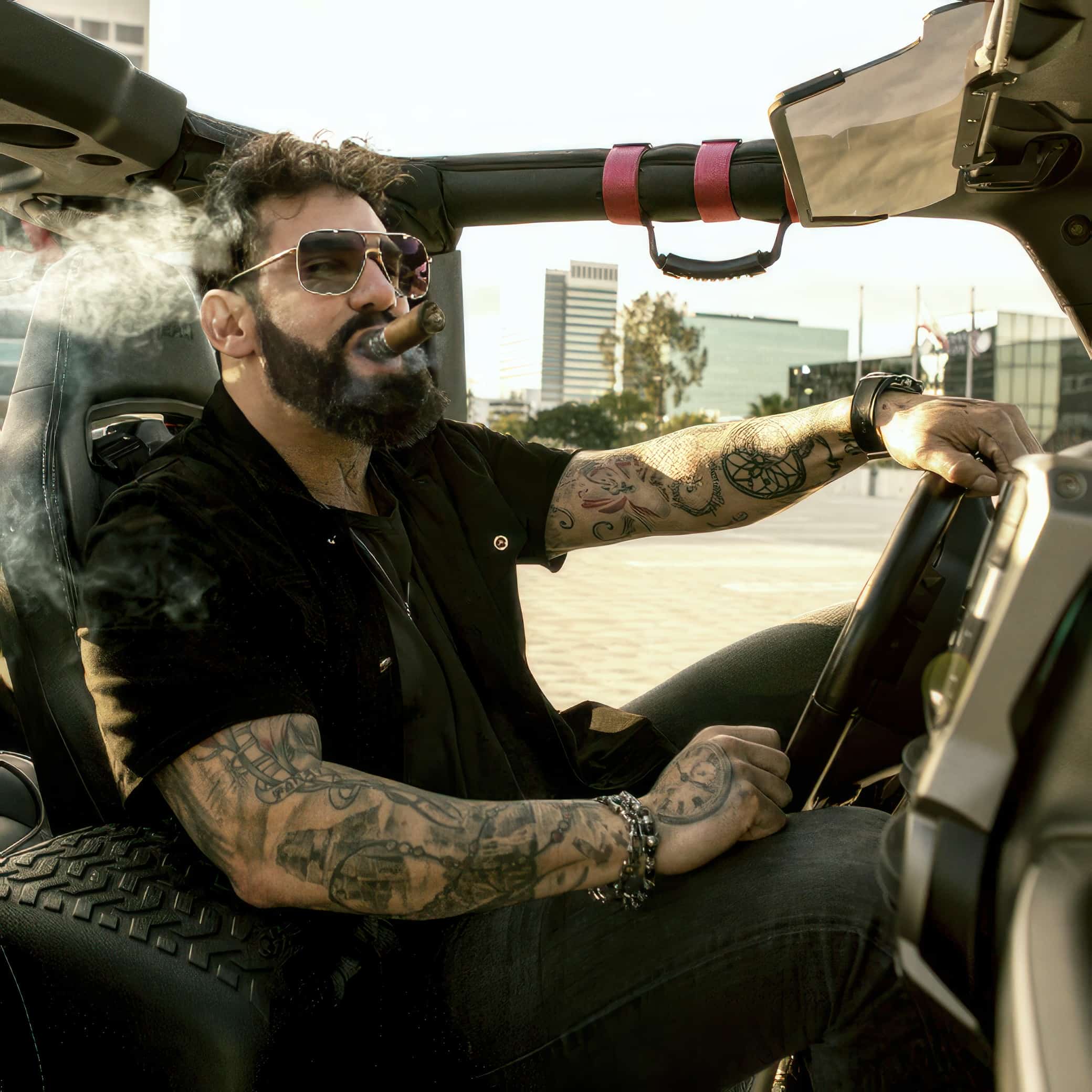 Your TikTok videos have gained a lot of attention for your company. Can you tell us about the creative process behind making them? Do you have any tips for making content that resonates with a large audience?
So the crazy truth is, I came home one night last July and saw my 6-year-old twins playing on TIK TOK & I just observed them laughing & playing, observing what caught their attention, & also when they would just…swipe away instantly to something else. The very next day at the office, we recorded me explaining our newly launched Derm Dude™ ball products line to a buddy of mine who happened to have dropped by. There was no script, no BS or staging, just me being… me. We posted that video, which got 1 million views in less than 24 hours. And today, it is at 6.5 million. That first video taught me to be simple, direct, & above all else, me. That's our only 'secret' on Tik Tok. Authenticity.
What inspired you to start Derm Dude™? Was there a personal experience that led you to develop your product line?
I spent almost 20 years directing & producing celebrity beauty & skincare brands. I worked with Jennifer Lopez, Paris Hilton, Cindy Crawford & many others. The bulk of my previous career was in beauty and skincare for women. But I was getting closer to turning 50, and I was also single again for the first time in 25 years, which made me more 'aware' of wanting to seek out men's grooming & hygiene products for my own use. And I realized there was nothing. Nada. Zip. Yeah, some brands said they were made for men, but remember, I'd spent 20 years in the beauty & skincare world. So I understood the formulation process, ingredients & customization, packaging, and marketing. And I also knew what smoke & mirrors looked like, which is quite common for big marketing brands. It was very obvious very quickly to me that there really wasn't an authentic, efficacious men's grooming & hygiene brand that actually formulated products for dudes- like me. I wanted the best products for my tattoos, beard & balls. And I wanted products from a brand that I could relate to. So I started Derm Dude™.
Your company offers a range of products, from beard oils to tattoo balms. How do you balance catering to different customer needs while maintaining a cohesive brand identity?
This question goes to the core of WHY Derm Dude™ exists. The first question we always ask ourselves (and keep re-asking ourselves) is, how does this specific product help real dudes with a genuine, specific problem they are looking to solve? We don't start by looking at reports or data on potential sales revenue or market share. We truly do not. Maybe I'm dumber than I even look for not doing business that way. But to my core, I don't see myself or any other person out there as something some MBA spreadsheet can adequately quantify. Of course, our audience demographic has all of the typical features & body parts that other grooming brands target. But for Derm Dude, that is a very superficial view in isolation. Our brand develops every product considering a dude's lifestyle, spirit, attitude & yes, BALLS. Literally and figuratively. So it's with that perspective that we determine which products to develop. Next, we place the heaviest emphasis on making sure any product with the Derm Dude name does what it promises. Our actual internal product costs are on the higher side because we use the best quality ingredients at the most effective, meaningful concentration levels, and we also work very hard to keep our consumer pricing down so that our products are affordable for the hard-charging, hard-working dudes our brand is built for.
What do you think sets your products apart from other similar offerings on the market?
Several things. The quality of our formulations. We simply do not compromise on our products & formulations. We have a saying, "We compromise by putting down the toilet seat, but we will NEVER compromise on the quality of products."
Our brand also has the simple benefit of being 'who we actually are.' I'm a 50-year-old dude. I'm covered in tattoos, with a full beard, & I still have a happy set of balls attached (even after a few near misses on that last one.) You can't phone in 'authenticity.' As a team, we also have 20+ years of hands-on experience in the skincare & beauty industry in literally every aspect possible. So while 'ideas' are a dime a dozen, at Derm Dude™, we have the benefit (& team) to take all of our passion & great ideas, & actually execute them. It's the execution that sets apart the 1% from the 99%. So without a doubt, our team at Derm Dude is a critical, vital part of who we are, what we do & how we do it. Every human on our core team has been with me anywhere between 6-15years+. So that gives us a huge edge versus a traditional 'start-up' in terms of having an extremely seasoned team out of the gate.
What challenges have you faced as a business owner, and how have you overcome them?
First, as an entrepreneur, you are your own biggest advocate & supporter but also your own worst enemy. And damn, that is so true about me. I recently released my autobiography 'Under My Skin" if anyone wants more insights into the freakish inner workings of my brain, creative process & workflow.
I'm not for the faint-hearted. Other than that, I would say you need a thicker skin than you may initially anticipate. As the founder, and in my case, 'Chief Dude Officer,' you don't get 'time-outs' or do-overs. You have to own every decision & outcome, good & bad, & find the internal passion & drive to deal with every issue along the way. When you're a start-up, there are many more 'fires' than 'celebrations' early on. Having that understanding at the outset is very helpful. Finally, I would say, burn your ships. By this, I mean if you truly believe 100% in what you are doing with your brand, you need to go all in. 99% won't cut. People can read a phony a mile away. And truthfully, if you are not 100% freakishly obsessed with your brand's mission and success, you won't make it anyway. But when you are fully committed, even the 'fires' you deal with along the way help you because they are really sparks, pushing you to solve each problem and bringing you one step closer to success.
Your brand name, Derm Dude, is catchy and memorable. Can you tell us about how you came up with it?
Our name needed to be true to who we are, which I knew meant it would need to be the polar opposite of what a 'marketing' group might come up with. I wanted our brand name to say who we are, what we do, & how we do it. That's a S*it ton to communicate in a short brand name. Plus, we wanted a brand name that makes you feel comfortable, trustworthy & 'familiar' when you hear it & see it. "Derm' means 'skin .'And since your skin is the largest living organ on your body, it was a solid word for us to build from. The word 'Dude' is universally known, & it was the perfect natural back-end for our brand name. Dude is the word I have likely used more than any other word in my entire life. In fact, I would not be surprised if my first baby word was 'Dude.' It's a word communicated in every language globally and appears in movies, t-shirts, coffee mugs & billions of daily human interactions. It is simply a very…welcoming, door wide-open word. And that is very much how Derm Dude™ operates.
In addition to your products, your company also promotes a "be comfortable in your own skin" message. How does this tie into your overall brand mission?
Derm Dude has zero f*cking desire to change who you are. The absolute last thing we want to do as a brand is to create messaging & marketing that actually makes someone feel bad about themselves. There's no shortage of other companies raking in a fortune by making you feel like sh*t so that you will buy their 'magic.' Like I said, I know the drill after almost 20- years of working in the Hollywood beauty & skincare 'machine.' They have their formula. And starting Derm Dude, I wanted zero part of that world in any way. Derm Dude is a brand that has fun & laughs. Most often, I laugh at myself.
I'm all over social media giving ME more shit than anyone. Some of my videos are me being real about coming home from work, eager for some 'time' with my girlfriend, & revealing to the 'world' how she busted me for not using our Derm Dude ball products that day. And it was true. Hey…we have 80+ products & sku's. The one day, I was in a hurry & skipped my ball product routine; she noticed & called me out on it. So I shared that on social. The simple truth is, if you are a human being, you sweat. Sweat is our body's natural, healthy way to, among other things, regulate our body temperature. Sweating is nothing to be ashamed of. Hygiene & taking proper care of your balls, ass crack, & other 'private' areas is nothing to be ashamed of. Women are so far ahead of men in this way. Women share & educate each other from a young age, mothers to daughters, sisters, and girlfriends to one another. But with men, it's more 'locker room ball-busting versus education. So what happens? Uninformed boys develop into uninformed adult men whose bodies genetically require proper grooming & hygiene so we don't smell bad & risk bacteria-related illness. With basic grooming, we can be clean & take care of ourselves (everywhere) in ways that are not only healthy but also appealing & attractive to others who we want to 'consensually enjoy' together. That's why our product names are so unique & funny. It's very deliberate, not just to get a laugh. When people hear 'Happy Sack Nut Love Cooling Cream,' yes, they often piss their pants laughing. But they also stop & listen & say, "Hey, what is that? Do I need that?" And then they realize, YES, I DO. We all do. Because no dude wants chafing or jock itch or swamp sack or 'smelly balls.' That's why Derm Dude exists. We don't shame anyone. We laugh, inform, & offer simple, effective, affordable solutions for every dude.
What's next for Derm Dude? Are there any upcoming product releases or projects you're excited about?
Oh man, our product pipeline is bursting with innovation. We just released our new men's trimmer, the EVERYTHING TRIMMER™. It's the perfect tool for your beard, body, and…tool. It's waterproof, rechargeable, has a pro-grade motor, and has 17 different hair length settings in just one easy dial attachment. We are very excited to be in the men's trimmer category. And by the time people read this interview, our new volumizing shampoo & conditioner will be released, called Daily Head™ (Yes, you use it daily, on your head). The early feedback from people who've tried "Daily Head" is surpassing even our highest internal expectations. So as far as the future? It is so unlimited & wide open at this point. I'll keep going full steam ahead, trying to remind myself to look up & enjoy it along the way. The biggest thrill for me is getting emails & messages from customers sharing their genuine love for our products. I can't imagine ever getting tired of that feeling.
Your products are marketed toward men, but do you see any potential for expanding into other demographics in the future?
Women already make up over 50% of our tattoo buyers. So yes, even though we are Derm DUDE, there is overlap in products such as tattoos that women happily enjoy. I also see down-the-line opportunities for us to expand into specific products and categories that are more universal regarding gender, so the opportunity will be there. But for now, we have so much innovation & growth ahead of us with our core 'dude' audience to keep us more than busy.
Lastly, what advice would you give to aspiring entrepreneurs looking to start their own businesses?
Everybody always says, "Never take no for an answer."
I agree, but that isn't enough. It really isn't. For me, when someone says 'no,' man…that is FUEL for me. In such a great, energizing f*cking way. If I were to thank the people who helped with Derm Dude's early successes to date, yes, there are for sure several critical, amazing humans who we could never have gotten this far without their support, guidance & collaboration. But in terms of any person who told me "No" or bet against us? I should send them a free lifetime supply of Derm Dude because they fired me up & pushed me & our brand to succeed in ways I could never fairly repay them for.
Learn More About Drew Plotkin and Derm Dude™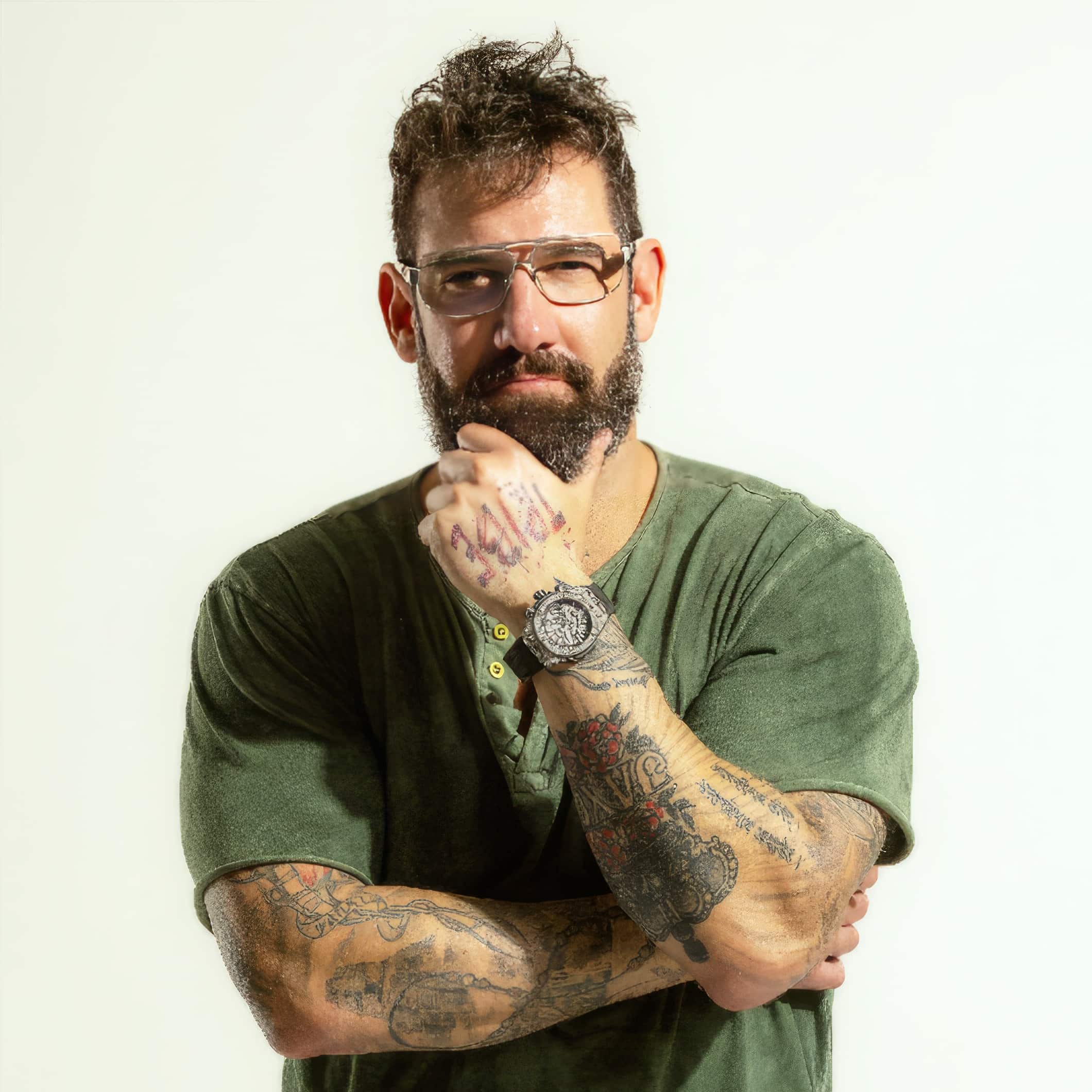 We would like to extend our heartfelt gratitude to Drew Plotkin, the visionary behind Derm Dude™, for taking the time to share his experiences and insights with us. Drew's journey from being an industry insider to creating a brand that resonates with real dudes like himself is inspiring. His emphasis on authenticity, quality formulations, and a team that shares his passion and expertise has propelled Derm Dude™ to great success.
As we look forward to the exciting future of Derm Dude™, including the release of innovative products and ongoing growth, we are reminded of the brand's unwavering commitment to providing effective, affordable solutions for men's grooming needs. We thank Drew for his candid and enlightening responses and wish him continued success in his mission to redefine men's skincare and hygiene.