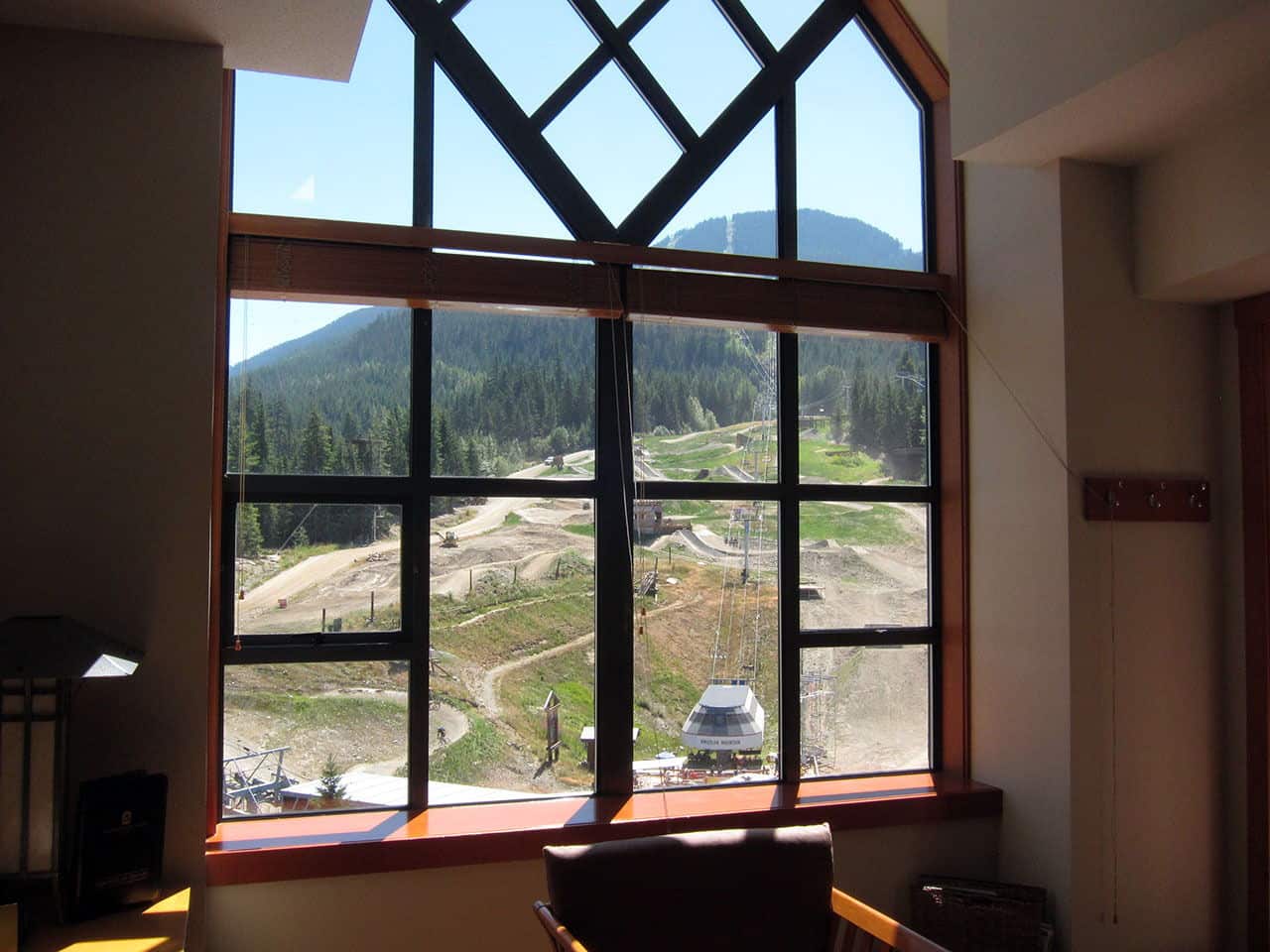 Whistler, located in British Columbia, Canada, is legendary for its skiing, snowboarding, and extreme summer sports like downhill mountain biking.
As you make your way up the beautiful winding mountain roads towards the Whistler village, you'll find yourself surrounded by the sea, the sky, and of course, mountains… mountains as far as the eye can see. It's these mountains that made Whistler the ideal place to host the 2010 winter Olympics, and it's these same mountains that make Whistler an incredible place to visit whether you're looking to try some extreme sports like downhill mountain biking, or whether you simply want to relax at the pool. They're beautiful to look at, and they're even better to blast down on a bike, but whatever your choice of activities, you're going to need a place to stay.
Pan Pacific Whistler Mountainside
I've had the good fortune of being able to visit quite a few places, and stay at quite a few hotels and hostels over the years. I love to explore new cities, and it's always interesting to how hotels vary from place to place, and price point to price point.
Though the Pan Pacific Whistler Mountainside wasn't the most lavish hotel I've ever stayed in (the Westin Hotel in San Francisco takes that spot), I can still say with all sincerity that it was one of the finest hotel experiences I've ever had. As someone with a new found passion for downhill biking, I had the pleasure of seeing this out my window when I woke up in the morning…
Scratch that, it was a lot more like this…
You get the Whistler Mountain Bike Park mere steps from your hotel suite, and you've got a wide range of fantastic restaurants, bars, and curiosities to partake in after a long day of hard riding down the mountain. The location and the view couldn't possibly be better. I dare you to say otherwise.
And speaking of ways to spend your evening, well… you've got this pool right below you, which just happens to allow guests to bring alcohol. Oh, and did I mention that it's open until 11:00? It's the perfect place to watch the sun set behind the mountains as you sip your favorite beverage in the hot-tub or the pool. My only regret is not having done a bit more of this, as again, the view is fantastic.
Though perhaps not paramount to your decision to stay here, many of the suites also feature full kitchens. I'm not going to lie, the restaurants in the Whistler village are often quite expensive. Places like Araxi Restaurant + Bar – one of Gordon Ramsay's restaurants – call Whistler home, and that's just the tip of the iceberg for fine dining. You can really save yourself quite a bit of money by cooking at the hotel, but you know what? If you can afford it, I highly recommend splurging a little bit. Some of the restaurants like 21 Steps, and even the Pan Pacific's very own Dubh Linn Gate pub are full of delicious food and fantastic drinks.
As a side note, I'm going to cover the Dubh Linn Gate in more detail in an upcoming article. I shared a dinner with the Lloyd Daser, the manager of both Pan Pacific Whistler locations (yes, there are two), and a man for whom I greatly admire. More on Lloyd a little later…
Now, I don't know about you… but I love sleeping. Sure, I enjoy the hustle, bustle, and adventure of the day, but there's nothing quite like a comfortable bed to hop into when it's finally time to turn in for the night. I've slept on hotel beds that are more akin to torture racks than beds, but I'm happy to tell you that the beds at the Pan Pacific are not only adequate, but really quite comfortable. They have just the right amount if firmness without drifting into Spartan territory, just the way I like it.
The Importance of Good Service
I'm guessing you realized early on that this review would be a positive one. I've talked about the ideal location, the beautiful views, the suite… the pool, and just about all of the great features the Pan Pacific has to offer. But there's one thing that I haven't mentioned, and that's the service.
As I mentioned earlier, I contacted the manager, Mr. Daser, before flying into British Columbia for my trip, and after a few exchanged emails we planned to have dinner together the day after my arrival. The time came, we started chatting while enjoying a fine dinner at the Dubh Linn Gate, and it quickly became apparent to me that Lloyd is a rare breed of manager. He's old school in all the right ways. Service seems to be his top priority, and it shows. Both Lloyd and all of the other staff I encountered during my stay were prompt, kind, and extremely helpful. Any questions I had were answered immediately in great detail, and as someone from out of town, that's greatly appreciated.
It's for these reasons and many more that I can't recommend staying at the Pan Pacific Whistler Mountainside enough, and if you get a chance, have a chat with Mr. Daser. Excellent service aside, he's an awesome fellow. Maybe you can even convince him to give you a ride on his motorcycle.