Well, we've written quite a few articles now on water bottles with filters in them so why not keep the trend going with this very cool project in Lima, Peru. It doesn't matter what you've learned in your survival courses about finding drinking water in the desert because the best way to get a glass of water is from an advertising billboard. This particular billboard is able to absorb the moisture from the desert air and convert it into clean, filtered drinking water.
This water producing billboard is a partnership between advertising agency, MAYO-DRAFT FCB, and the University of Engineering and Technology (UTEC) in Lima. The billboard stands along the Pan-American Highway which allows local residents access to clean drinking water and and it is also generating interest from potential students in the study of engineering at UTEC.
Billboard That Produces Water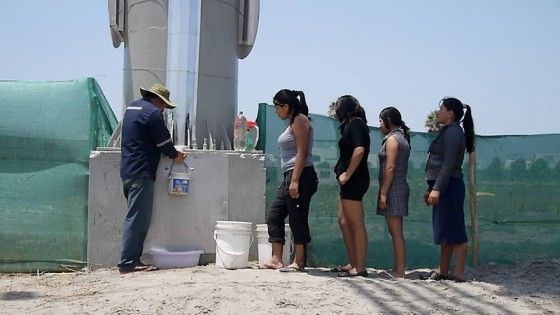 The system is able to absorb moisture from the humid air through reverse osmosis and delivers purified drinking water through small ducts at the foot of the billboard and down to a tap situated at the base of the billboard. This water producing billboard wouldn't work in every desert in the world but it's very effective in this part of the world because the relative humidity is usually over 80 percent allowing for this billboard to provide a unique solution where annual rainfall is minimal.
This billboard is able to produce 25.3 gallons (96 liters) of drinking water each day for locals as well as travellers. This water producing billboard was installed in December of 2012 and has already helped deliver over 2,500 gallons of clean water out of thin air.
It's always great to see these types of projects taking place and I'm sure this system can be made more efficient and utilized in other parts of the world where water is scarce.