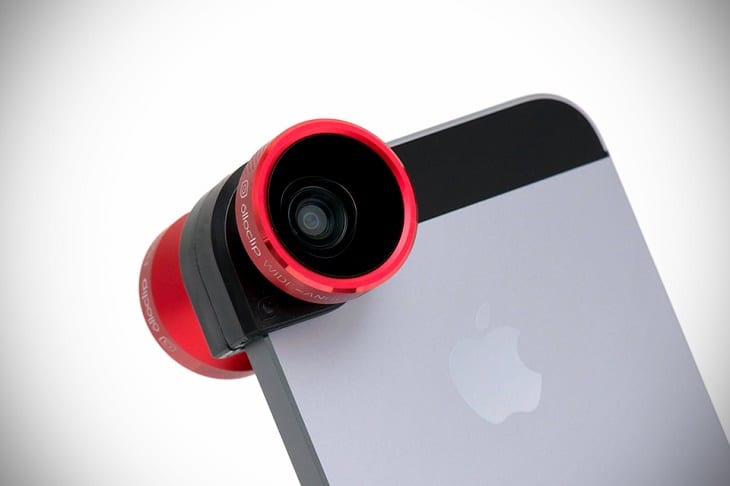 Photography can be one heck of an expensive hobby and even if it's nothing something you're incredibly passionate about, it's important to be able to take excellent photos to document events and memories, regardless of what you're doing or where you are. While the new iPhones have some excellent cameras, at the end of the day they have their limitations. You can't zoom on them because digital zoom will make the photo grainy and you can't add any other features because the camera is one fixed lens and that's all.
If you're looking for a bit more flexibility in your photography but without lugging around a camera or paying for one, than this 4-in-1 lens made by Olloclip should be the solution to your problems.
Starting at only $69.99, the Olloclip is incredible value for what you get, especially when you consider how much those lenses would cost if you had to buy them for a real camera like a DSLR. The four lenses you get are fisheye, macro x10, macro x15, and a wide angle. What this lens does is gives you the versatility and enhances your field of view that you would get with the iPhone just by itself, making it's camera even more useful and amazing. All at a relatively low cost.
What's especially awesome about this is that it's very sleek looking and also not that bulky. This is great because when you put it on your phone it doesn't look totally ridiculous and at 25 grams, it doesn't weigh it down or make it unbalanced and hard to hold. As the name suggests, it clips onto the top of your phone and you switch it back and forth between the two sides and change out the lenses for the different features.
It comes in a variety of colors as well so everyone can have something to their taste or their phone color. You can get a silver lens/black clip, red lens/black clip, gold lens/white clip, or rose gold lens/white clip.
This is a great feature to take better photos and what makes it even better is that it's compatible with both iPhones and the Samsung Galaxy. Currently, the Galaxy 4-in-1 is cheaper at only $69.99, whereas the iPhone model starts at $79.99 and goes up in price the newer the model of the iPhone.
Regardless, this is still a very affordable price for a piece of technology that can revolutionize the way you take photos on your camera phone. Olloclip claim that this will help you take photos worth 1000s of likes, but social media likes aside, for just a small amount of money you can capture even better photos in everyday life. And ultimately, photos are memories that stay with you forever, and you can't put a price on that.