The brand new watch by Christophe Claret, 21 Blackjack, is the ultimate watch for Daniel Ocean, and will probably be featured in the next Ocean's 14 movie (if ever produced).  It is a bit on the gimmicky side, but I think it's pretty cool nevertheless.  I mean who doesn't want to start a spontaneous game of Blackjack at a business meeting, or anywhere else as a matter of fact?
The watch comes with a pair of dice, playing cards and even a roulette wheel on the back; now that's cool, and you would be the talk of the party (or meeting, funeral, or wherever else you make an appearance.)  All the games are fully playable:
Dice – players can choose to play a game of dice such as craps; the dice are located in a small compartment with a window at the 4 o'clock position and measure 1.5 mm.
Roulette – the back of the watch features the roulette wheel that is covered with an anti-glare sapphire crystal.  The roulette wheel goes into motion with an undulating movement or two.  Place your bets and hope for the best.
Blackjack – this is the "main event" feature of the watch and the cards are displayed on the watch face. Same rules apply as a "real" game of blackjack, and there is even a bell that rings (I'm not familiar with casino games but I'm sure there is a reason for that bell ringing when a certain action takes place).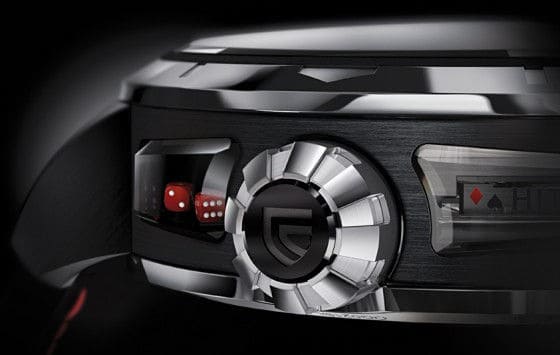 The Christophe Claret 21 Blackjack watch is powered by a self-winding Swiss automatic movement with 72 hours of power reserve; the movement consists of 501 components and features 40 jewels.  The watch measures 45 mm and comes in a variety of cases such as white gold, pink gold, or titanium with grade 5 black PVD titanium.
The 21 Blackjack watches will be produced in limited numbers; each series will consist of 21 watches and will be priced from 178,000 to 210,000 Swiss Francs (or about $196,000 – $231,000) depending on the model and case material chosen.
[Source: Christophe Claret]