There's no rule that says a finished man can't set aside time to play; this hilariously weird science experiment by two students in their last year at design school Ensci- Les Ateliers is the perfect balance of completely useless and completely mindblowing that we all expect from our time wasters. Ask yourself: "do I want to poke some Noisy Jelly?" Regardless of what horrific visions are dancing through your head right now, let me assure you that the correct response is yes. Yes, you do. Check out a video of weird gelatin shapes being stroked and reflexively purring after the jump. (Yes, you read that correctly.)
Noisy Jelly – Oh God It's So Slimy and Noisy, What Have We Done!?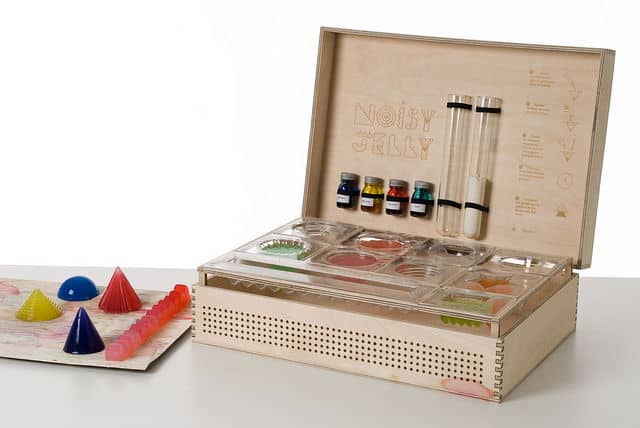 If you suspend your disbelief for a moment, it's easy to believe that Noisy Jelly is some bizarre alien symbiote that's found its way to Earth, looking for sexual gratification from unwary passers-by. Drawing the human in with inviting colours, enchanting noises, and slimy secretions, each gelatinous blob ensures survival of the species by goobering on your fingers and trilling triumphantly. Okay, so this isn't exactly the science behind this project, but the video takes on a pretty sinister vibe if you ascribe to my personal take on the whole affair.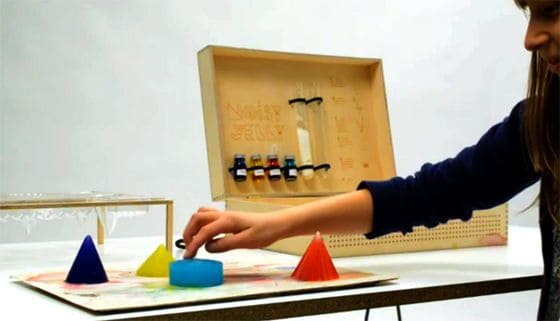 Here's the actual deal:
"Noisy jelly is a game where the player has to cook and shape his own musical material, based on coloured jelly.
With this noisy chemistry lab, the gamer will create his own jelly with water and a few grams of agar agar powder. After added different color, the mix is then pour in the molds. 10 min later, the jelly shape can then be placed on the game board,and by touching the shape, the gamer will activate different sounds.
Technically, the game board is a capacitive sensor, and the variations of the shape and their salt concentration, the distance and the strength of the finger contact are detected and transform into an audio signal."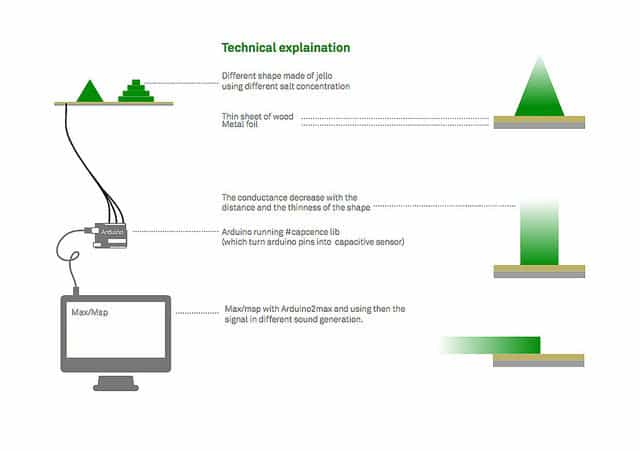 So to recap: you can mould jelly into any shape in any colour your heart desires, and then you can poke it and squish it and it will sing happily/scream in abject pain and terror for you.  Personally, I think this project is one of the coolest "random science" things I've seen in a while, and I hope these two students decide to make a retail version of the Noisy Jelly kit. They'll become bajillionaires, the entire world populace will be pacified by these slimy tribble-esque blobs, and eventually the jelly will become sentient and will begin producing humans, Matrix style, for their own amusement. I for one welcome our new gelatinous overlords! In the following video, there's absolutely no sound editing enhancing the jelly noises- editing was however, used to overlay Devo's Whip It, which is an important ode to the little Devo hat mould.
Get more details about this project at the Vimeo page, which has a PDF project overview, and a link to the Noisy Jelly Flickr set.