The Nissan Juke has one of those designs that you either like or hate, and I happen to like the design a lot. Beauty is in the eye of the beholder and I think the unique design is a breath of fresh air in this competitive market where the cars are all starting to borrow design cues from each other. During these winter months, the East Coast in the US and Canada are getting hammered with snow storms and the folks over at Nissan are brewing up some cool ideas.
Meet the Nissan Juke Nismo RS featuring the Dominator Track System built by American Track Truck! The Nissan Juke was modified to be a support vehicle for an ice-driving event in Lapland, Sweden on the Uddjaure lake. The vehicle is mostly stock except a few modifications were made to the fascias to allow for the parts to fit as well as reprogram the torque-vectoring all-whee drive system.
Nissan Juke Nismo RSnow In Action: the Power of the Dominator Track System
The top speed is estimated to be 62mph (100km/h). The Dominator Track System allows your vehicle to access places where tires can't go with. The system is available for most 4×4 and AWD passenger vehicles including cars, trucks, and SUV's of all sizes.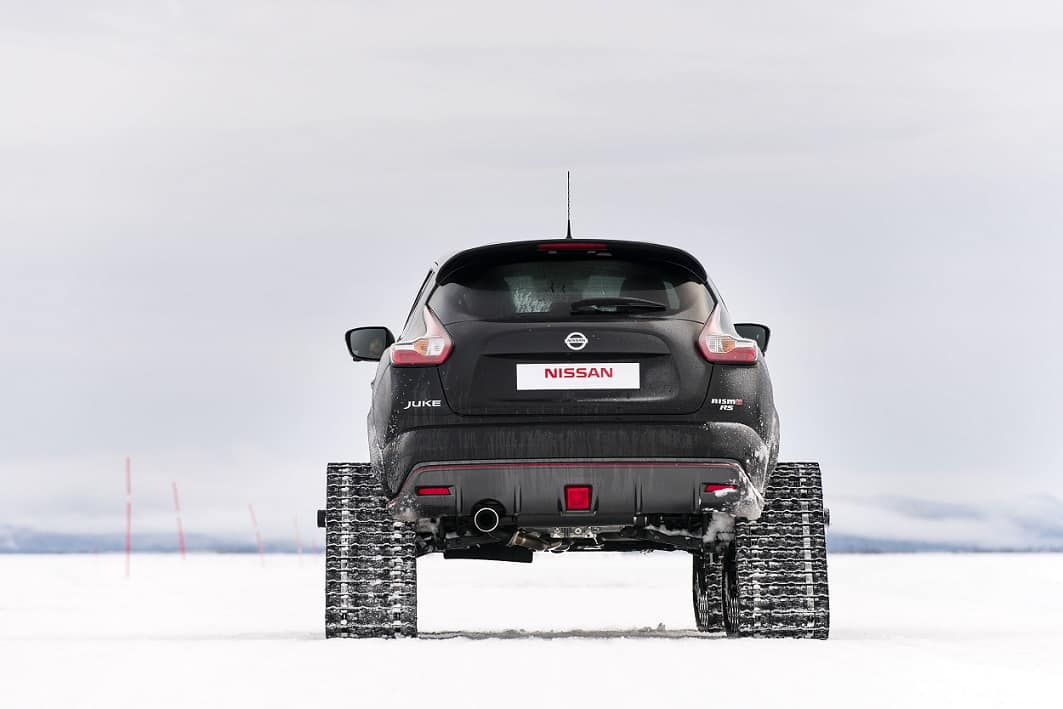 The system can be used all year round and in almost all types of terrain but the primary purpose and best performance is in the snow. If you are mechanically inclined, the system can be installed in less than an hour with no other modifications (in many cases). More information can be found on the Dominator System on their website.
If you're looking for the price of the Dominator Track system, unfortunately you'll need to contact them directly for a quite, as I wasn't able to see listed prices anywhere online.
Nissan Juke Nismo RSnow Gallery