With three driver & team championships under its belt, the Mercedes-Benz SLS AMG Coupe has taken the European GT3 Series racing scene by storm. In celebration of AMG's 45th anniversary, Mercedes has created the SLS AMG GT3 "45th Anniversary", which according to the company, is marketed "at car collectors with a particular penchant for motor racing".
The car is built as a pure collector's item and only five examples will be produced. Bernd Schneider, who has won five DTM titles, as well as the 1995 FIA GT world championship, will be assisting the AMG engineers in installing the 6.3-liter V8 into the car and putting his signature, alongside the engineer's, on each of the five V8s.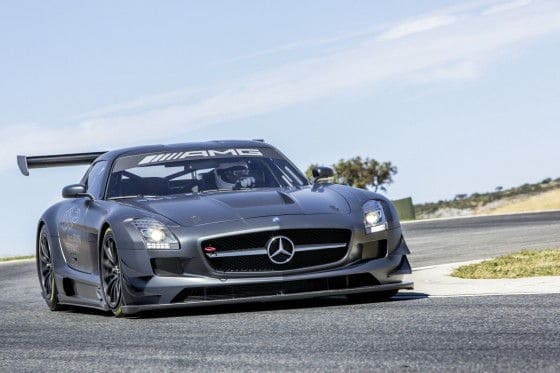 Priced at $579,900 US, the special edition GT3 has a number of exterior and interior changes compared to the 49 other racing versions of the SLS AMG produced and distributed to customers around the world since 2011.
The bodywork and the alloy wheels are finished in a "design magno graphite" matte paint. Under the matte paint, the exposed carbon fiber reinforced plastic, which is the material of choice for the construction of the gull-wing doors, the trunk, mudguards, boot lid, rear wings, rear diffuser, and front and rear spoilers.
The interior is a full out race car but with slight details such as the "design magno graphite" finish on the steel rollover cage, the matte carbon fiber finish trim on the dashboard and center console and the silver-painted six-point harnesses and steering wheel.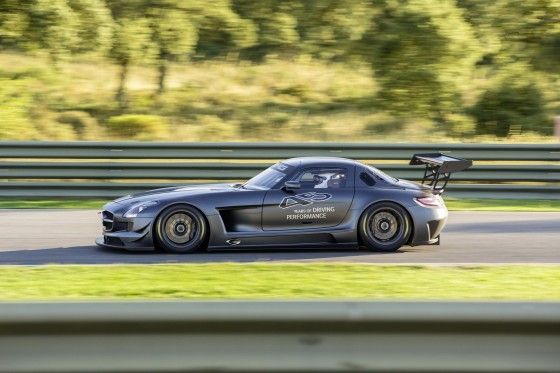 To set it apart even further and to make it more special, a carbon fiber safety cell on the co-driver's side, a "1 of 5" inscription on the seats and center console and a "45 Years of Driving Performance" logo on the indoor car cover.
Although we regular Joes will never get to see a SLS AMG GT3 in real life, we sure hope the customers that will receive them will put good use and race them on the track.