This post may contain affiliate links, meaning when you click the links and make a purchase, we receive a commission.
Fall has just begun, theoretically, since September is here, although the temperatures will probably have a few more weeks before they start to adjust to it. Still, there's no time like now to start thinking about how you're going to dress up during the fall, and we have just the guide to help you do it. As any active man living in this age, comfort and functionality probably matter most, and we obviously couldn't agree with you more. Therefore the ultimate style we propose to you is the smart-casual look, which can get you looking classy without sacrificing on the two imperatives mentioned above (comfort and functionality).
This is pretty simple to put together when you're shopping at The Gap.
What to Have In Mind to Be Ready for Any Invite
The point for all men living the active and often unpredictable lifestyle we all know is to be ready to change their plans easily, without looking under or over-dressed. You need to be able to jump from a work meeting or a regular corporate office day straight into a casual get-together with friends or a cocktail and movie meeting with a special lady friend. Being already dressed well for any of these (or being able to easily adjust with only one light item change or two) is no easy feat for even the most spontaneous and stylish of men.
This is why you need to have just a little planning ahead, so you can be ready for most such changes of plans. Our advice is to do this through two ways:
a) By being careful to compose for yourself this smart-casual look we're praising here, since it's easy to adapt it to almost anything and any type of occasion;
b) By keeping a few accessories such as a decent pair of glasses, which can change your look nearby in your office (so that you can put on a fancier detail if you have to go somewhere nice directly after work, for example). You can also have these in your car or your backpack (and more on that below).
The Top 5 Essentials to Have This Fall
This is our very much narrowed down list of essentials all men should include in their attire this fall in order to achieve this classy but cool smart-casual look which can get them stylishly through all situations.
1. The Classy Leather Backpack
A good backpack is obviously something that saves the day for most of us, since it allows us to carry quite a number of necessary items around. On most days, the average active man needs to carry with him a laptop or tablet (and usually at least one other gadget as well), a bottle of water or a power drink, some change for the gym, as well as maybe the occasional report or other paperwork. Add a movie your friend wants to borrow from you to the mix and well, here we are with a full backpack again.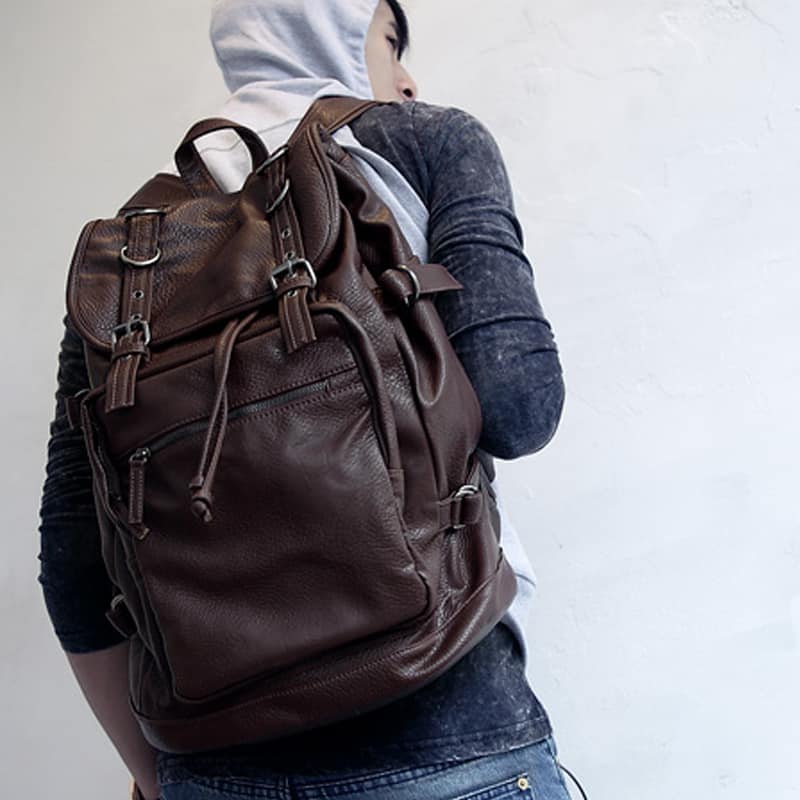 Unfortunately, even if a backpack indeed saved the day many times from a logistics standpoint, for most men it can also become a serious drawback on their style. Even if their overall clothing and game is quite nice, they attach a cheap looking sports rucksack to them and their style immediately drops down a notch. This is why your backpack needs to be more carefully chosen. Go for something leather made (or at least with quite a few leather touches), which can bring out your style better than most other bags, like this vintage-style canvas backpack for men. It will be elegant enough to wear with a casual-smart suit top, but relaxed enough to wear with jeans and trainers as well.
2. The ¾ Sleeve Shirt and Suit Top
Speaking of suit tops, nothing says casual-smart more than wearing ¾ sleeves on both your shirt and your suit top. You can do this by either purchasing clothes directly with that sleeve length, or by tucking longer sleeves up until you obtain the desired look. This move brings a touch of ruggedness to your otherwise impeccable look. Therefore, it may be just the detail you need to take your style out of the smart and more into the casual territory, without losing any game, but on the contrary.
3. Shirts and Suit Tops with Jeans and Trainers
The combination described above (with ¾ sleeves) or even your full length sleeved shirts and suit tops are already elegant in themselves, so you should refrain from wearing them with suit pants and shoes. This would make you look much too preppy and, frankly, not only overdressed but also not properly adapted to most occasions. Therefore, the best combination to go for is jeans and trainers in this case. As long as you choose them not too sports-style, you'll look perfect.
4. The New Fedora
Why not consider a Fedora? We know that for most young men, an 'old-style' hat is still pretty much inhibitory, but give it a shot. Not only that the Fedora isn't technically old-style anymore, considering how strong its return was in recent years (even in women's fashion too), but it's definitely something smart-casual if you use it for a low-toned outfit (like all that we've been describing so far). Just take a look at gangsta-styles in the realms of pop and hip-hop music and you'll know exactly what we're talking about.
5. The Vintage Touches (Belt Buckle, Earring, Necklace)
Last, but not least, consider upping your touch on your other accessories and jewelry, if you're wearing any. If you happen to have an ear piercing and wear an earring quite often (though it's entirely optional for this casual-smart vibe we're trying to build here), consider getting a more subtle and expensive looking one, silver-toned. Also consider wearing a not too flashy necklace with a masculine but cute symbol (why not a little silver robot attached to a delicate silver chain, for example?) and you'll take care of that part in an instant. Your style will be composed enough while also remaining casual, cool and relaxed.
Last, but not least, you won't believe your eyes once you discover what a gold mine vintage belt buckles can be. Choose one with a nice engraving (perhaps belonging to a nice vintage brand or professional association), in a silver-tone, and attach it to your highest quality leather belt. Look for such buckles online, on hubs such as Etsy, eBay, Amazon and so on; the vintage market it still relatively rich in them.