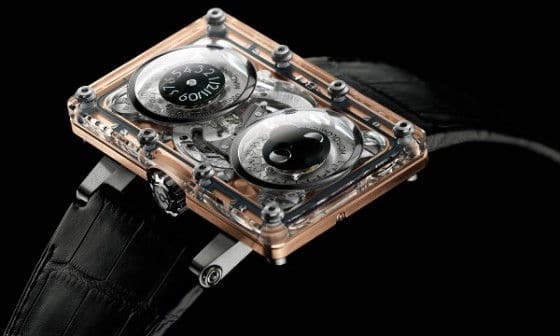 Maximilian Büsser & Friends (MB&F) make some of the most unusual/interesting luxury watches in the industry, we've written about their HM3 Frog and HM4 Thunderbolt previously.  Now they've released the final iteration of the HM2 watch line, which started life in 2008, called MB&F Horological Machine No. 2 SV Final Edition watches.  Unlike their other watches in the HM line, the HM No 2 SV's emphasis is on showcasing the inner workings of the watch.  The "SV" stands for Sapphire Vision, the entire face of the watch is covered with Sapphire and we get a good view (vision) of the watch movement.
The SV Final Edition watches come in two variations; the HM2 Red SV comes with an 18 karat red gold case, gaskets, and rotor while the HM2 Black SV comes with a black titanium case with green case, gaskets, and rotor.  The watch movements consist of 349 pieces and only one watch will be made every 3 – 4 months.
Only 18 watches will be produced, making HM2 SV Final Edition watches instant collectible timepieces for those lucky (wealthy) enough to afford them.
[Source: MB&F]