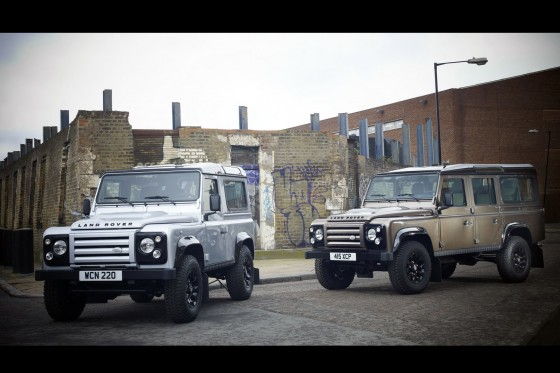 As much as we love fast cars, we also have a thing for crazy off-road vehicles; we showed that love with the STARTECH Land Rover Defender.  Now we bring you another cool off-road vehicle, the 2011 Land Rover Defender X-Tech Limited Edition, which will be revealed at the Brussels Motor Show.
Although the X-Tech Defender is not as luxurious as its STARTECH cousin, it does offer upgrades with leather upholstery and it comes with a set of matching floor mats.  The center console is finished in body matching color, giving the plain interior of the Defender a bit of an upscale feel.
The X-Tech package is available on both the three-door and five-door models and comes in either bronze or silver exterior colors.  The headlight assembly is finished in black along with the roof and fender flares.  The wheels have been upgraded to gloss black 16 inch rims.
The Land Rover Defender X-Tech Limited Edition is powered by a 2.4 liter turbo-diesel engine producing 122 horsepower and 265 pound-feet (360 Nm) of torque.  The X-Tech Defender will go on sale in March 2011 and is priced at £24,995 in Britain.  And we already know the Defenders are not sold in North America, so don't waste time asking your local Land Rover dealer about this limited edition package.
[Source: Land Rover]