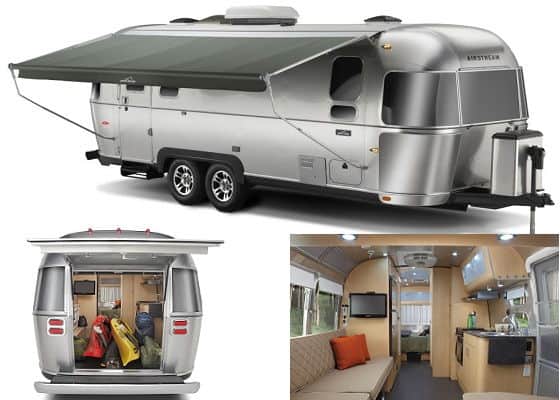 Airstream and Eddie Bauer have joined forces to produce a very cool and luxurious retro looking Silver Bullet travel trailer.  Although the Silver Bullet is not as luxurious as the Futuria Motorhome, it makes up for it with its simplicity and retro styling.
The Eddie Bauer Airstream travel trailer is designed with the outdoorsman in mind and comes with a unique hatch in the back of the trailer that allows for easy loading and unloading of large items such as kayaks and bicycles.  The trailer comes with large Michelin tires for those that like to go where no man has been before.
The Eddie Bauer Airstream trailer measures 25 feet in length and can sleep four adults in comfort.  The interior features Eddie Bauer-inspired décor with stain resistant Sunbrella upholstery, soapstone and maple laminates, and quilted fabrics.  The travel trailer comes with a hand held exterior shower for cleaning dirty gear or taking a fresh outdoor morning shower.  The Eddie Bauer Airstream travel trailer is priced at $73,702 and will be available at dealerships in February 2011.
[Source: Airstream]