I've always been a bit of a foodie – someone who is incredibly eager to head out to different restaurants and try foods I've never experienced before. In recent years, I've started cooking at home more and during that time, I've learned a lot about different techniques and how pan-searing, steaming, braising, sautéing, and roasting all have different effects on your foot.
One technique I'd heard of but had not yet tried was the sous vide method. For those who haven't heard of it, let me explain a little bit about it before telling you about my experience using my very first sous vide device: the elegant and very compact Joule.
What Is Sous Vide?
Simply put, the sous vide technique involves cooking your food in water. Wait, wait – I don't mean boiling your food. When you sous vide something, whether it's a steak, a piece of fish, or a custard, you put it inside a sealed plastic bag, immerse the whole thing in a container of water, then bring that water to a specific temperature to gently cook your food.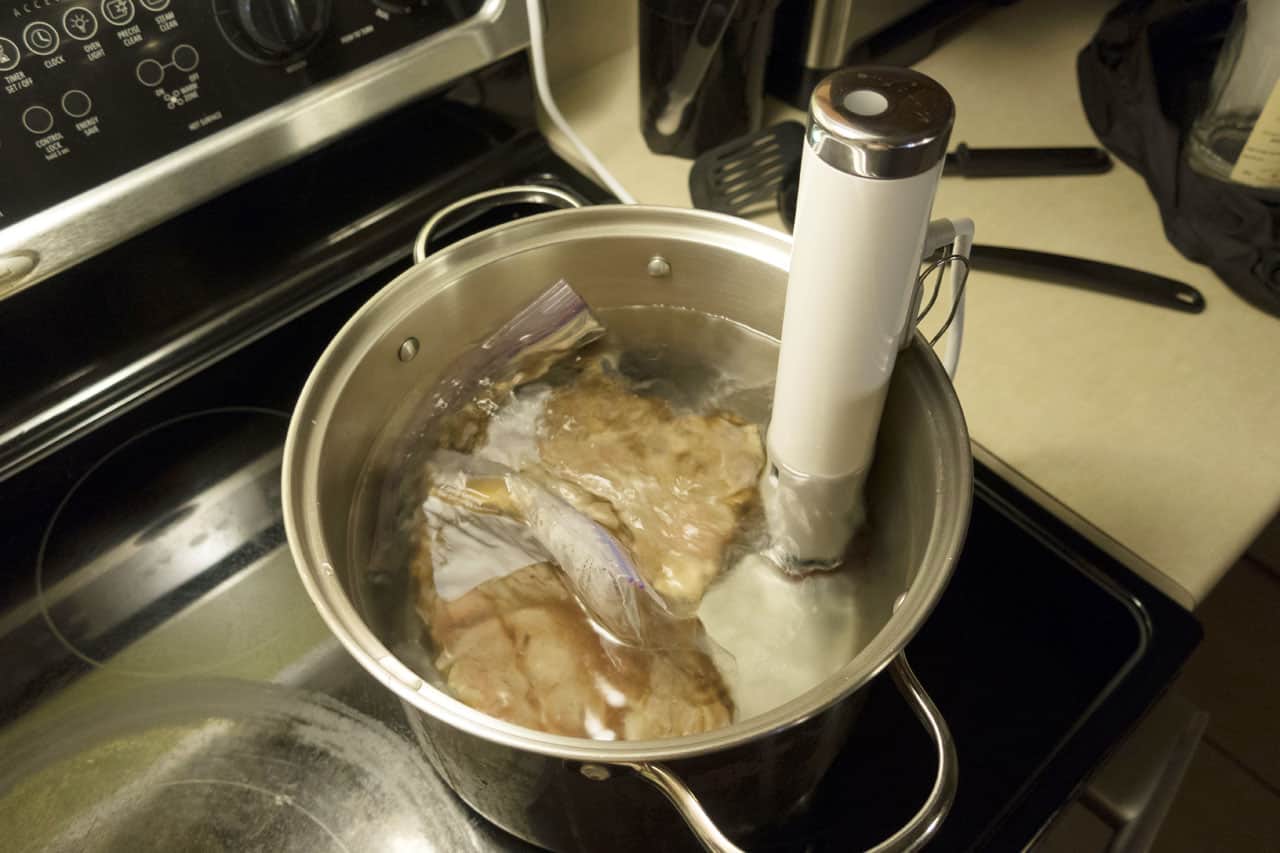 With other cooking techniques, it's hard to cook precisely. Leave a piece of fish in the oven for too long and it will come out dry and unappealing; keep a beautiful filet mignon on the grill for one minute too much and it will go from a gorgeous medium-rare to terribly overcooked.
Sous vide solves all of these problems. Because you bring the water to a precise temperature, it cooks the food to that point and no further. You can even leave the food bagged and waiting in the sous vide until you're ready to eat it. It won't overcook and will be hot and fresh when you remove it.
The Joule Sous Vide: Compact and User-Friendly
Which brings me to the Joule. Having never tried the sous vide technique, I was hesitant to purchase a device. How much storage space would it take up? How much time would it take to master it?
It turns out the answer to both of these question is not much. The Joule is incredibly compact – much smaller than your average sous vide device. It fits neatly in my kitchen drawer. As far as user-friendliness, I was able to pull it out of the box and produce the most delicious beef tenderloin I've ever tasted the very first time I used it.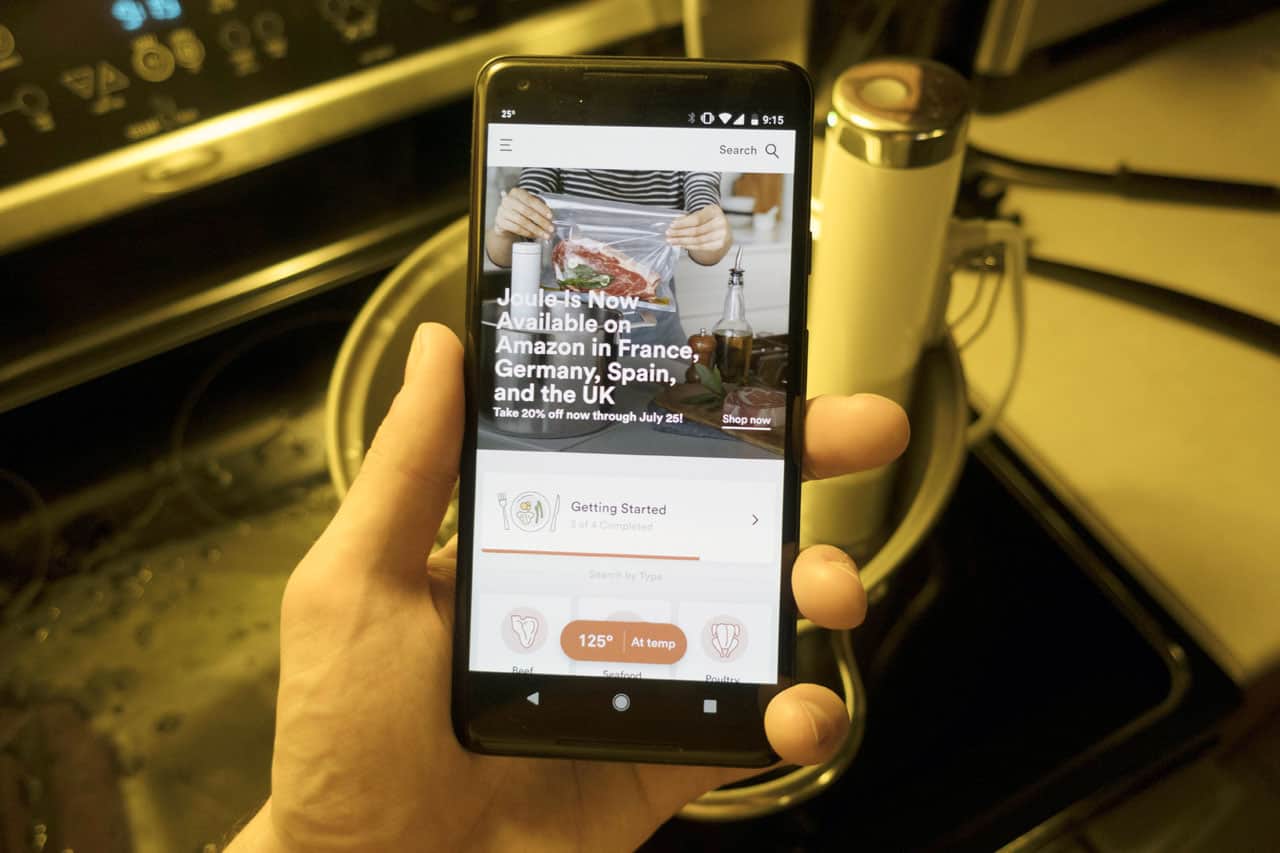 I simply put the seasoned tenderloin in a bag and clipped it to the side of my pot. Then, I placed the Joule into the water (it stayed upright nicely with no clips necessary due to its magnetic base). Then I opened the Joule app, where I was able to choose the right settings through their Visual Doneness option. Joule did the rest. When I unbagged the tenderloin and cut it into slices, it looked like something out of a food magazine.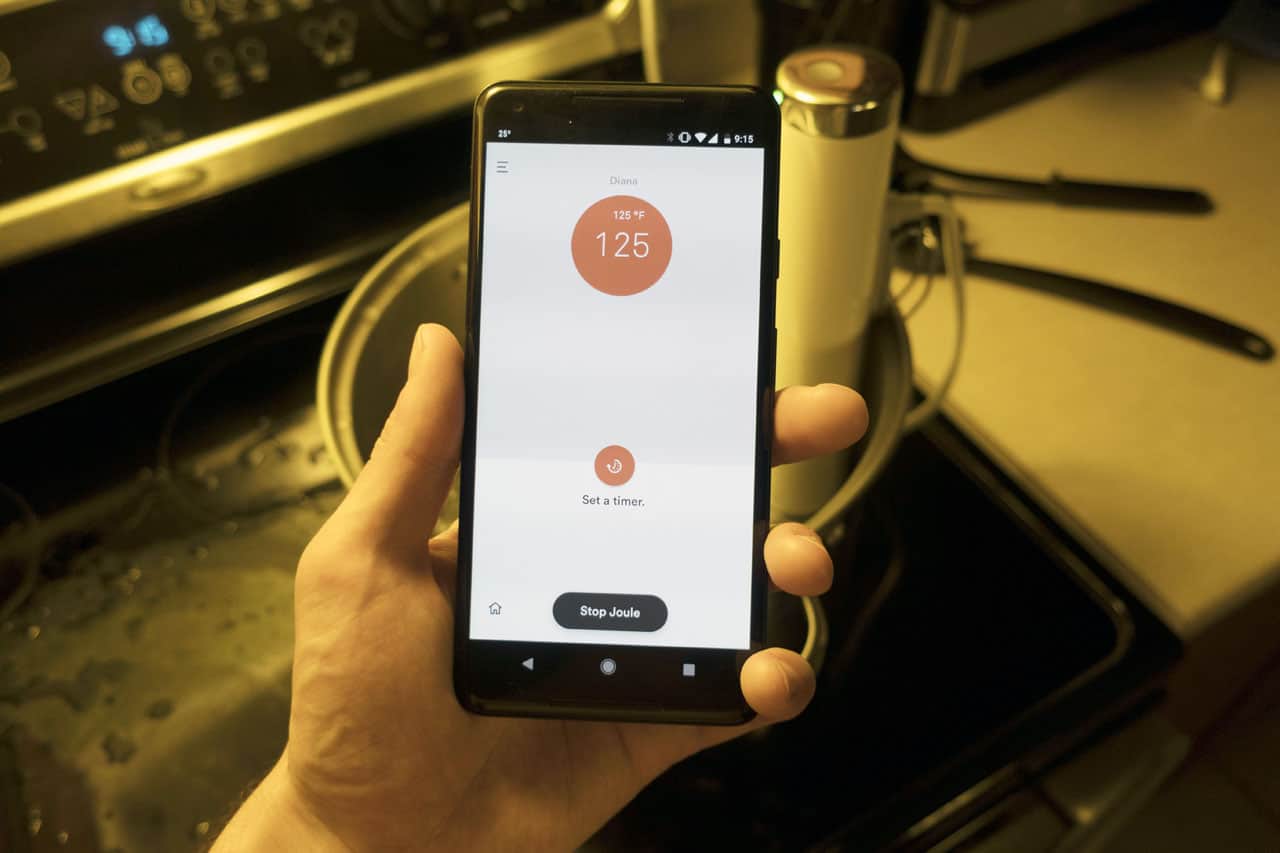 The Joule app has hundreds of recipes, and its voice control (which is also compatible with Amazon's Alexa and Facebook Messenger) mean that you can interact with it in a variety of ways. It's nice to be able to simply tell it, "Joule, cook chicken breasts!" if you've got your hands covered in chicken juice and don't want to touch your phone.
Sleek? Check. Compact? Check? Easy to use? Check. I'm glad to add sous vide to the list of cooking techniques I'm now familiar with…and I'm definitely glad to add the Joule to my kitchen arsenal!