When it comes to public washrooms, I'm a germ freak and try my absolute best to not touch many of the surfaces. I've actually written a number of articles on washroom tips and ways to keep germs away as much as possible. For some reason though, I feel that the germs of my family are not as bad as strangers but at the end of the day, germs are germs.
If you happen to be like myself and avoid germs at all costs no matter where you are, you might want to consider picking up the Kohler Touchless Toilet Kit. The kit will make sure that nobody in your home will ever have to touch the flush handle again. The best part of the kit is that it will transform your standard toilet into a touch-less one with ease.
It only takes about 20 minutes to install the kit and the kit is compatible with Canister type and Flapper type toilets but it will not work with Ballcock type or Top-mount Dual-flush toilets. The flush is activated by a no-touch sensor that is mounted inside the tank. The device is powered by four AA batteries which should last approximately one year.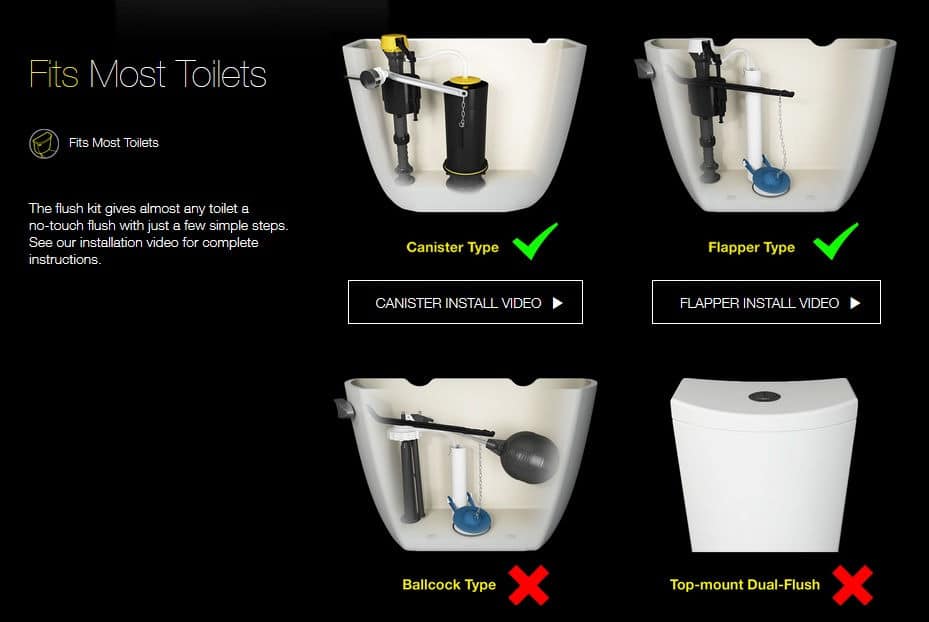 The entire kit comes complete with sensors, mounting hardware, battery pack, four AA batteries, trip lever hole cover, and a Flush emblem for tank lid. The touch-less module projects an electromagnetic field through the top of the tank lid which senses your hand gesture and causes the toilet to flush. The Kohler Touchless Toilet Kit is also compatible with a variety of water usage rates, making it the best wall mounted toilet you can get.
The entire touch-less toilet kit is available for $99.97 at the Kohler website.