During the Moab Easter Jeep Safari event earlier this month, Jeep revealed six different concept vehicles with two of them stealing the thunder.  And based on the feedback Jeep has received, I'm not the only one that has two favorites.
The first vehicle that caught my attention is the Jeep Mighty FC which is inspired by the Jeep Forward Control which was built between 1956 and 1965. The Mighty FC is loosely based on the Wrangler Rubicon but the cabin has been repositioned over and in front of the front axle as well as receiving a lengthened wheelbase.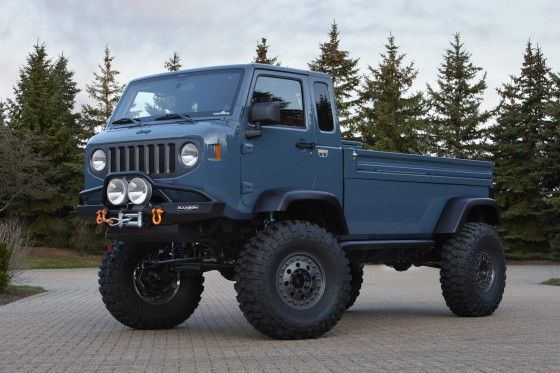 The Mighty FC also receives a custom built drop-side cargo box and the interior is enhanced by using heavy duty Katzkin leather. The Mighty FC has also been jacked up and rides on 40 inch tires and 17-inch Hutchinson wheels.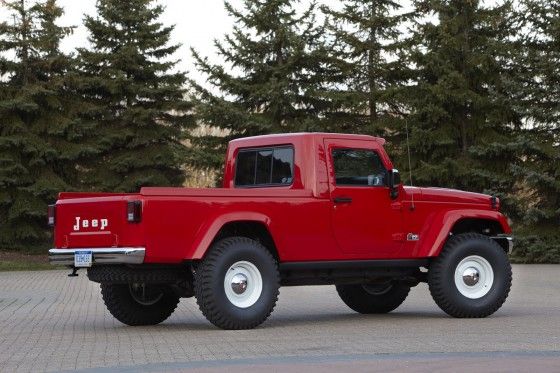 Although the Mighty FC happens to steal the initial attention of onlookers, the J-12 is just as beautiful. The Jeep J-12 pays homage to the Jeep Gladiator of the 1960's and is based on the 2012 Jeep Wrangler Unlimited. The frame of the Wrangler has been extended by 18 inches making the cargo box a full six feet in length. The J-12 sits on 36 inch tires mounted on 16-inch wheels and a three-inch lift kit. The Jeep J-12 also features Teraflex sway bars controlling ARB air-locker equipped Dyntrac D-44 and D-60 axle assemblies. The interior of the J-12 has been stripped down to give it a utilitarian feel and look.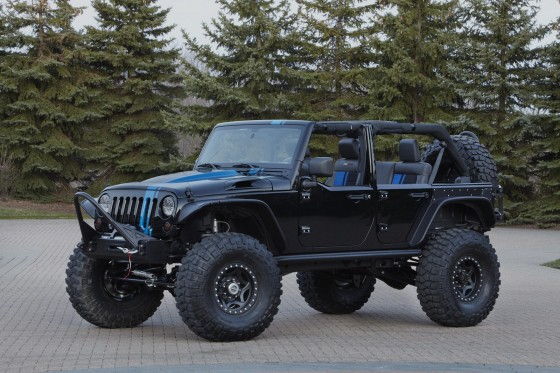 Other concepts include the Wrangler Apache from Mopar. The Wrangler Apache loses the V6 engine and is replaced with a 6.4-liter HEMI V8 putting down 470 horsepower and 470 lb-ft of torque. The V8 conversion kit for the Wrangler will be available summer of 2012 with the W5A580 five-speed automatic transmission. The six-speed manual gearbox will be available later in the year.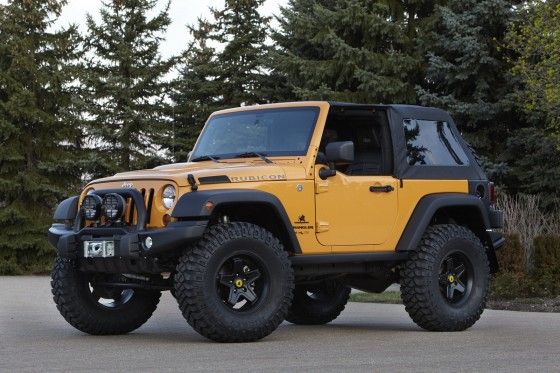 The fourth vehicle is the Wrangler Traildozer which will also feature the 6.4-liter V8 HEMI just like the Wrangler Apache but will feature a six-speed manual transmission. The Traildozer will come finished in a Dozer Yellow paintjob and sit on 37-inch Mickey Thompson Baja Claw tires mounted on Mopar Classic five spoke wheels. The Traildozer also features a 3.5-inch lift kit and various Mopar parts.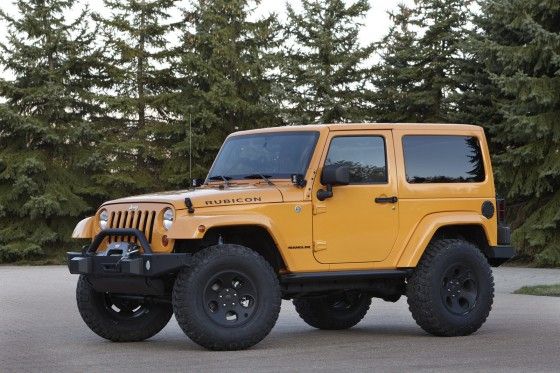 The fifth vehicle is also a Wrangler and has been accessorized by Mopar with already available products as well as prototype parts such as the locking center console box and LED lamps mounted on the windshield.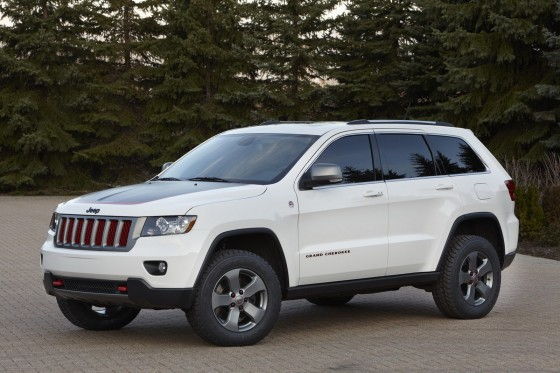 The last vehicle is the Grand Cherokee Trailhawk which stands out thanks to its custom Stone White paintjob and Mineral Gray and red accents through the body. The Trailhawk sits on new 18-inch wheels wrapped in Wrangler SilentArmor off-road tires from Goodyear.