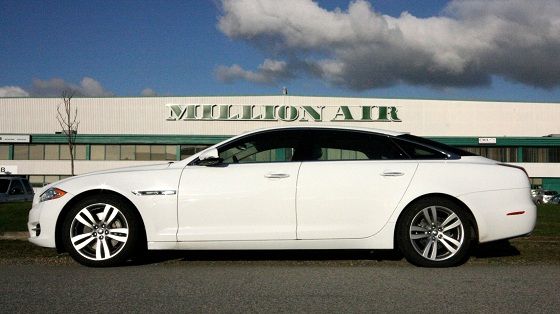 Beautiful, elegant, classy, sexy… these were some of the words that were used to describe the Jaguar XJL Portfolio when I showed it to some of my friends and family members, and these are the words I would personally use to describe this incredible machine.  I had a chance to review the 2011 Jaguar XJ a couple of years ago, and if you look at my previous review, you'll notice that I absolutely fell in love with that car and the long wheelbase version of the XJ is no different, I really enjoyed my week with this car.
In the world of large luxury sedans, there are a handful of choices: you could buy an S-Class, a 7-Series, an A8, an LS460, a Quattroporte, or the Jaguar XJ.  Now these are all great cars and I'd love to review them someday, but if you're looking to stand out and not be "just another banker", then the Maserati Quattroporte and Jaguar XJ are the cars to be in.  But if you want to spend $100k or less, then the Quattroporte is out of the running.
The saying, "They don't make them like they used to" is very appropriate here, but in a positive way.  The new Jaguar automobiles are far superior compared to what the company produced a decade ago, in terms of quality and fit and finish.
Gone are the four round headlights that have been a design feature of the XJ sedans since the late 1960's, instead, the car comes with sharp looking HID lights, giving the XJ a sports car look.  The older XJ's were considered old peoples' cars, that couldn't be further from the truth with this new design (on the market since 2009).  I showed the car to some twenty year old friends and even a teenager; the things they said about the car, most of them I can't repeat here, but they loved the design and called it the sexiest sedan they've ever seen.  I could see the drool dripping from the teenager's mouth, as he stared at the car as thoughts of God knows what went through his mind.
Styling
I've already talked a bit about the design of the Jaguar XJL; in my opinion, it's one of the nicest looking luxury sedans money can buy.  The car already has a sleek look with its low roof line but the XJL is 4.9" (125 mm) longer than the standard XJ, giving it an even lower and sleeker look.  I drove the car around town, a lot, and everywhere I went, the car had heads turning.  The people checking out the car were not from one particular demographic; I had young girls, women, young men, and older men checking out the car and asking me what kind of a car it was and how much they liked it.  Of course, the bright white paint didn't hurt.
Interior
The interior is the same as the previous XJ we had tested, just different color leathers. Our car was equipped with brown and beige leather, which was very soft and comfortable to sit on; I personally prefer black leather and that's what I would get, were I to buy one of these cars.
The rest of the interior is laid out well with a clean clutter-free look; there is a large 8" touchscreen in the center of the dash controlling the climate, entertainment, navigation, and acting as a monitor for the rear camera.  There are a few buttons to control the basic functions such as going into the navigation mode, or turning on the message seats.  The driver and passenger heated/cooled seats were very comfortable and came with a massage feature for the back; because you can never be too pampered, especially when you're driving.  The rear seats also had heating feature, and since this is the "L" version, there is enough room in the back to seat basketball players in comfort.
Performance/Handling

The 2012 Jaguar XJL is powered a 5.0 liter V8 engine producing 385 horsepower and 380 pound-feet (515 Nm) of torque; sent to the rear wheels via a 6-speed automatic transmission with steering wheel mounted paddle shifters.  This car has the same power as the smaller XJ, and I did feel the weight of the car on takeoffs and it wasn't as crisp.  But once the car was moving, it was plenty fast and getting up to highways speeds and passing on the highway was a breeze.  Even though this is a pretty big car, it is pretty light compared to the competition because of its aluminum construction.
Handling wise, the XJL felt just as nimble as the XJ, which was a pretty nimble car in the first place.  The ride was very sporty and firm, but comfortable.  Switching lanes felt like I was doing it in a much smaller car.
Things I didn't like
I'm sure you can tell from reading the article that I'm a big fan of Jaguar XJL and there isn't much I didn't like about car.  However, if I had to fault the car on something, it would have to be the touchscreen system.  Now, maybe back in 2009 this system would've seemed fine but in a world of iPads and fancy Android powered devices, the touchscreen seemed lacking.  Whenever I'd click on a command, there was a short lag between touching the screen and the next window opening.  It's not a big problem but it did get annoying after a while.  And that's about it.
Overall Impressions
I really had a blast during the review of the Jaguar XJL; I don't think I've ever driven so much in a week, especially considering I didn't have a destination.  I really like this car because it's comfortable, drives very nice, it's pretty sporty, and last but not least, it's super sexy.  So if you don't like to be noticed, this is not the car for you because wherever you go in the Jaguar XJ, heads will be turning and people will be taking notice of who you are.  I personally liked all the attention I got; for a week, I felt like the successful blogger that I'm going to be in a few years time.
Jaguar XJL Specs & Equipment:
Engine: 5.0 Liter V8
Transmission: 6-Speed Automatic
Price: $94,995 CAD
Rear Wheel Drive
Self-leveling Rear Air Suspension
Speed Sensitive Steering
19″ Wheels
Panoramic Roof
Auto-leveling Xenon Headlights
Heated & Cooled Front Seats
8″ Touch Screen
4-Zone Automatic Climate
Dynamic Stability Control
Suede Headliner
Backup Camera
Front & Rear Parking Sensors
For more information check out Jaguar's official website.
Photos From Jaguar XJL Portfolio Review: