Who didn't want to be an astronaut when they were a kid? We dreamed of aliens in bubble helmets and laser guns in rockets, but as we get older we see the strange dichotomy of heightened public and professional interest and waning monetary support for space exploration. Regardless, most of us will never get up there, and what we see is filtered down to us with less chest bursters and moon civilizations, but infinitely more wonder and beauty than we could have ever imagined. This video, carefully crafted by Michael Konig, is a stunning skim over the incredible views we never imagined as children.
Phenomenal ISS Earth Timelapse by Michael Konig – The International Space Station Fly Over Photos
You may have seen these ISS Earth timelapse photos a few weeks ago, but they lacked the finesse of this video- the flaws in the playback take away from the overall view. Konig took a large batch of the recently released photos from missions between August and October 2011, and painstakingly knitted them together into video, cutting out pops, jumps, smoothing the playback and matching up colours. Don't be fooled- this was never originally shot as video. It's simply testament to the amount of work he put in. He didn't, however, alter any of the colours or enhance the shots in any way, and that's one of the things that makes this video so incredible.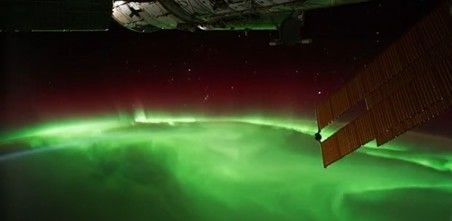 Enjoy a series of lightning storms, shimmering auroras, and the twinkling webs of cities from about 350 km up. Truth be told, while relaxing and spacey, I wanted to smash my speakers in after about a minute, so maybe consider keeping some choice music of your own on hand. I prefer The Scorpions' Wind of Change with the Berlin Philharmonic, but that's just me. http://www.youtube.com/watch?v=ls9yJTphLxg
Here are the locations as they're shown in the ISS Earth timelapse video:
1. Aurora Borealis Pass over the United States at Night
2. Aurora Borealis and eastern United States at Night
3. Aurora Australis from Madagascar to southwest of Australia
4. Aurora Australis south of Australia
5. Northwest coast of United States to Central South America at Night
6. Aurora Australis from the Southern to the Northern Pacific Ocean
7. Halfway around the World
8. Night Pass over Central Africa and the Middle East
9. Evening Pass over the Sahara Desert and the Middle East
10. Pass over Canada and Central United States at Night
11. Pass over Southern California to Hudson Bay
12. Islands in the Philippine Sea at Night
13. Pass over Eastern Asia to Philippine Sea and Guam
14. Views of the Mideast at Night
15. Night Pass over Mediterranean Sea
16. Aurora Borealis and the United States at Night
17. Aurora Australis over Indian Ocean
18. Eastern Europe to Southeastern Asia at Night