I've been keeping up on the jogging that I promised myself I'd do back in January, but one of the most annoying things about it is lugging around a heavy water bottle with me everywhere. I have a pretty hefty water bottle that I use for hiking trips with my lady, but it got annoying to carry around while jogging, and then when I had to pack up to go to work. I looked into collapsible water bottles, and I discovered HYDAWAY, which its creators describe as "the world's most collapsible water bottle," and I have to say that I'm sold on this product and I wanted to tell you about it.
The HYDAWAY was wildly successful, and it was fully funded on Kickstarter in less than 18 hours! They've been on the market since 2015, but the new incarnation is better than ever. The new designs are more streamlined than in the past, and they come in so many more colors, styles, and sizes, so there's something for everyone. You don't have to stick to boring grey or black if you don't want to, and I appreciate that a lot. I'm very conscious of environmental practices, and it's important to me to avoid using plastic bottles, and if I can have a water bottle that's reusable and looks great, I'm going to use it.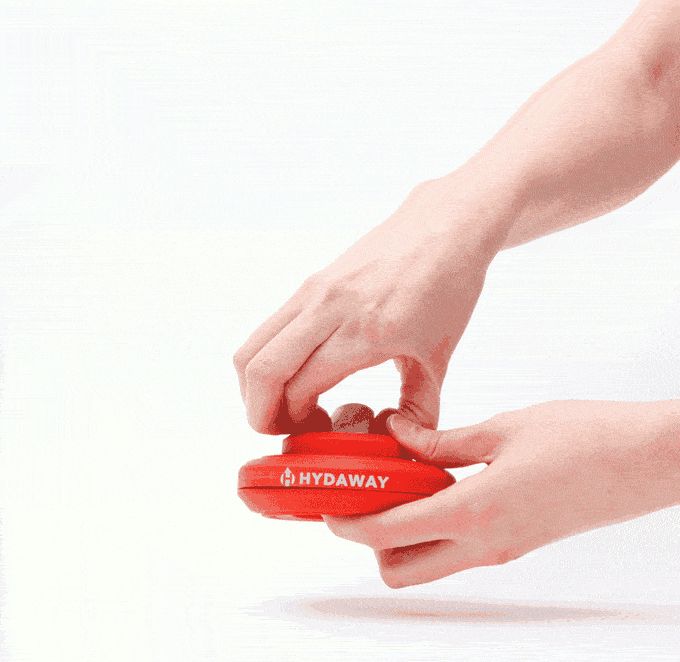 The HYDAWAY is leakproof, can hold 500ml or 850ml depending on its size, is BPA-free, is dishwasher safe, and is collapsible and shape-shifting! It only weighs 140-170g, making it so lightweight it's ridiculous; and when it's empty, you can squish it down so that it can fit in your back pocket. Who knew you could get a water bottle to be that small? I don't have to carry an empty bottle, or have it hanging off my belt if it's empty, I can just squish it into my pocket and forget about it. On top of that, the HYDAWAY now has carbon filters to help get rid of weird tastes from your water, which is something I've often complained about with my old water bottles.
I love these things, they come in 9 different colours, 2 different sizes, 2 different travel packs, and have 2 different lid styles to choose from. I could give everyone in my family one for Christmas (is it too early to talk about Christmas?) and I wouldn't repeat the same combination once! What's even better is that the founder of HYDAWAY pledged to donate 1% of campaign funds raised to no2plastic.org, and 5% raised from custom rewards to the same site to combat single-use plastic production and usage. The HYDAWAY is on its second run, and you can get them for 15% off, and some special limited-edition travel cases that are stunning. Visit their Kickstarter here, and give them a try!