We download plenty of apps and files to our gadgets in the attempt to make them more efficient, useful, and fun. Just take a look at your current media library. We'll wager you store countless tracks in your music folder and dream of organizing your vast collection from time to time. You've probably thought of iTunes, a versatile media management application that allows you to quickly arrange your audio and video files on Apple devices. But what has prevented you from trying it out? We guess you were told or read somewhere that iTunes couldn't run properly on any devices other than those running Mac or iOS. Though such opinion is not devoid of common sense, you shouldn't dismiss the idea of using iTunes, say, on your Windows 10. If you get appropriate iTunes 64 bit Windows free download and follow the installation instructions to the point, we seriously doubt you'll experience any considerable issues running iTunes on your Windows 10 PC. Also, note that your PC must be up-to-date to be able to cope with the latest iTunes version.
Below you'll find out brief guide that will help any beginner user download and start using iTunes on their Windows 10 computer.
Download and Install iTunes
As usual, you'll need to start with downloading the proper version of the desired program to your PC. To get iTunes, you'll need to visit Apple official website or navigate to RocketFiles.com, the online source that offers a plethora of useful troubleshooting guides and houses a huge collection of high-quality downloads for Windows computers.
Once you land on the Download page of the selected website, click the Download Now button. (We're using iTunes-Apple site to download iTunes. Check screenshots below).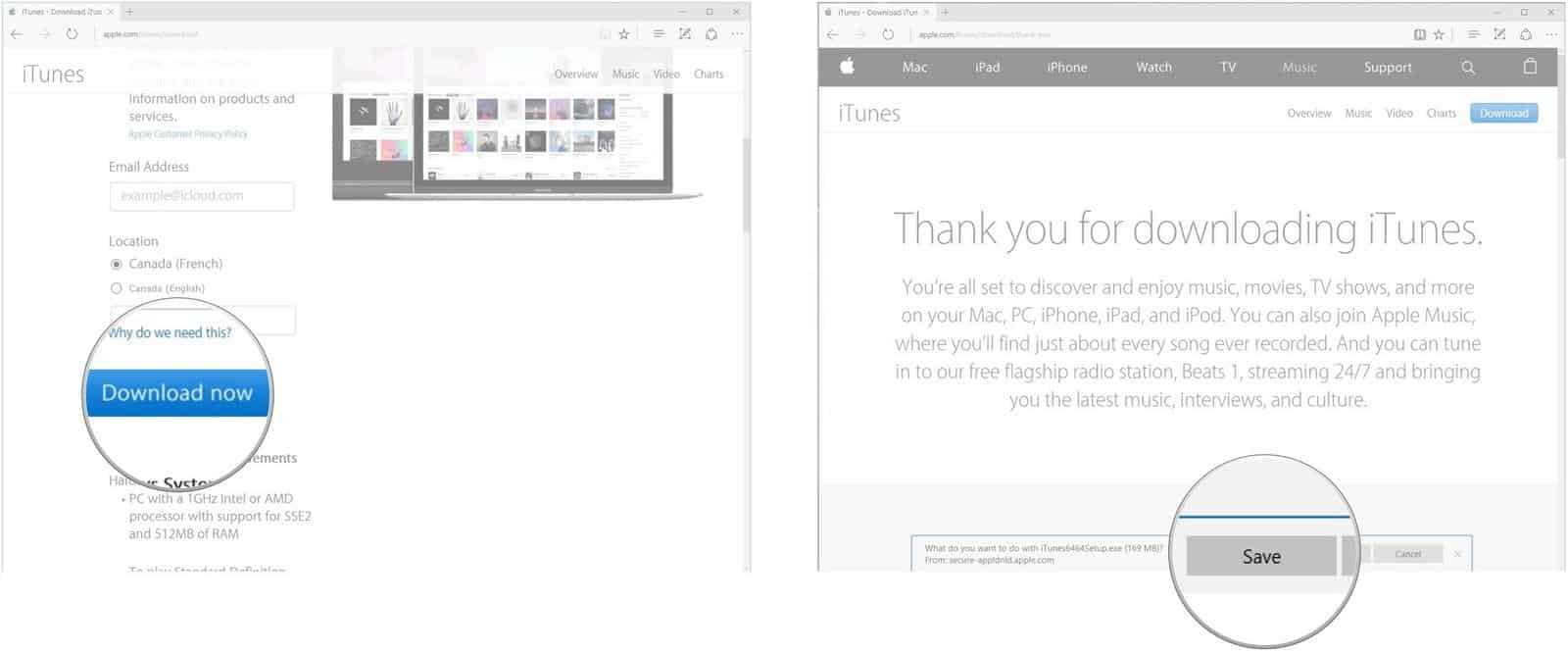 To start downloading the desired app, click Save. At this point, iTunes should start downloading.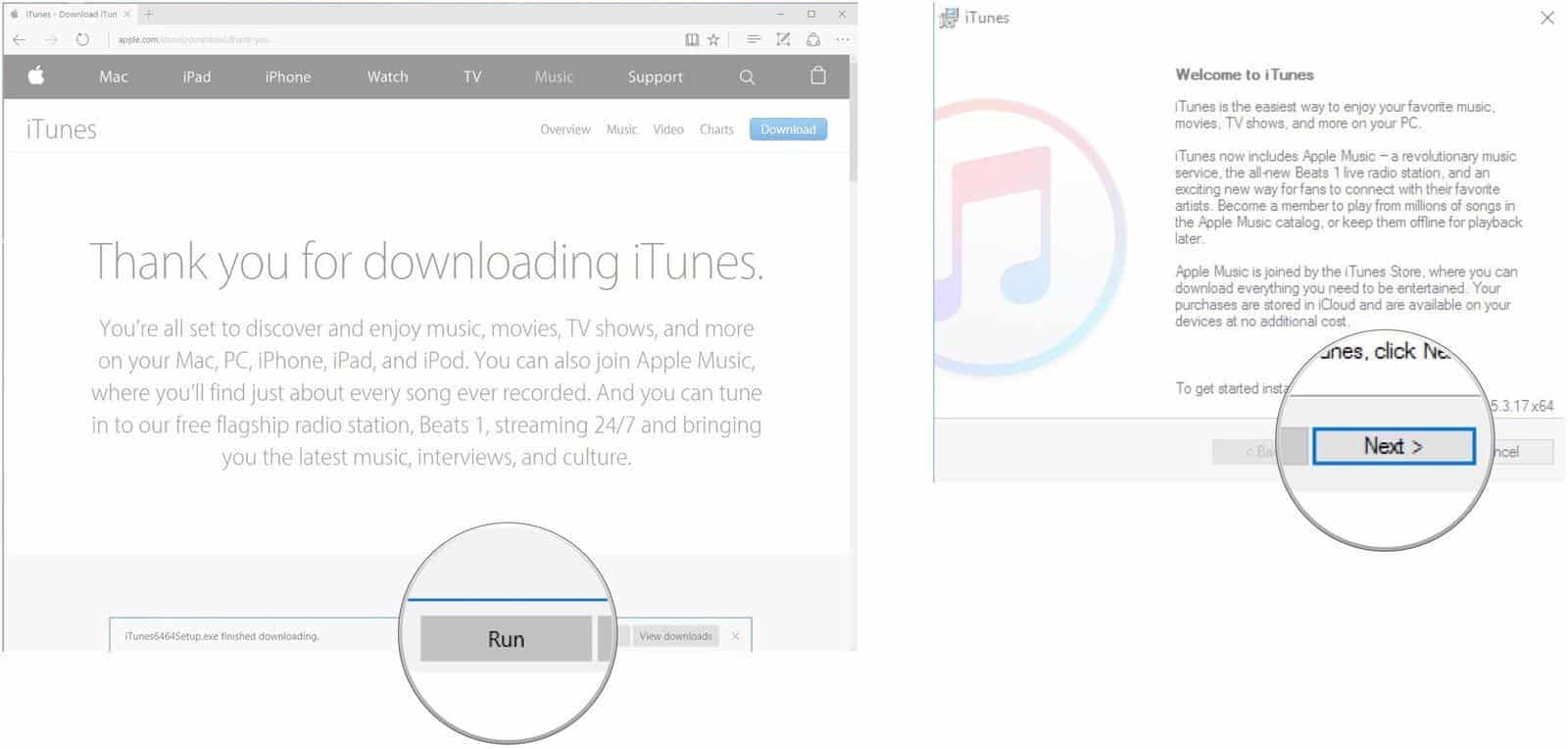 In less than a minute, a new installer file will appear in your Download folder. Click Run to open it. Then select Next.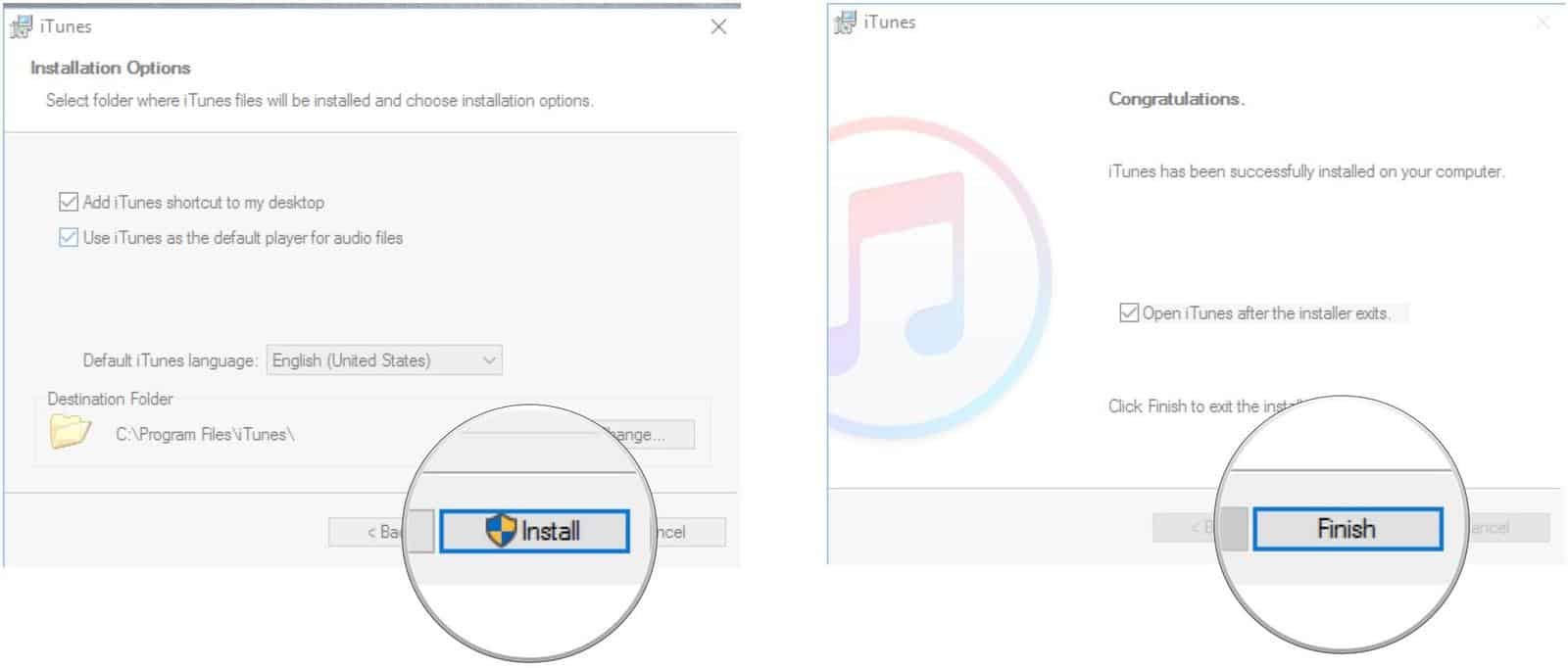 Look through the default installation parameters to decide whether they meet your needs. Then select the Finish option.
Once the app is installed, you can start shopping for new content in iTunes Store. All you need to do is to log in to your Apple account. If you haven't created one yet, you can do it quickly via iTunes on your Windows PC.

Authorize Your PC in iTunes
To be able to access your content anytime, you should have your comp authorized in iTunes. You're allowed to have up to five authorized gadgets tied to your Apple account.
To authorize your PC, click on the iTunes icon on your desktop or launch it from Start menu.
Select the Account option from the iTunes menu.

Then click Authorizations and Authorize This Computer.

At this point, you'll be prompted to enter your password. Once you're done, choose Authorize.
Congratulations! You've successfully authorized your Windows 10 PC!
If you want to deauthorize, do the following:
Fire up iTunes and go to your Account again.
Select Authorizations from there and then click Deauthorize This Computer.

You'll need to enter your password again to proceed.
Transfer Your Medial Library to ITunes
Now it's about time you transferred your media library into iTunes on your Windows 10 PC.
To do it, open iTunes and select the "File" option from the menu.
Next, you'll need to choose Add Folder to Library.

At this point, you'll be able to pick a folder subject to importing. Do this by clicking Select Folder.

Keep on selecting folders or some individual files until all of them are in iTunes media folder.
Take Advantage of Apple Store
You're eager to download media content from iTunes Store, otherwise you wouldn't bother to install iTunes on your Windows 10. You can avail yourself of both free and paid media content available from App Store.
To make a purchase from iTunes, you need to take the following steps:
Select Store from your iTunes menu.

Pick an item you want to download on your Windows device and click Price.
Enter your password and click Buy.

Once the download process is complete, the new file will appear in your Library.