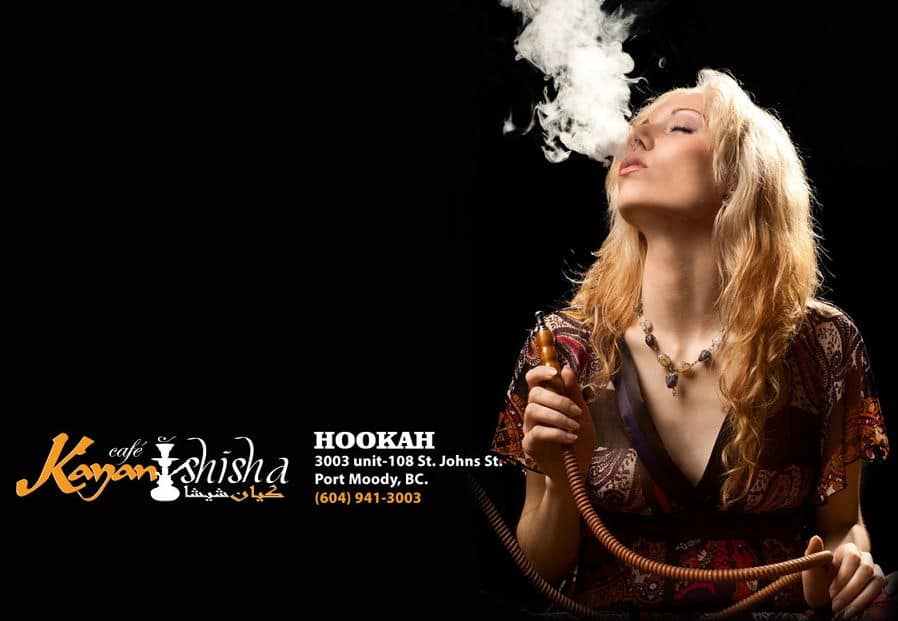 I smoked my first Hookah/Shisha about two years ago and I started off as doing it with friends at home but now I've gone from at home get togethers to actually checking out hookah lounges around the Vancouver area since I've become somewhat of a "professional" with this smoking utensil. So, I've checked out at least four locations in my area and I thought they were okay but I had not seen the light until an Egyptian friend told me about Kayan Shisha Cafe. Now, why would it matter if my friend was an Egyptian or from some other place? Well, Egyptians are crazy about their Hookah/Shisha and if they recommend a place, chances are that it's something special. And after I experienced Kayan, the other local lounges honestly can't compare based on my experience.
Kayan Shisha is owned and operated by a nice Lebanese lady named Oula. The shisha lounge opened its doors for business in May 2012 and the place is named after Oula's eldest daugher, Kayan. Although the hookah originated in India, the Lebanese are the ones who perfected the art of the Shisha. From the atmosphere they create in their lounges to the way they actually setup the Hookah/Shisha, all details are looked after. Although this particular lounge is smaller than others I've visited, the atmosphere is more homey and definitely more inviting. You could say this is one of those places where everybody knows your name…. or at least the owner does.
Mini Documentary On The Hookah by Oula of Kayan Shisha
This is a great place to meet people from all walks of life and on a Friday or Saturday night, you might end up being seated with random people and before you know it, you're talking to them as if you've known them for quite some time. From my experience, I even got to check out the flavors they are smoking. The customers are very friendly and a great place to meet new people of all age groups.
Burn Baby, Burn
I keep saying that the experience here is different but how exactly? For starters, the charcoal they use is "Coconut Charcoal" unlike most other places that use "Quick Light" charcoal. The coconut charcoal burns hot, clean, and it has a mild, sweet taste. For you hookah smokers who use those "quick light" charcoals, you may experience a nasty after taste which won't happen with the coconut charcoal because it does not contain petroleum chemicals. The downside of the coconut charcoal if lighting it at home is that it takes quite some time to light but well worth the wait. Besides lasting longer, I find it to be less ashy as well.
The music they play is a mixture of middle eastern heritage and a lot of songs which play on the radio here, locally. My personal preference is the music videos from Lebanon, Egypt, and Iran which feature some very stunning models!
More Flavorful
I've had grape flavor shisha at places and to be honest, it didn't taste much like anything. Here, they clean the hookah/shisha after every use. They actually have dedicated hookah/shisha's for individual flavors so that the taste doesn't get mixed up. They also use established, brand name products that have built their reputation over the years. If you feel like mixing up a few flavors, that can be arranged as well and they have dedicated hookah's for that purpose and go through the same cleaning process as to not mess up your "flavor experience".
The owner also uses a secret ratio of molasses which she wouldn't go into details about. Too little and it will burn fast and too much, and you will end up with the same results. Other differences you'll notice as you enjoy your hookah/shisha is that the owner will come by, sit for a few moments and chat with the customers. She slowly builds a relationship with the customers. And as you smoke, employees will come by, replace charcoals (no charge) and also take the bowl off, and shake/blow air through it to get smoke out which works great in keeping the flavor from burning and experiencing that harsh smoke. Another special touch at Kayan Shisa is the snacks (no charge) she serves the customers. Customers don't expect it but she will serve desserts, cut up fruit, or candies just as an example. Just another example of middle eastern hospitality.
For the ultimate experience, you might want to swing by on a Saturday night when a beautiful belly dancer (seen in the video above) comes in to perform. I must warn you though, you might end up embarrassing yourself as she randomly picks customers to come up and dance with her. Who could say no to a gorgeous belly dancer?
Final Thoughts
Definitely a new favorite spot of mine. There are a few other local spots I want to hit up but now I fear that I'll be disappointed. Just like how we have a favorite item on the menu at a restaurant and are always too scared to try another item because we already have a good thing going with our usual. If you're in the Vancouver area and feel like some good hookah, you should definitely check out Kayan Shisha Cafe in Port Moody, BC. You'll love the owner, the atmosphere, and of course the delicious flavors Kayan has to offer. She also has a customer loyalty program and get a card stamped each time you purchase a hookah with every 10th purchase on the house! Here is a small sampling from a huge list of flavors you can order:
Grape
Mint
Grape Berry
Orange Mint
Watermelon
Double Apple
Coconut
Chocolate
Melon
Strawberry
Peach
Kiwi
You can find Kayan Shisha Cafe in Port Moody, BC
#108 – 3003 St. Johns Street, Port Moody, BC